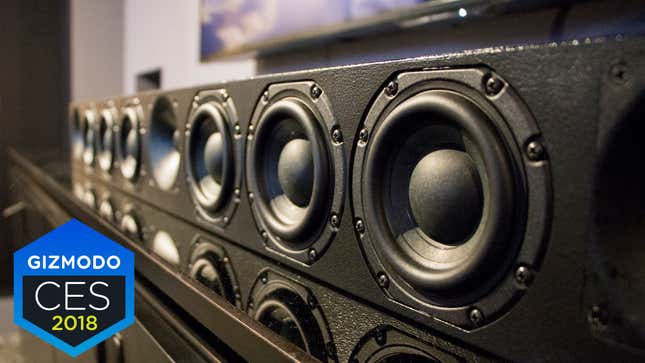 If you're like me, you know Sennheiser as that sleek German company that makes dependably terrific headphones and microphones. That's about to change.
Caleb McLaughlin Wants to Play Static Shock
Later this year, Sennheiser will release a next-generation sound bar that aims to bring 3D audio into the living room. It's a lofty goal, since plenty of other companies are trying their best to build the best sound bar on Earth. But after listening to Sennheiser's prototype at CES in Las Vegas, I'm thinking the Germans are about to do something incredible. It will inevitably be incredibly expensive, but after I heard this sound bar, I knew I'd never be the same.
The sound bar in question is stocky so far. The prototype displayed at CES looked about four feet long and was the width of a square football, if you can imagine that. What's special about the Sennheiser prototype is that everything fits in that package—amplifiers, ports, drivers, woofers, it's all in one piece. What's more special than that is the sound. Sennheiser says that the new sound bar will deliver 3D sound that's roughly the same as a nine-speaker surround sound setup.
To prove this, a Sennheiser played clips from the sound bar and then from a nine-speaker surround sound setup. The latter was undeniably better. But not that much better. One clip from the 2015 adventure thriller Everest stood out for me. There's one scene in the movie where a storm is about to slam into the mountain, and everybody knows it. A moment of tension turns into fury as snow and wind roaring around some brave climbers, and when I heard the audio from the Sennheiser prototype, it felt like the blizzard was upon me, snowflakes stinging my face. The experience of hearing this audio was memorable because I've seen the film and this scene half a dozen times. This time, I felt it.
I'll temper my enthusiasm here, because there's a lot we don't know about Sennheiser's still-in-development sound bar. The company says the final product will come with a number of HDMI ports and everything you need to create a 3D-audio experience at home in one convenient package. Sennheiser was slightly vague about the pricing, though one rep said the new sound bar would cost "about half" the price of a competitor's €4,000 component. So let's just say it'll be about two thousand bucks. The release date is also vague, though the same Sennheiser rep suggested that October 2018 was a very real possibility.
No matter what, I can't afford this thing. If you can and you love to watch movies that slightly alter your perception of a cinematic experience, consider it.