Kevin Feige says two underserved characters will have major parts in Age of Ultron. Learn which character is almost certain to return for Incredibles 2. There are new actors for Terminator 5, plus a new writer for Chronicle 2. Plus, tonight's Arrow is "epic" and Agents of SHIELD has plans for season two. Spoilers now!
Avengers: Age of Ultron
Marvel's Kevin Feige told JoBlo that the Avengers sequel will do a lot with the characters who haven't gotten major roles in the standalone movies:
I would love to do [a Hulk movie] with Mark Ruffalo. But part of the fun of AGE OF ULTRON was saying, you've seen another IRON MAN adventure before, you see another THOR adventure and another CAP adventure, but we haven't seen the Green Goliath again. So that was important in the characters you haven't seen – Hulk being one of them and Hawkeye being one of them – ULTRON will make up for it. They have very big parts in AGE OF ULTRON.
The Hawkeye portion parallels what Robert Downey Jr. said recently about Hawkeye having a lot to do with the plot. [JoBlo via The Hollywood Reporter]
G/O Media may get a commission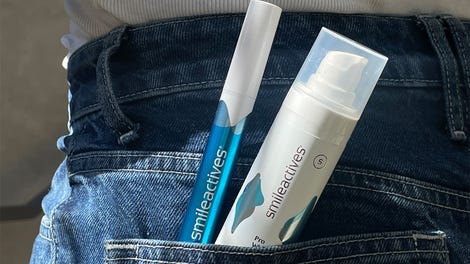 58% off
Whitening Powerhouse Pen & Gel Duo
---
Teenage Mutant Ninja Turtles
Rumors that the film would be delayed due to massive, film-changing reshoots have been denied by Paramount and Michael Bay. Paramount says the film's August 8, 2014 release date has not changed, while Michael Bay tweeted "Not true" in response. [Geeks of Doom]
Someone on 4Chan posted a bunch of huge spoilers, which should be taken with an entire shaker full of salt. They include the idea that "the Turtles are normal human teenaged non-identical quadruplet brothers age[d] 18, 3 of which [are] janitors," until they're transformed. Go to the link to read the rest. [Cosmic Book News]
---
Terminator: Genesis
Byung-hun Lee (G.I. Joe), Michael Gladis (Mad Men) and Sandrine Holt (House of Cards) have been added to the cast, with their parts not being announced. They join Emilia Clarke as Sarah Conner, Jai Courtney as Kyle Reese, and Jason Clarke as John Connor. [The Hollywood Reporter]
---
The Incredibles 2
In an interview with Digital Spy, Samuel L. Jackson indicated that his character, Frozone, was likely to be included in the sequel, saying:
Every time I run into Brad [Bird, director] he always tells me Frozone is part of what's going on [in the sequel], so I have to believe that. I guess they could be the Incredibles without Frozone, but I think Frozone would be a wonderful addition to what's already there.
[Digital Spy via Screenrant]
---
Spider-Man 3
Shailene Woodley's Mary Jane was removed from Spider-Man 2, and now she's not sure she wants to play the role in the next one. She says she doesn't even know if it's on the table, but that she doesn't want to do two franchises, now that she's working on the Divergent sequel. See the video below. [via Slashfilm]
---
Chronicle 2
Fox is apparently getting moving on this sequel, hiring Jack Stanley to write the script. Stanley doesn't have any credits yet, but two scripts he's written have been making the rounds and apparently made a big impression. [Deadline]
---
Ghostbusters 3
Ivan Reitman gave some details about what the Ghostbusters 3 script looked like, telling Spinoff Online:
I think there's an appropriate story to tell. The world of ghost-busting, just as a concept in terms of its equipment and vehicles, and the sort of spirituality of it, and the metaphysical idea of it, and guys working together, operating like fireman, [those are] ideas there's a contemporary opportunity for.

I always felt it was important to tell a story that had the first two movies as predecessors that everybody involved in the movie recognizes. I mean, all of the story recognizes, as opposed to well, let's pretend nothing happened and let's talk about the creation of Batman yet again. That's sort of what my thinking was.
And he gave more details behind his decision not to direct the film:
Knowing the reluctance of Bill [Murray] to be involved in any way, it had nothing to do with how good or bad the script was. I spoke to him three years ago when there was no script, and he just didn't want to talk about it. I don't think he ever read drafts as much as he's advertised that he has; I think he was embarrassed to say otherwise.

And mostly the death of Harold. You know, we started together, we made five movies together, and he went on to be a wonderful director in his own right. That just really focused all of those things, suddenly. And I just decided a few weeks ago – two days after I came back from Chicago for his funeral – that yeah, it's time.
---
Godzilla
Here's the first TV spot for Godzilla. [Shock Till You Drop]
---
Captain America: The Winter Soldier
Here are two new clips from the movie. [Coming Soon]
Below is a video interview with Samuel L. Jackson and Sebastian Stan. [Coming Soon]
---
Agents of SHIELD
Executive producers Jed Whedon and Maurissa Tancharoen said that they're already working on season 2, promising a cliffhanger ending for season 1:
Tancharoen: We have a board going right now. We just don't have a season two yet. But we are planning on it and at the end of season one, we are tying a lot of things up as well as teeing things up for a possible season two.

Would the season finale serve as a series finale if you didn't get a second run?

Whedon: No, you'd be so desperate to see another season and you'd be sad. It'll definitely be a satisfying season finale but we definitely are teeing up stuff to come.
Clark Gregg seemed to hint that last night's episode, and the resulting team dynamics, will tie into Captain America: The Winter Soldier, saying:
If that mystery phone line involves a secret being kept from him by the person who's his best friend and the person he trusts most with his secrets, I think it's going to be one of the final straws in terms of everything he believes in as a company man and a dyed-in-the-wool S.H.I.E.L.D. fan. It's going to be a deep crack and fissure in that belief. That's what's been exciting so far, to start as this company man who had a brief setback during The Avengers and then to find out that it's much more severe than that and much more traumatic and he wasn't told the truth about it. Piece by piece, everything he thought he worked for seems to be up for grabs. When Captain America: Winter Soldier comes out, it's going to be even harder to hold on to his old idea of S.H.I.E.L.D.
And Ming-Na Wen talked about the challenges involved in searching for the Clairvoyant:
It's tough because we're dealing with a foe that apparently seems to be five steps ahead of us, which is something that S.H.I.E.L.D. hasn't really encountered because usually S.H.I.E.L.D. is the one that's five steps ahead of everyone else. That in itself is problematic for the team. How do we outthink the Clairvoyant?"
[TV Guide]
Go here for photos from episode 1.18, "Providence." Looks like a lot of guest stars are coming back for this one. [SpoilerTV]
---
Game of Thrones
Sophie Turner previewed a major turn for Sansa this season, telling Entertainment Weekly:
She's not happy about [Joffrey's wedding]. I mean she's not gonna be happy for a long time because you know, half her family is dead. And she's not really in the mood for celebrating love, which is kind of falsified anyway. By now she's just super tired of the world—no one likes her anymore. There's just nothing for her. There's nothing that she can do with her life now. She's kind of given up. I mean what is she supposed to do? She's in an unhappy marriage. Her parents are dead. And she's witnessing the marriage of two people, one who she loves, and one who she hates.

. . . This is the best season for me. Sansa kind of takes a very unexpected path both for viewers and for her and she just kind of … she learns a lot this season and she becomes her own person instead of relying on Margaery or Cersei's influence as in the past seasons. She develops her own personality and her own way of being, if you will. And she just totally transforms. It's just gonna be a really good season, and I just think there's a lot of kind of twists in it. It's more than just the normal Game of Thrones.
Between this and everything Maisie Williams has been saying, it looks like this is going to be a big season for the Stark girls. [Entertainment Weekly]
For Jon Snow, season 4 is about becoming a leader, and executive producer David Benioff says that Jon as a leader is "crucial to setting up the series' endgame." He and co-executive producer D.B. Weiss doled out a few hints about the season as a whole, with Weiss saying that "characters we've come to love find themselves in difficult and dire situations" and Benioff saying that it has the grandest action and visual effects yet. Weiss concludes by saying:
A big battle changes the fate of the kingdom. There will be a reckoning.

[To get there] Instead of two-minute snippets, we spend longer chunks on each character. People in parallel stories that have never intersected come together.
[TV Guide]
---
Once Upon a Time
Since Once Upon a Time in Wonderland's been cancelled, Entertainment Weekly's reporting that Micheal Socha's Knave/Will Scarlett will be brought on board Once Upon a Time as a regular. He'll start next season, assuming that Once Upon a Time gets a renewal, which hasn't been announced but is very likely. [Entertainment Weekly]
---
Arrow
Executive producer Marc Guggenheim previewed tonight's episode, which is clearly living up to the "Deathstroke" title:
Episode 17 ended with Thea getting kidnapped by Slade, and 18 deals with all the ramifications of that. It's basically about the manhunt for Slade, the search for Thea and the high stakes of what Slade is going to do. The episode is called 'Deathstroke' because this is the first huge move that Slade Wilson is going to make in his plan to exact revenge.

His endgame is actually pretty complicated. It's not one move, it's several, and he hits a few of them in this episode. At this point, Oliver knows that Slade's plan is to basically take away everything and everyone he loves, including his city, and then kill him. But what Oliver doesn't know are the specifics of how that plan will be enacted. And in this episode, he learns that the way Slade is planning on destroying him is completely unexpected.
He also says that the episode is "epic," "ends with a real bang," and is designed to be a bit like a season finale. [TV Line]
---
Gotham
Cory Michael Smith has been cast as Edward Nygma (aka The Riddler). He'll guest star in the pilot, with the chance to be a series regular. [Entertainment Weekly]
---
The Walking Dead
Here's a poster for season 5. [Coming Soon]
---
Grimm
Go here for photos from episode 3.17, "Synchronicity." And below is a clip from the episode, with Monroe, Rosalee, and Nick. [SpoilerTV, SpoilerTV]
---
Being Human
Go here for more photos from episode 4.13. [Far Far Away]
---
The Tomorrow People
Episode 1.22 will be called "Son of Man." [SpoilerTV]
---
Bitten
Here's a promo for episode 1.13, "Ready." [via SpoilerTV]
Additional reporting by Charlie Jane Anders and Madeleine Monson-Rosen