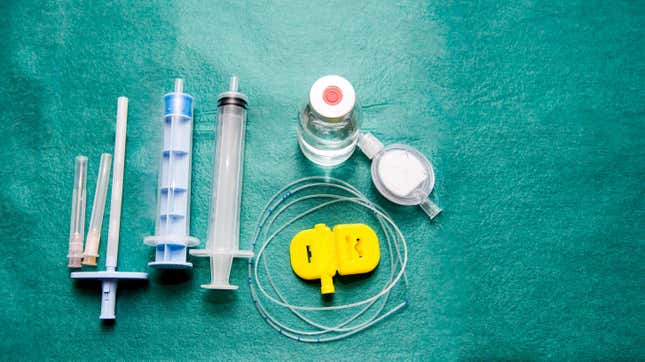 An outbreak of fungal meningitis linked to two surgery clinics in Mexico appears to have claimed more lives. This week, the Centers for Disease and Prevention updated its case tally, reporting seven confirmed or probable deaths linked to the outbreak. Officials are still trying to contact everyone at potential risk and are urging anyone who recently underwent epidural anesthesia at the clinics to seek immediate medical attention.
How to Know If the Heat Is Making You Sick
The outbreak first caught the attention of CDC and local health officials from Texas in early May. Two female patients in the state had been hospitalized with meningitis, a serious inflammation of the protective membranes covering the brain and spinal cord.
By mid-May, more potential cases were reported, all of whom had received epidural anesthesia during cosmetic surgery weeks earlier at either the River Side Surgical Center or Clinica K-3 in Matamoros, Tamaulipas, Mexico. Based on initial test results, it was quickly suspected that a fungal germ was the culprit of the outbreak. Later lab work suggested that it was fungi belonging to the Fusarium solani species complex.

As of the CDC's latest update on June 29, there have been 34 suspected, probable, or confirmed cases of fungal meningitis tied to the clinics. There have also been five confirmed and two probable deaths. Over 160 other people possibly at risk for exposure are under observation, including those with no symptoms or who are still awaiting test results.
These infections aren't contagious between people, the CDC has said. Both clinics have also shut down for the time being, hopefully ending the threat of further cases. But despite receiving a list of patients who recently attended the clinics from the Mexican Ministry of Health, the CDC has reported having trouble finding everyone at risk. Some of the contact information has been incomplete or incorrect, while officials have found potential exposures who weren't on the list at all.
Anyone who visited these clinics and received epidural anesthesia between January to May 13 this year is at risk for fungal meningitis, according to the CDC. Those who haven't gotten tested yet should visit their closest emergency room (or doctor, if the ER isn't available) as soon as possible, even if they don't currently feel sick. This urgency is important since the infection can quickly become life-threatening once symptoms appear. And at least some patients with mild or no symptoms during this outbreak may have avoided severe illness or death by getting early testing and treatment.
The symptoms of meningitis include fever, headache, stiff neck, nausea, vomiting, sensitivity to light, and confusion.