Nikon d7000, nikkor 17-55mm f/2.8 lens @ 55mm, f/3.2, iso 400
My idea for this photo was to capture a chain reaction. Without access to nuclear material I turned to matches. It is a simple design, really, 100-plus matches in a circular candle cup with the center match lit first and the reaction began. The fire went much higher than I had anticipated, and while it is very hard to shoot in the dark at 1/1000, it is much harder to make the decision to keep snapping or blow out the flames (I kid you not, they went about 3-4+ feet in the air). I like this one the most at it seems to capture the ring of ignition right about in the middle of the burning and unburnt matches. It was fun, for all the 10 seconds it lasted, but I guess that technically is 10,000 possible shots for this contest.
Thanks,
- Keshar P. Kubal
I was at the park with my son this weekend and I thought it might be a nice setting to try and snap something for this challenge. Since I couldn't get him to sit still long enough for anything I tried playing with some leaves. The shot was captured by holding the leaves at arm's length to get the focus right, then dropping them and hoping for the best. Canon T2i with 18-55 kit lens, 1/1000, f/4, ISO400.
- Adam Gruber
G/O Media may get a commission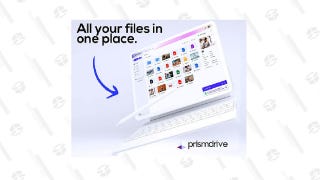 Save 97%
Prism Drive Secure Cloud Storage: Lifetime Subscription
This is my first entry in a Gizmodo shooting challenge - actually, it's my first ever photo entry in anything. If the shot looks familiar, it's because I read the Cambridge In Colour link and thought Lazlo's example was cool.
Photo information:
May 22, 2011
Camera: Canon
Model: Canon EOS DIGITAL REBEL XS
Lens: Canon
Model: EF-S 18-55mm
ISO: 800
Exposure: 1/1000 sec
Aperture: 4.5
Focal Length: 30mm
Flash Used: No
- Matt Hagon
As soon as i read this week's challenge, I knew that I wanted to shoot the birds that frequent our backyard feeders. I used my Olympus Pen E-PL1 with the 40-150 zoom. Manual focus on the feeder, set my camera to shutter priority at 1/1000th of a second. Aperture maxed out at 5.6, so my camera auto-set the iso at 1600. Shot a ton of pics, and only a handful showed any real action. I chose this one because it had three different species of birds, and had the most color.
- Stephen Snider
This shot was in a small town in New York where, like New England, it has been raining for the last 3 weeks... Since no one was mowing their grass, it produced some pretty large dandelions. It turned out to be a great subject for this challenge. I used my Canon XSI at 1/1000, f/4.0, at 1600 iso, with the standard lens 18-55mm.
- Seth Porter
This photo was tough because not only was I trying to keep my Nikon D300 from falling into the Atlantic Ocean, I was balancing my 80 lb son on my shoulder. I set the continuous capture to high and caught his trip to splashdown. My intention was to get the splash but I thought this image had more of an "impact."
Nikon D300 (I love my camera)
18-135mm lens
18mm ISO 400
1/1000s-f9
I did use Photoshop to increase the saturation and removed some dis-colorization from water spot on the lens.
Thanks,
- Gil Lopez
Nikon D300s, 85mm f/3.5 micro lens, ISO 800, 1/1000, f/4.2, SB600 flash, tripod
I was very excited to try this challenge as it pushed me outside my comfort zone. I am mainly interested in macro and nature photography and rarely shoot at speeds above 1/100. I tried to think of household things which would be interesting at 1/1000; I tried the shower head and the blender before settling on striking a match. I went through about 6 or 7 boxes before achieving a result I was happy with. It turns out that even at 1/1000 a normal match strike is too fast to capture and you need to move a bit slower to capture the match at the moment of ignition. Thanks to the wife for patiently striking many, many matches for me.
More of my photos: http://www.flickr.com/photos/krumholz/ and http://krungleholla.smugmug.com/
- Glenn Krumholz
Hello,
You've had many contests lately but I always run out of time to do them. This is my first submission. I thought it would be perfect to get some shots of my honey bees coming in on their "b line". However again time was not on my side. I went to the in-laws for dinner. On their deck was a humming bird feeder. Watching from inside I remembered this challenge and went and got my camera. It took many tries to get their pictures. They would sit in mid air just watching me, just out of my preset focus point for the feeder. Finally I waited them out. I like this photo for this challenge because of the shadow of the bird. I got many shots including one of the bird just sitting on the feeder looking at me. It was kinda comical because at first they would just land and as I was snapping shots away they would jump up and float just above the perch on the feeder then go back in land, they would do this for every shutter snap for about the first 20 shots.
Canon 60D with EF55-300mmIS lens. All settings on auto but the shutter speed. I also had a preset focus point. Meaning before the birds came I focus on the feeder, so when they came I could just start snapping away.
Thanks and hope you enjoy.
- Ben

Canon EOS Rebel T2i
EF 28mm 1:1.8
1/1000 sec
f/1.8
ISO 400
Subject: Fidel
That there is Fidel in mid-air during the golden hour in my apartment. I set up my T2i on a gorillapod and set the self-timer to take 10 consecutive shots at 1/1000th. It came out a bit out of focus. Before anyone starts, Fidel had a blast during this challenge as I dropped him from a low height onto the bed. (He signed a release form and he kept saying "again, again, again.")
- Yamil Arocho
Equipment Used:
Canon Rebel T2i
18-55mm lens
3x macro magnification filters
Regal Light Flash light
and the kitchen sink.
Shot at:
1/1000s
f/5.6
55mm
ISO 1600
I've been wanting to try to take some pictures of falling water since I got the camera a few months ago so this was a great opportunity to try this. I had issues with lighting so I decided to just turn on the kitchen sink and have the water fall onto the flashlight and took a multitude of shots. It worked out nicely since the only thing lit was the water. The only touch ups were to white balance and some noise reductions and sharpening.
- Faiyaz Mohammed
I shot this with my Olympus point and shoot that I turned to 1/1000. Taking it was no hard i just turned on the bathtub and this was the first picture I took right as it was hitting the bathtub floor. There is not much to say about this image.
- Corey Palmer
For this challenge I wanted to capture something in extremely fast motion. I knew I was going to the driving range with family so I thought the impact of a golf ball would be perfect. Unfortunately this is a lot harder to capture then you would think, and a golf club is moving a lot faster than what 1/1000 can catch. This picture took roughly 600 shots to capture, out of them I had only 4 shots that even featured the club. Eventually my father in laws arm got tired and we had to start cycling through the family to keep hitting balls. The lucky winner was my wife with this shot.
There was one other shot, it was the moment of impact, unfortunatly, since the club and ball are such a blur I didn't think it came out as well as this one, but I will be loading it to my flickr stream if anyone wants to see it: http://www.flickr.com/photos/wizzer/ (This line can be omitted if you guys don't want the link included)
Thanks for these shooting challenges, I look forward to them every week to brush up on different techniques!
- Steve P.
Taken with my T2i in Shutter Priority Mode. I have a bunch of magnets attached to the metal frame of my desk that I'm playing with constantly as I work. I took some old hard drive magnets, the strongest ones I have, and put them on the windowsill where there was enough light. With enough tries, I was able to capture the magnets floating in limbo as they were dragged up. To increase my chances, I had the repelling charge of the magnet facing up. That way it would need to bounce around and flip over before flying away.
- Chris Smith
Hi there,
My entry for this challenge is this picture of our dog, "Timmy" (named after the Tim Hortons coffee chain here in Canada). The goal was to capture as much water coming off of him as possible while he shakes. He was pretty resistant to it at first, but after a few dog cookies he warmed up to the idea and gave us a few minutes of cooperation (and pouty faces ;) Due to time contraints this weekend and a storm rolling in this evening, we didn't have enough time to properly setup how we'd have liked, so this is the best shot of the bunch. Enjoy ;)
It was shot with a Canon T2i with a 50mm f/1.4 lens. Shot at 1/1000th, ISO800, and f/2.0, the photo was cropped and slightly touched up with iPhoto '11.
Thanks for the opportunity!
- Aaron
Hello,
I wish to submit my entry for the 1/1000 challenge.
The description of the image -
Camera - Canon EOS Rebel T1i DSLR
Lens - Canon EF-S 18-55 mm
No tripod
Shutter speed - 1/1000 sec
F-stop - f/5.6
Focal length - 55 mm
ISO - 3200
Shot on - Sat, May 21st 7 pm EDT
Location - Holland, Michigan
Story behind the shot -
There I was sitting in my balcony on a warm Saturday eve, when these beautiful birds showed up. I chased them around a small pond near my house and was sitting quietly on the lawn besides them waiting for best shot. And then they all decided to take off.. Was lucky enough to get this shot as it was kind of dark and cloudy outside.
Regards,
- Adwait Bhagwat
Hello, here is my picture for the 1/1000th contest! My husband and I each decided to enter this time because we each had separate ideas on what would look the best!
When I was about 6 years old, I made the mistake of drinking a cola while eating a mentos. I quickly discovered that it tasted so bad (to me anyways, it tastes like Root Beer.... YUCK!) and the large amounts of foam made me sick! To this day, I still cannot eat mentos or drink Root Beer without feeling sick from the memories.
So, I decided to try and make a nice picture out of a bad memory! My husband was tasked with the job of getting wet and sticky dropping the mentos into the bottle while I took the pictures... he did an ok job I think :)
We bought a cheap 6 pack of pop so I could try a couple different ways of doing it and on the third try, I got it just the way I wanted.
Taken with our Canon T2i, with our 50mm lens on my father-in-laws tripod.
Hope you like it!
- Jen
The camera used was a Canon Rebel with a stock lens. The shutter speed was 1/1000 aperture was 5.6 ISO was 1600. My brother and I set out to conquer this contest with an original idea to pop a water balloon and capture it with the 1/1000 speed. The problem quickly became the terrible quality of good 'ol Wal-Mart water balloons. We couldn't even fill them up without them popping. Soon we evolved into trying to capture the initial ignition of a match only to fail once again. Finally we moved on to this idea and successfully captured the image but with the high shutter speed we had a multitude of issues with lighting. Finally we managed to capture some acceptable images and here we are.
- Austin Rhodes
We had woken up from an afternoon nap and decided to make the bed.
LUMIX LX5
F2.0
1/1000
ISO 400
- Danny Duong
Took this shot while at the Tennessee Renaissance Festival on Saturday with my family. After 200 shots of him falling off the impossible rope latter he decided to take a ride on the swing. Thats him laughing on the left begging for more from the operator who was obviously tired.
- Zot
This week's challenge was HARD. Not so much with the execution of it, but it was really hard to find a subject that fascinated me at that speed. But luckily the marines where paying a visit to our harbor this weekend and giving shows; the perfect opportunity! They had this beautiful links helicopter doing some stunts and I just couldn't resist. As usual I used my Canon 450D and this time I used my Tamron 18 - 200mm lense. ISO was 400 and taken at F 7.1
- Chrystal Boomgaart
Gizmodo,
This shot was taken on the back porch. Convinced my self if I waited long enough i could get a good shot, regardless of my poor location. Luckily this wasp strolled along with an unexpectedly full mouth. Camera is Nikon D5000, Lens is older manual telephoto, ISO 250, WB sunny.
- Chris Foster
Hi,
I originally wanted to capture some cats flying through the air, but I think they knew what I wanted and so they refused. I had to get creative and so I went out to the backyard with my hose to see if I could get some cool water shots. This is a macro shot of the water pouring off the side of a lawn chair.
Canon T2i, EFS 18-55, 1/1000 sec (obviously), f5.6, 55mm focal point, ISO 3200 (yuck, I know, but the light sucked), and noise reduction, curve adjustment, and saturation boost in Lightroom.
- Solomon Kamman
Shot with a Canon EOS Rebel T2i with a Canon EF-S 55-250mm lens at 250mm. shutter 1/1000 sec (duh), f/5.6, ISO 250
Dear Gizmodo,
This is my second contest in a row and I am having loads of fun getting out each week to take pictures. For this week's contest, I had many ideas. I thought about water, dropping/breaking things, spinning drills and wheels, and animals. I decided to settle with this picture of the bee for my submission. I wanted to get a good picture of a bird to submit, but I learned after spending a few hours trying to get a good shot of one, that they are a pain to photograph. They will not move for a long time and then take off before you can press the shutter or get them in focus. Anyways, I had a lot of fun with this one, can't wait till next week!
- Nicholas

Gizmodo,
This shot was one of about 30 water balloons my husband and I busted to see what we could get. By far the most unique although many interesting pictures came about. Nikon D5000 with telephoto lens.
- Christi Foster
Hey Giz,
For this challenge I really wanted to capture something that could not be seen by the human eye. I first played around with photographing birds and splashing water, but it was just not giving me the "frozen in time" look I was going for. Then I came across this random coin from the bahamas and gave it a good flick. Not only did the spinning keep the coin upright, it spun it fast enough I could not see what was on it. So I took the coin outside on my balcony (giving me plenty of natural light), set out a piece a cardboard I had used for spray painting and started shooting the coin spinning. I was able to capture the coin head-on and in focus, like it was perfectly still. I also loved the shadows and the purplish color the coin is some how reflecting (all my other shots the coin was just silver), really adds to the "frozen in time" look. Enjoy!
Camera settings:
Panasonic Lumix G2 with a 14-42mm lens
SS: 1/1000
Aperture: F3.5
ISO: 200
Thanks,
- Jeff
Shot with Canon 20D, 200 ISO with a cannon lens 70.0-300.0 mm shot at 70mm with f/5.6
Taken yesterday at my nieces softball game. Found a small opening in the fence behind home plate. We lost as usual.
- Joel Caballero
Swinging Strike
For my friend's birthday, we decided to get premium seats for the baseball game Sunday before the close of this contest. I have never had the experience of taking shorts shots before and figured that the 1/1000th challenge would be excellent as I would need a shutter speed at least that fast to freeze the action of a baseball game. Throughout the course of this game I took a ton of shots trying to capture the right moment, but without knowing what I wanted the right moment to be, I took well over 400 shots on my camera's continuous mode. To be fair, it was a rather slow game compared to the previous two of the weekend series between the O's and the Nats. Event with 1/1000th of a second shutter speed, you are limited by your own human ability to react quick enough to grab the right shot, and even then you become limited by the camera's ability to take however many shots per second in continuous, mine was 3 shots/second. All in all, it was a good game with a late comeback for the home team and I walked away with some great shots and a lot learned on shooting sports events.
My camera set up was a D3100 using my AF-S DX NIKKOR 55-300mm f/4.5-5.6G ED VR lens. The shot was in f/13 with the all important 1/1000 sec shutter speed and a rather high ISO of 1600. The focal length of this shot was at 220mm, and yes, the seats were awesome.
- Christopher Hecht
Date: Sunday, May 22, 2011
Camera: Nikon D7000
Lens: AF-S DX NIKKOR 18-105mm f/3.5-5.6G ED VR
Focal Length: 105mm
Shutter Speed: 1/1000
Aperture: f/8
ISO Sensitivity: ISO 200
This was the F-15E Strike Eagle sneak pass at the 2011 Joint Service Open House at Andrews AFB. The F-15 came in low and fast from the left of show center, and caught me a bit off guard (sort of the point of the "sneak pass"). I threw my camera up, hoping to get something resembling a decent shot with whatever settings I had from my previous shot. I managed to capture this image, showing water vapor forming above the wings, and in the center of the wingtip vortices as the pilot pulled a few G's in front of the crowd.
- Daniel Perret
I was walking around The Fullerton Arboretum on a cloudy day. The rain had just finished, however the gloomy skies still loomed above. Because of the skies I was forced to point my camera low to the ground, filling up the frame with colorful flowers instead. Before I left the arboretum, I went through the private garden section, and saw these flowers poking out of the wooden fence. I used my D7000 + 50mm f/1.8 and SB-800 to take this shot.
- Arvin Alvarez
Hello,
This is a picture of my dog Ruby. She was relaxing and enjoying a nice belly rub (after taking picture of her running and jumping). I conveniently took a picture of her at the same moment she was sitting up and sneezing. This picture was so funny I had to enter it (Sorry Ruby! Totally unflattering of you!)
I used a Sony a330, shutter speed of 1/1000 and had the rest on auto settings.
Thanks!
- Elizabeth Fleming
After 130-some pictures I got this one. Anyone who has tried to get this picture knows that getting the timing right and not having the bee fly out of focus is all luck.
Nikon D50
70-300mm f/4.5-5.6 VR
ISO 800
f/8
300mm
- Quentin Swager
Hi,
This Is my submission for the 1/1000 contest.
Shot on a Panasonic G1 in raw @ 400 ASA with a MC Sonnar 135 Zeiss Jena at about 5.6/8.
My wife is pretty competitive so this photo is in answer to her challenge, which was really showing me your challenge. She thinks she's a better macro photographer, but we'll let you be the judge of that. This is one of my favorite flowers in our backyard. Decided to experience with 'rain' to see what I could get. Since it's no longer the rainy season my daughter helped me with the hose to get the look I wanted.
Looking forward to the results of your contest.
- Jason Salonen
I cut the sleeve of a box of matches so that it would lie flat. I used a clamp
to hold it in place on the arm of a patio chair. That way I could strike the
match with my right hand and operate the camera's remote control with my left.
The black background is my sweatshirt draped over another chair. I took the
picture outside in very bright sunlight. Canon EOS Rebel XSi, EF-S 18-55mm
lens, 1/1000 at f10, ISO 400.
- Chris Thompson
Hi,
This is my entry for the 1/1000 contest. This photo was shot on a Panasonic G1 in raw @ 400 ASA with a MC Sonnar 135 Zeiss Jena at a 5.6. This photo is my answer to my husband's photo (the yellow straw flower), since he will not just submit to the fact that I am the better Macro photographer in the family. Actually our 8 year old daughter, who also served as my camera assistant, is truly the best photographer in our family, but she's not allowed to use this camera...yet.
Thanks,
- Jessica Salonen
So I started early on this shooting challenge and decided I would shoot water. My first shots were of a bathtub running which were too dark. I upped the ISO and they were still no good. I added the flash and they looked great! Then I realized the camera forced the shutter speed down to 1/200 so those shots were out.
I tried water from the faucet and popping a water balloon which turned out fine but it was when I just playing around in my sister-in-law's backyard in Orange, CA that a bumble bee caught my eye.
Since I don't have a very good lens, I just tried to get as close as possible. The fast shutter enabled me to get the bee in flight instead of sitting on a flower. I wish I could have got a few more of the bee before he flew away.
Tech Info:
Canon EOS REBEL T1i
EF-S18-55mm f/3.5-5.6 IS Lens
ISO 3200
55mm
f/5.6
1/1000
Thanks!
- Matthew Johnson
Camera Canon EOS 7D
Exposure 0.001 sec (1/1000)
Aperture f/2.8
Focal Length 70 mm
ISO Speed 200
These guys like to raid our bird feeders so I started putting out
peanuts for them as a distraction. Of course that didn't work, they
still raided the bird feeders, but I don't really mind. They often
jump from the fence to the feeders and I thought it might make a cool
shot if i could catch one... got lucky with the timing on this. I saw
her on the fence crouching... waited... then snap! It would have been
interesting to just catch one in the air but what the hell, throw in a
Spiderman who looks like he's feeding them on purpose and that just
adds to the fun.
Can't wait to see what everyone comes up with.
Thanks,
- Jim

I have had an old leaky faucet in my kitchen for far too long, while I was thinking of what to photograph I became distracted by the sound of the faucet dripping into some dirty dishes in the sink. That is how I chose my subject for the challenge. My camera is not terribly low noise at higher ISO, and it has a fixed lens with a maximum aperture of f/2.0, so I had to put a lot of light on the scene and use a higher ISO then I would have liked to.
This photo was taken with a Canon Powershot S95 using the built in lens. No flash was used, several external lights were used to illuminate the scene.
- Matt Hicks
Just purchased my new 55-250mm lens and this was a good challenge to test it out on. I live near the Missouri and as it starts to overflow the banks here more and more geese continue to gather and i happened to capture this goose in flight over the river.
Nic Peters
Canon Rebel T1i 50-250mm lens
f/5.6
ISO 800
Exposure 1/1000 sec.
- Nic Peters
This is the first Shooting Contest I've participated in, and I used my new Canon T3i with the stock 18-55mm f3.5-5.6 lens. The lens posed some significant limitations - even with a couple lamps set up just above the table, I had to shoot at ISO6400 & f3.5 to get enough light. As you may have guessed, this shot is of a quarter spinning atop my dining room table. I took roughly 300 shots over ~50 spins... this shot happened to be from one of my earliest spins and I could never beat it. The varying depth of my spins made it difficult to keep the coin in focus, and getting the proper angle of the coin with respect to the light source involved a great deal of luck.
Thanks!
- R Philip Stevenson
This photo was taken with a Sony DSLR-A230, f/5.6, S/1/1000, ISO-400, I decide to take the instant when the water balloons explode and the water inside the balloon kept the shape of the balloon, and I use a mirror to reflect the sun to the balloon.
- Antonio Rodriguez
Visiting some friends for a Braai on the weekend we I took along my camera hoping for some 1/1000 action and this presented the perfect opportunity when the kids started jumping on the trampoline!
Shot with Nikon D90, Colour editied in Lightroom3.
1/1000s, f4.0, ISO1600.
Cheers,
- Nils
I knew that there was an awesome fountain in Cerritos, California and I had a shot in mind. So, around 9PM, my wife and I were headed home with our 2-year-old and I asked if it would be ok to stop by the fountain. With a tired baby in the car, we dropped by and I took about 10 minutes to capture it. This was a really hard shot to capture at shutter speed 1/1000 at any reasonable ISO, so I had to up it to ISO 5000, which made it very grainy, but I got the image I wanted. When I got back in the car, my baby girl said "Good picture dada?" and I said "Yes". I showed it to her and she agreed. :)
Body: Canon EOS 5d Mk II
Lens: Canon 100m f/2.8 Macro IS
Shutter: 1/1000
Aperture: 2.8
ISO: 5000
- Joe
I've been following the challenges for a while, but never submitted to one before. I was at a friend's house for a party Saturday night and they started a fire in their fire pit. The first thing I thought of was how perfect this would be for this week's challenge. I grabbed my camera and took a total of 15 to 20 different close-ups of the fire. This picture was chosen for how the flames filled the entire frame. I like the various shapes, lines, and textures the flames made with the quick shutter speed. I also enjoy how the shades of orange and yellow pop from black background.
I took this picture with a Cannon 5D Mark ii, EF 24-105 f/4L Zoom Lens at 73mm, ISO 3200, 1/1000 at f/4.0. I shot it in RAW and used Lightroom for editing to brighten and reduce noise with the high ISO.
- Jesse Folks
Shot with a Canon EOS Rebel T3i with a Tamron 18-270mm zoom at 270mm.
I set the camera to shutter mode at 1/1000th of a second and f9 (so
I'd have some depth of field) and it auto picked ISO 640.
What I learned today: 1/1000th of a second is REALLY fast. I was
hoping to do some close ups of objects (car bumpers, bike wheels, etc)
moving very quickly through the frame, and thought that if I was
zoomed in close enough, I'd see substantial motion of the object
across the frame. But at 1/1000th, even pretty fast moving cars were
still frozen. And so I decided this week would be better suited for a
trip to the dog park :)
I saw a lady playing fetch with her (fast) dog, Luci, and I asked if I
could take some shots. She was fine with me snapping away, so I got
some good shots & made a new four-legged friend.
I took a few dozen shots, but the very first one turned out to be the
best. My eventual technique became to focus on a specific spot and
then just take pictures as she crossed through that area. However, as
this was my first shot, I was still in auto-focus mode, and as you can
probably tell, the auto-focus system wasn't quite fast enough to keep
up with her :)
Luci, fetch!
- Eric Kornblum
This shot is taken from a burst of 6 or so frames. The tricky part was to get the match to light consistently while keeping it in focus. I've seen freeze frame pictures of a match lighting before, but it was neat to capture it myself. Canon 50D, EF 100mm f/2.8 Macro - 1/1000, f/4, 100mm, ISO 3200.
- Raymond Liu
Canon 550D
ISO 200
F Stop 4.5
Shutter Speed 1/1000
I was sent to Alice Springs in the Northern Territory, Australia for work and decided to get up to take photos of the sunrise from the highest point in town at Anzac Hill. This is the war memorial with the Australian flag beside it.
- Kim Louey-Gung
Heres an image I shot of Will Sutton. He's a professional Freerunner and good friend of mine, who came to visit Cambridge to explore some of the locations we have in the city. This is a shot of him flipping off a wall and over me, whilst a storm was brewing in the distance.
More of my Freerunning video and Photography work here - http://www.ampisound.com/photography
Canon 60D
Sigma 10-20mm 4/5.6 @ 10mm
ISO 100
1/1000 Sec
Thanks!
- Scott Bass
The picture was taken when the winning team of a Branboll turnament (strange swedish sport) was announced, and shows 1ms of their dance of joy.
Taken with a Nikon D3100, at ISO 400, f/9 and the 18-105mm lens at full zoom, in Lund, Sweden.
- Marek Baczynski
Shot with a Nikon D3000 and a pretty cheap Sigma lense.
ISO 800
f/ 5.6
And of course, Shutter Speed: 1/1000
When I read the description I right away was thinking about water droplets. The issue, I decided, was getting adequate lighting with such a quick shutter speed. I ended up using a clamp-on desk lamp pointed towards the water and took a water bottle, poked a tiny hole in the lid with a pin, and used that for creating a drip. Overall I'm pleased with the results. Took probably 200-300 shots and came out with I think 10-15 that I liked. The lighting kinda make it look like liquid gold :) wish I had some of that layin' around...
Thanks!
- Peter Myers
I went out the other day to get some lunch and decided as always to bring my camera with me. Seemed like a nice sunny day and I might get some nice pictures of birds at high shutter speeds for this contest! To my surprise, it started to rain cats and dogs for about 5 minutes. I quickly got out of my car in a parking lot and started shooting not caring if my camera or lens got wet/destroyed in the rain!
Luckily I got some pretty amazing shots, this being one of the best ones I captured. There's something really amazing about the violence that ensues when it rains this much in such a short period of time and the fact that you can see clear blue skies in the background adds something to it as well! This was shot with a Canon 7D and a Canon 35mm f/2 lens with the ISO at 640 and aperture at 5.6. Shutter speed at 1/1000! Used Aperture 3 to auto enhance.
- Jaspreet Monga
Hello
I took many pictures that turned out good, but didn't give a good representation of speed of the object. So on my way to my girlfriend i took some shots of skaters. Everyone can assimilate with the subject and know it was moving quick. So many good shots were taken, and it was hard to choose a final one between skateboards and bikes. Hope you like.
Hardware:
Sony a230
f/4.5
1/1000
ISO-1600
Spot Focus
Wide Balance Cloudy
Shutter priority setting
Thanks
- Félix García
Canon EOS 7D
Canon EF 100-400 f/4.5-5.6L IS USM
Shot @ ISO100, F/5.6, 1/1000, 100mm
This image was shot last saturday morning in Lagoa Rodrigo de Feitas, Rio de Janeiro, Brazil. A once very polluted body of water, Lagoa's water tests are now showing it's cleaner than the sand of Rio's famous beaches such as Ipanema and Copacabana. The cleanup efforts are part of Rio's preparations for the 2016 Olympic Games and is a joint initiative executed by the government and financed, in part, by Eike Batista. Mr. Batista is a brazilian tycoon that invests in infrastructure and energy and is currently number 8 in Forbes' top world billionaires list. Back to the story behind the shot, due to Lagoa's shape and predominant wind direction, the usual wakeboarding trajectory is form west to east and back. Since morning hours are usually the best, due to calmer winds, it's very challenging to set up the camera to shoot there: in one direction you are facing the rising sun, in the other you are under optimal lighting. This specific day it was partly cloudy, which helps diffuse the sun that is behind the wakeboarder in this shot. I like how the shape of the spray and how it looks backlit. The high shutter speed also freezes interesting patterns on the water from the very edge of the board that is brushing the water, passing by the boarders hand and exiting the frame.
- Bruno Oliveira