Hi Giz,
Here is my submission for the Blank and White photo contest.
April 19, 2012 was my 33rd birthday, so like anyone celebrating a none milestone birthday I went out for a beer or 2 and dinner with some friends. Well a few hours later, I got a really bad case of food poisoning and spent all the night in agony throwing up. Happy Birthday. When I woke up for work the next morning both of my eyes were super puffy with tons of broken blood vesels. It was a violent night of vomiting and looked like I had two black eyes. Think about the contest I grabbed my camera and snapped a few quick pictures. Here is one of the them. THe Black and White really helps bring out the contrast in the broken blood vesels.
Taken on a Nikon D5100 in RAW at ISO100 40mm f5.3 1/60 cropped and made b/w, no other retouching.
This shot was taken in the Dominican Republic while on a nature walk with the wife. It was caught in the moment hence that is a genuine expression of joy due to the smell of the flower. Did some touchups in CS6 and then converted to black and white.
Camera: Nikon D7000
Lens: Sigma 30mm F1.4
ISO: 100
Exposure: 1/500 at f/5.0
- Chris Booker
- Christopher Needelman
G/O Media may get a commission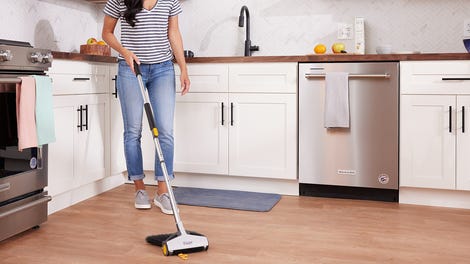 BOGO 50% Off
Flippr - BOGO 50% Off
Brief summary:
Took a simple shot of my pet Betta, "Darth Betta," in his tank.
Nikon D7000 w/ Tamron 2.8 28-75mm lens
1/40, -2.0 exp
ISO 200
Shot in RAW format, converted to black and white in post processing
Added a bit of contrast, lowered the brightness, source of light: a 37 inch flat screen tv lol
Tennyson Aldane Brown
Shot on a Nikon D90 with my old 15mm f/3.5 lens at night using a 3 exposure bracket. This church is about a block from my apartment downtown near San Antonio and I pass by it everyday to and from work. I finally decided to take some photos of it at night to try and capture the grandure and the stark shadows cast upon in by the trees below. It's pretty stunning to look at in person considering it's in the middle of an old neighborhood.

DaveTerry (Gawker user: Hackberry)
Camera NIKON D300S
Focal Length 18mm
Shutter Speed 2 sec
Aperture f/22
ISO/Film 200
Category City and Architecture
The Dubai Metro. A genuine breakthrough in modern engineering and design has been the best mode of transport in the city since 09.09.09 and its vibe doesn't seem to fizzle out anytime soon.
Arsh Sayed
This was taken right after a storm with my iPhone 4s and Camera+.

Matthew Weyna
First off, I hope by this being four hours late it is still eligible for submission.
Now about the picture, this was taken in Maui Hawaii at a lava flow called La Paruse. We were walking along the path and I noticed some crosses with various items on them. We looked around for a while and found out that they were for surfers who have passed away. I loved what I was able to do with the picture, and I hope you do as well.
This was shot with my Canon 7D with my 70-200mm F2.8 lens. My focal length was 200 mm with a F-stop of 2.8 a shutter of 1/513 and finally my ISO was 100.
Enjoy!
matt weigand
I have always loved the accordion as it is such a complex instrument, with a huge global reach throughout history. I thought the textures would render well in blackand white... the irony of this shot is that Aido, the gentleman in the shot, only has 9 fingers...

Nikon D200
85mm
ISO 800
F 2.8
1/25th sec

Cheers,
Dag

Went to the tulip festival in Woodburn, Oregon yesterday. It was a madhouse. It was the first beautiful weekend in the 80's here in Oregon and everyone was determined to "have fun" no matter how arduous that was. The colors were amazing, but B&W is just as nice with the tonality.
Thanks,
Jeffery Philllips
Went camping in White Sands National Monument in New Mexico. Saw the opportunity to take a black and white shot of the amazing landscape. Used a Cannon T3i camera with the regular "Scene Intelligent Auto." Ended up turning into a beautiful shot.
Peter Wallace
Photography made with a Pentax K10D - ISO 100 ; 23mm - f:5,6 - 1/90s
This photo has been shot in a park, in Paris (Tuileries). The subject is a bronze sculpture, with a light green color. I worked on the photo to enhance the dramatic impression I had about it. The result afraid me, I found my photo,
J.
Israel is an amazing place because although it is known for conflict,
I am surprised at how much co-exsitining there is between the numerous
faiths and ethnicities found in it. Photo taken from on top of the
Hurva synagogue in the heart of Jerusalem's Jewish Quarter in the Old
City. Behind the Israeli flag is the Sidi Omar minaret, and the
Armenian Church of the Archangels in the distance. Shot with my Sony
A77, using a Minolta 11-16mm f/3.5-4.5 lens, at 1/320 shutter, f/9 and
ISO 100.
Jeffrey Worthington
I was in St. Louis for the weekend and was walking around taking pictures near the arch when it occurred to me that the metal panels of the arch might make a nice texture for this challenge. Unfortunately, the first time I tried this shot, it started raining, so I decided I'd come back another day when I could get some clouds as a backdrop and keep my camera away from water. I took this shot as I was leaving St. Louis- it was my last chance to get this picture, but I'm happy with how it turned out, with some stormy clouds in the background of the massive metal structure.
I shot it in RAW on my Nikon D7000, ISO 100, using a Tokina 11-16 f/2.8 lens set to 11mm and f/6.3. This was 3 frames merged to an HDR image using Photoshop with some minor adjustments in Lightroom.
Zameer Abedin
Hello,
Since January, I've been working on a set of compositions I call 'Temperance.' My goal with this has been to take one photography a day, honing my skills to push beyond what I was once capable of. Similar to what Jim Brandenburg did. Currently I only shoot in film, this image was processed in my dark room. It was shot with a Nikon N70, Efke 50 Speed, with a Tamron 17mm Adaptall lens at an aperture of F16. The exposure was 60 seconds long.
Sincerely,
Allan Wolf
Canon 7D, 17-55mm, ISO 400, 1/1250
I went out on the porch of my girlfriend's house early in the morning to have a cigarette and looked around. I noticed the shadow on the dilapidated shed from the morning sun. Something about the way it was cast on the shed just struck me. In color this light for the most part would get lost in the greens of the trees but in black and white I think it looks much better.
- Michael Stuchlak III