London Marathon, Greenwich
NIKON D3100
F-stop:- f/5
ISO:- 400
Exposure Bias:- 0 Step
Focal Length:- 18mm
Aperture:- 3.6
I should have moved out of his way but I was shocked to see Charlie running around again. There were many shots I could have entered but his one stood out as he seemed to be the most out of place. Congrats to all who entered the marathon.
Regards,
Nav
The camera I used was a Canon 5D with a EF 50mm lens. ISO 100 with an exposure of 1/160 sec ar f/14. My technique was simply to take a picture.
This is a photo of "el acueducto guadalajara" in Guadalajara, Jalisco. I am currently going to school in Guadalajara and get to walk by this structure every day. When I decided to enter this contest, it was easy to decide what I was taking a picture of. But I was pleasantly surprise some of the street art that lined the aqueduct, and found one of my favorite places in the city. There are a lot of broken beer bottles and trash near the benches, but it is great place for a quiet lunch, but probably not a place to walk by at night.
G/O Media may get a commission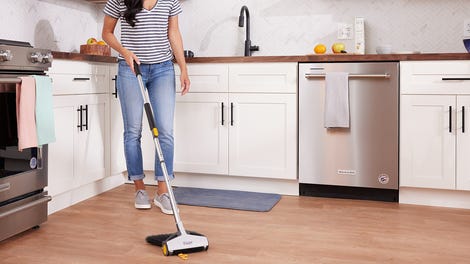 BOGO 50% Off
Flippr - BOGO 50% Off
Thanks,
Giovanni Avila

Do you want to know your future…? Trust the magical dice, thrown only on rough concrete, to divine your purpose and your destiny.
Photo taken outside on a bright but overcast day, natural light only, in RAW with my Olympus E-P1 using a 45mm macro lens on a small tripod, 1/50sec @ f/2.8 and ISO 200. Adjusted contrast and converted to black and white in Photoshop.
-Peter
Hello
I was going to shoot a few Lapse at Zurich Airport with a friend. During the lapse we realised that the skies changes every few minutes. So after the 2nd Lapse I removed the Camera from the NILSENSLIDER Dolly and tried to catch the dramatic sky.
Picture was taken with a Nikon D300, the 105 Micro Lens, 5 Shot HDR, converted with Silverefex Pro2, F8 and ISO 200
Best Regards Markus
Hi Gizmodo,
This week I wasn't sure if id have time or subject matter to enter but at the last minute I was asked my Dad to come on a day out to visit my Mum at Charlecote Park which is looked after by the national trust. My mum volunteers there as a guide so we surprised her with a visit. The house was built in the 1500's and I thought there was bound to be a few thing there which would look good black & white. This piano is from the 1800's and was in the drawing room. I took a several pictures while I was there but this one seemed to draw me back to it. I like the keys reflecting on the wood and how the light shines on the polished marble like wood.
I used Canon 500D, 'Nifty Fifty' 50mm lens, 1/160, f/2, ISO 800.
Robert Newitt
Canon 5D MK II
Canon 17-40 4.0L
3 exposures merge together in photoshop
-200 ISO
-5.6 Aperture
-1/80,1/200,1/120
Two of my friends and I went on a photowalk early Sunday morning. Our goal was to get a great photo for the Gizmodo black and white challenge. We rode around Nashville, TN for about 3 hours. We went to a couple of old plantations and other historical places, but the photo that caught my eye was one at an old run down self car wash station.
While looking for a place to eat we saw this car was station. It had about 6 different bays all with different styles and pictures of graffiti up on the wall. It was a wonderful site and something I had to get a shot of. I knew the colors and contrast of the graffiti would show up great in a black and white image.
I have a Canon 7D with the Canon 17-40 lens, but in that small space that crop sensor wasn't cutting it. I was backed up all the way against the wall and still get the whole thing in frame. Luckily a buddy of mine had his handy dandy 5D MK II with that lovely full frame sensor. I turned on the exposre bracketing to give me 3 different exposed shots. I knew I wanted to get as much information possible on this super sunny day. We had a great time out and got some great shots. Thanks Gizmodo for the challenge!
- Justin

This image was shot with a Nikon D7000 through a Nikon 18-200mm VRII Lens. Aperture was 5.6; ISO = 100; Shutter Speed was 1/320
When I learned about this week's black and white shooting challenge, my thoughts immediately went to getting an image of an aircraft that was taking place during the 2012 Thunder over Louisville Kentucky Derby Kickoff Celebration. Not only is the fireworks program one of the largest in the world, it is also preceded by a stellar air show of, mostly, past and current military type aircraft. I was very excited when I learned that this B52 Stealth Bomber was taking part and I was hoping that I could get a Gizmodo worthy shooting challenge entry ... and, I believe I did!
Thanks for putting these shooting challenges on guys, they are a lot of fun.
Joe

My wife and I are leaving New York and moving to the South next month. We've been trying to get to all of the things we kept meaning to do in the city before we go. We had spent Saturday in Brooklyn and Queens and were rushing from the bus to catch our Metro North train at Harlem 125th Street when it started to rain. We were a little melancholy about our move after a great day in the city and the rain added to the feeling. When I saw this train pulling away I thought it perfectly captured our situation and out mood.
Shooting Summary
Camera: Canon T2i
Lens: Canon EF50mm
Aperture: f1.8
Shutter: 1/30
ISO:800
- Eric Mine
I planted these daffodil bulbs last fall, and they've finally turned into beautiful daffodils! It's hard to imagine daffodils without thinking about their bright yellow and orange colors, but it turns out they look great in black and white, too. I caught them in the late afternoon sunlight, which cast nice shadows on the wall behind them.
- Leah Nicolich-Henkin

I liked the contrast between this blown-out tire, the rusty rim and
the white fender around it with the deep shadows behind it. I shot
with the sun almost directly overhead, at ISO 200, in AP at f/4.5. I
had to be careful with my metering to avoid blowing out the whites, or
losing detail in the shadows. I found a good balance, and then for
'safety" I stepped down my exposure compensation by a third, because
of the reflectivity of the white fenders. I shot with my Nikon D70 and
a cheap kit lens. It's a nice durable setup for going out and taking
fun shots while roaming around. The only post work was minor tone
curve and white balance adjustment in Bridge. There was no Photoshop
work and no noise reduction was necessary.
-Mark Terry II
(Gizmodo user name, met2art)
As a filmmaker sometimes I have the need to go outside and just take a lot of street photography this time I was getting ready to film a short in black and white, so to practice I decide to take a stroll and shoot everything that I see, I got a few good ones, but the overall critics of family and friends this is by far the best one, hope you like it.
Canon EOS 60D
f 16
1/320
ISO 320
*Life in madrid is a really fascinating thing, everybody its outside, touristing, drinking beer and having tapas at the bar, but the youth not always overtake the old spaniards, and as the new generations go outside the old ones keep going for a walks and going to the bars.
—
Miguel Novelo
This photo was shot with a Canon PowerShot SX30 IS.
I've attached three sizes of the photo. The first attachment is at 970px but above the 200K size limit. The 3rd attachment is at 530px, but under the 200K size limit.
Back story: I got this camera as a birthday present from my boyfriend, but haven't had many opportunities to really enjoy it yet. He gave me the camera with the stipulation that I had to enter the shooting challenge. He recently purchased a new DSLR and we decided to go to a local metropark to take some shots. We saw this week's shooting challenge and decided to have a friendly competition between ourselves for some extra fun.
-Amanda
I took my daughters to a park in Berkley this morning, and there is this tunnel that separates the Rose Gardens with the playground. As we were walking back, the youngest took off though the tunnel as 4 year olds like to do. I took the first shot, but had the flash was on. I quickly tried to turn off the flash before she was out of the tunnel. I have no idea what setting the camera was on when I actually took this photo, but it turned out better than I could have planned. I used a Nikon d3100 with 1:1:8 35 mm lens.
The subject is my daughter and Gizmodo you have permission to publish if you so wish.
Thank you,
Ryan McLachlan
View from a Canoe
This was taken with a Canon 5d mIIk and a Nikon 28mm AIs f2.8 matrimony.
- David
I was out doing some timelapse shooting at a plane spotting location outside the airport at Zürich and a storm rolled which gave some very dramatic clouds and lighting.
I call this one tree hill, reminds me of the tree from Six Feet Under.
Cheers,
Nils