we were strolling along the beach on the first real "spring" day in vancouver - it was so hard to imagine anything in black & white. this photo was taken with a canon T2i, 50mm lens, f/13 @ 1/500 with iso 100.
joanna law
Chow Time
I made an Earth Day trip to the Wildflower Center. This guy was diving
into a Prickly Pear Cactus blossom. Kind of alien looking...I used the
dark filter on the black and white filter set in CS5. I liked the
sheen it gave to the flower.
G/O Media may get a commission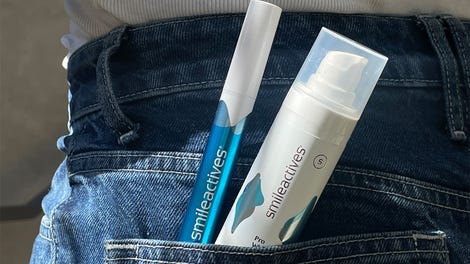 58% off
Whitening Powerhouse Pen & Gel Duo
Thanks!
Karen Tarlow
Went out for a burger, unfortunately, Irvs wasn't serving. I shot this image with aNikon D70s converted to Infrared, gently played with the channel mixer swapping the blue and the red channels, and came up with this. Luckily another burger joint was just two blocks away.
Wm. MacCollum
This picture was taken at the University of Illinois. I was visiting some students there and I had a few hours of free time. This picture is from one end of the quad. I like the way the sidewalks cross over and I though that the cloud coverage gave a nice contrast for a black and white photo.
The photo was taken in RAW format in color with:
Canon EOS Rebel Xsi
Focal length: 21
Shutter: 1/400
f/21
I edited the photo on my iPad in Filterstorm. First I played with the curves to get the clouds to have the greatest contrast. Then I flipped it into black and white. I then put a very slight blue hue over the picture to give it a cool feeling and last I used a black vignette very slightly around the edges. And here is the result.
—
Dan Pietrini
Would you believe my dog found this fantastic skull?! I shot in an abandoned shed for the added feeling of decay, with dramatic natural light for high contrast. The composition in-camera was intentionally set up for a left to right scan path, with the light leading in to the skull. Only after the fact did I realize flipping the image would create an even more unsettling experience for the viewer, a perfect fit when the subject is death. Shot with a Canon 5DII and 50mm at f/4, 1/6 sec and ISO 6400.
-Jessica Harms
This was an attempt at something a bit old. This Brownie Hawkeye Flash camera was my wife's camera when she was little which I think her grandparent gave to her. It has her name written in fingernail polish on the back cover. Converted from color in Lightroom 3.6, I just square cropped it and black and white 'ified it there, adding quite a bit of grain.
Camera: Nikon D300
Exposure: 0.01 sec (1/100)
Aperture: f/2.8
Lens: Nikon 17.0-55.0 mm f/2.8
Focal Length: 55 mm
ISO Speed: 200
Jeff Gamble
I was on my deck trying to take pictures of my dog (sheba) when she came up to me and started to sniff my camera. I took the picture with a Canon Rebel t2i using a sigma 17-70mm. ISO-3200. Exposure time 1/160sec.
Irini Diaz
20 seconds under the boardwalk
I've been waiting for a foggy day most of the winter but weather's been either really rainy or just beautiful. saturday, it was another beautiful clear and hot day but the fog started drifting in during the evening and I had the feeling sunday morning would be foggy. sure enough, lots of fog so I packed up the camera and headed down to the wharf to try a long exposure shot I've been wanting to do for awhile.
wasn't really that enamored with the first pics so headed into the pilings where I know it can get very interesting if the light's good and you choose an interesting angle. got four shots I liked and decided on this one. I like the way the b&w light gets contrasty on the pilings and yet still allows for clarity in the depth of the photo....
Exif data
——————————————————-
Camera Nikon D3000
Exposure 20sec
Aperture f/29.0
Focal Length 32 mm
ISO Speed 100
Bob Zimway
Taken on 21 April 2012 at JV Fitzgerald Marine Reserve, Moss Beach, CA
Canon EOS Rebel T3i body, Canon EF-S 18-55mm IS II lens
18mm, ISO 200, f/10, 1/60 shutter, no flash, AWB
Shot in RAW, Edited in Aperture
My wife and I were hiking around the JV Fitzgerald Marine Reserve north of Half Moon Bay. At the top of a little hill above the tide pools is a cluster of trees arranged in neat, uniform rows. As I was walking through, I caught an angle that reminded me of the architecture of an old Gothic cathedral. The branches from the row of trees on the left seemed to stretch across to the trees on the opposing row. It was a foggy morning, so the dull colors made for a perfect B&W opportunity.
—Chris

This "calm after the storm" shot was taken shortly after a massive thunder and lighting storm rolled through South Padre Island, TX. We were eating dinner on the bay as the storm passed through. Once the sun came out, the view was spectacular. I pulled out my iPhone4 and quickly snagged about six photos that I stitched together using AutoStitch. It was converted to black and white in PS Express. Enjoy!
- Jacob
We had a sunny weekend in Seattle. It wasn't until I wandered into the woods along the tracks that I found a subject more suitable to black and white. The distance is out of focus because isn't that life?
Fujifilm X-Pro1 with a Jupiter 50mm L39 manual focus lens at f/11, 1/250s, and ISO 1250.
- David Lee
This is a picture of a radio set inside a 1943 "Lodestar" C-60A cargo plane, known as the "Goodtime Gal", according to its nose art. It was on display at the West Houston Airport, along with many other WWII aircraft and other military equipment. For a small donation, you get a personal tour of the inside of the aircraft, along with a recitation of the aircraft's history.
I took a boatload of pictures, but I liked this one best for the contest because of the texture on the face of the radio, especially noticable if you look at the primary focal point of the lens, the "Crystal" knob.
I took the picture with my Nikon D90 and 50mm Nikkor f1.4 lens. The ISO was set at 200 and the shutter speed was 1/60 sec. I shot in the RAW format, then converted it to .JPEG and stripped away what little color was in the picture in post-production.
Joe Casey
This shot is at an old metal reduction mill outside of Goshen, UT. When I saw the challenge was for a black & white, I knew this is where I wanted to capture my shot. I ended up bracketing 3 separate exposures and manually piecing them together in Photoshop. This allowed me to still include the mountains in the background, properly expose for the pillars, and still include the brush/shrubs as well. For the black & white, I used a combination of Channel Mixer set to monochrome, Levels, Curves, and Color Balance just to add a little warmth (I prefer warm B&Ws)
Specs are below.
Canon 7D
17-85mm EF-S Lens @ 17mm
f/22 with 3 shots, one at 1/4s, one at 1/25s, and one at 1/20s (not necessarily in that order)
- Brian Gibson
I am drawn to patterns and structure, and when I read the contest this week would be black & white, I knew this bike path running over the turnpike near Orlando would be my subject. I've ridden past it several times and thought "I have to shoot this someday".
I headed out just at sunrise armed with my tripod as I knew my shutter speeds would be pretty slow. Compositionally, I knew I did not want to shoot low but that I wanted to be up at around 6 feet or so to be in the center of the structure.
I then shot 3 exposures and combined them in photomatix to even out the exposure and bring out more grunge out of the ground and fencing. I then did additional cleanup (adding contrast, straightening, and a little sharpening in photoshop CS6)
Here's a breakdown of everything I used:
-Camera: Canon 50D
-Lens: Canon 17-40 F/4L
-Tripod: Induro AT-213
-Head: Manfrotto 498RC2
Settings: f/8 focused halfway through the frame, ISO: 100, Shutter: Exposures at 1/50, 1/13 and 0.3"
Ali Elhajj