My dog poses for me on two occasions, when I am holding food or when she's at the door waiting to be let inside. This is the latter, and involved me laying on the floor peeking between the door window shades to catch her looking down at me. And she looks like a stone cold killer. Which she is not. Color converted to black and white, slight vignette. Canon T3i, Tamron 17-50 (f2.8, 1/200s).
-Evan
Camera: Canon Rebel T2i
Lens: Canon 28-70mm f/2.8
Shot was taken at 2:09 on April 21 in Cary, NC. The lens was set at 70mm with f/2.8 and ISO 100.
G/O Media may get a commission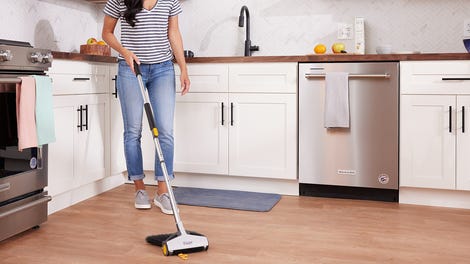 BOGO 50% Off
Flippr - BOGO 50% Off
My wife and I were digging in new garden beds for the summer when this beautiful moth landed on the fencing we had just installed. The fence was dark black plastic poultry wiring and the moth was bright white and green. No matter how I shot this thing though, I couldn't avoid taking a picture of a something that looked more like Mothra than what at first seemed like such a beautiful creature.
Austin Dowd
I have recently started to shoot more often in black & white so this was a great challenge this week. Although you recommended to edit the photo, I chose to shoot directly in black & white. My shot is of a grove of Morton Bay Fig trees at our local botanic gardens. These trees are incredibly fascinating to me with the massive root systems undulating over the ground. I thought they looked even better in black & white.
Tech info:
Canon EOS REBEL T1i
Canon EF 50mm f/1.8 II
1/320
f/1.8
50mm
ISO 500
-Matthew Johnson

I went out with a friend to take photos and wound up at the train station. Between some shots a train came through and I took a 30 second exposure, hoping to get it running past. I hadn't been thinking about it stopping to let passengers out, but ended up liking the way the photo looked with the open doors.
Nikon D90
ISO 100
30 sec exposure at f/16
11:16pm
Tom Andersen Jr
I didn't think I was going to get around to getting any shots for this
challenge because I was feeling too lazy to take any of my cameras
out. However I was at IntelligentsiA on Broadway in the Lakeview
neighborhood in Chicago as the sun was setting on Sunday evening. I
rarely use the black and white "films" on the Hipstamatic app, but I
knew the app would capture this harsh lighting well, especially in
black and white. I routinely count my iPhone4S as "one of my cameras"
as it really is remarkable in the quality of the picture and I always
have it with me. So as the sang goes: "The best camera is the one you
have with you."
iPhone4S
Hipstamatic app
Settings: James M Lens, AO DLX Film
Camera: Nikon D3100
Iso: 100
Shutter Speed: 1/30
Londoners spend so much time running from one place to another which got me wondering, is it more important to get to the finish line quickly or spend the time to do something properly. Around that time I found a great contrast between the rush of the commuter and the stable, workmanlike tractor tyre, which seemed pretty appropriate given the olympic construction boom.
- Jordan Wainer
I took a ride trying to think of something that would make a good b&w photo when I noticed that the light filtering through the trees and onto the road should provide some good contrast. Out of a few shots I tried like this, I liked the framing of this one the best. It was more luck than anything else. Shot with a Canon S95, f/4, 1/320, ISO 80.
Mike Michelizzi
Saturday was easily the nicest day of the year so far and I didn't want to waste it sitting around inside, so I got online to find the topic for this week's contest. I have always wanted to get some shots of the Sierra Mountains that basically sit in my backyard, so I went out on a walk to find a good view of them. I came across this raggedy looking barbed wire fence and decided it was pretty interesting. This is looking sort of southwest near the Nevada/California border towards Jobs Peak. I tried a few lenses but liked the little spin my Rokinon 8mm f/3.5 fisheye put on it. I love the rays of the sun, slight lens flares, and the fisheye effect because I feel like that's not something you see in black and white landscape photography very often. I should have been writing my settings down as I went because this lens is totally manual. I know it was at f/11, I do not recall the shutter speed, at ISO100.
- Evan Hughes
Hi Gizmodo,
I took this photo with a Nikon D90 using a Nikon 18-200mm lens at 18mm, f/5.6, 1/60s shutter speed and ISO 200. An on-camera Nikon SB-700 flash was fired with TTL.
I took this photograph at the Vietnam Veterans Memorial on the Mall. It was raining this afternoon when I took this picture. Even in the pouring rain, there were a few people at the Memorial paying their respects to their fallen family and friends. The rain on the stone wall and the pavement reflected the trees on the Mall and added contrast to the names on the dark stone wall. With the names of the fallen in white against the dark stone wall, I think the Wall is represented well in black and white - especially in the rain.
Thanks,
Mashuqur Rahman
I used a Canon Rebel T2i with the kit lens: 1/60s, ISO 800, f 5.0.
The photo is of a lead illustration to a beautiful 1877 copy of Ivanhoe that I got recently as a gift. I love books-bending the spine of a new book, the faded ink of an old one. The illustration had a wonderful texture and was itself reflective of the age of the book; something I thought perfectly mirrored this weeks challenge.
- Rob Sawyer
Dead Trees
Shot along the Columbia Gorge on the Washington side on a fairly cloudy day. The lower tree was being overrun with ants- I took a bunch of shots of that, none of which really turned out. This picture was taken almost as an afterthought on my way out, an hour later.
Shooting summary:
Sony SLT-A65V
ISO 100
17mm
1/2000 @ f/4.5
Julian De Puma
Camera: Nikon d700
Lens: 50mm 1.4
Exposure: 1/8000 sec
Aperture: f/16.0
ISO Speed: 6400 (for some grain effect)
My wife and I frequently visit Disneyland and on our way to the park we always pass Ganahl Lumber. My wife loves to read their sign and the messages they put up weekly. She suggested I take a photo of it for the Gizmodo Black and White challenge. The black and white effect with this photo along with the message reminds me of the values of yesteryear. We agree with what's written on the sign and hope others feel the same too!
Thanks!
-Mike

This weekend I decided to take my girls downtown for a short photowalk. When we got there, they were in a great mood and having fun posing for the camera. Eventually, we took a break for dinner, but when we were done eating, my models didn't want to pose any more. Instead, we took a walk down to the park and along the river. After our outing, we looked through the photos and decided this one had the best contrast to make a nice black and white image. The subject is the man-made falls along our downtown riverwalk. Taken with a Sony SLT-A35, 18-250mm lens at 50mm, ISO 200, shutter 1/10, f/20 then converted to B&W and sized in Photoshop.
-Bennett Sansbury
While walking through a garden we came upon a violin player. With his old world attire, I thought the black and white effect of the challenge would suit him perfectly.
Settings were 90 mm, 100 ISO, and exposure at 1/100 at f/8.
Katrina Giusti
The weather was pretty crappy this weekend where I live so my plans for this shooting challenge had to be changed a bit. This shot is of Ki, my 12 year old mutt (and the best dog ever!) being pissy becasue I wouldnt take him for a walk in the pouring rain this afternoon. Fear not he eventually got his walk in the rain but only after I messed with him a bit (hes not a big fan of the flash). The older he gets that more white the hair on his face has become and the more persistant he has become about when he eats, when he walks, etc. and he has no problem making his disatisfaction known to all when it doesnt happen. This shot was taken with my Nikon D3000 with a Nikkor 18-55 DX lense, 1/10th sec @ f/5.6 sec.
—James Bowman