Five days old Eihem
Born on April 17th, I'm his uncle to him, I hope Eihem will have a much better life than what I did.
Do anyone else want to eat his foot? because when I ever see a small cute soul I just want to eat it.
Of course I don't meant it for real.
Tools: Canon 600D, Lens 135. ISO:100 F-stop:5 E-time:1/6 (Image has not be edited)
Muhammad Darwish
Shot with a Nikon D5100, ISO100, and the stock 18-55mm lens (set at 35mm).
The 970px wide photo wouldn't com in under the 200kb min without severely reducing the image quality, so I've included both a 970px wide version at 250kb as well as a 800px wide photo that comes in at the 200kb limit.
G/O Media may get a commission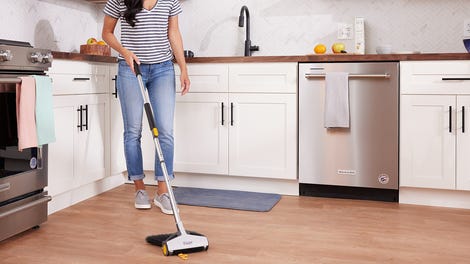 BOGO 50% Off
Flippr - BOGO 50% Off
Back Story: I just purchased this Nikon, and hadn't had a chance to really test it out. My girlfriend and I are both into photography, so we decided to go to a local metro park and take some shots. Once we saw this weeks shooting challenge, we thought it would be fun to both submit photos and have a little friendly competition of our own.
- Ray
As a long time photography fan who took and loved photography classes in High School, I finally bought my first real camera one week ago. I haven't had much time to play with my new T3i DSLR so when I saw the Black & White shooting challenge, I knew it was the perfect opportunity to get my feet wet.
The same day that I got my camera, I noticed a new neighbour had moved in to my backyard, a pigeon-like bird, who has taken over a Robin's nest that was built two summers ago. I remember seeing two white eggs in the nest and I wanted to capture the contrast between the beautiful white and the dark surrounding nest. Unfortunately, the mother bird was very stubborn today and no matter how close I got, it would not fly off and give me access to its eggs. I wasn't going to be a jerk about it so I settled for taking a few photos of the bird.
The photos turned out good in colour but it wasn't until I applied a high-contrast blue filter that a fantastic B&W image came out which really showcased the wonderful textures in the photo. I managed to bring out the texture of the feathers, the nest, the surrounding wood, and even the eyes. This shooting challenge was a great way to start my new photography hobby.
Canon EOS Rebel T3i, standard 18-55mm lens, ISO 100, 1/100s, and f/6.3.
Basel Sabbagh
I had some outdoor ideas for this shooting challenge but of course it was raining when I was able to shoot. So I set up this shoot on a chair with my old black and white Chuck Taylor's and a white blanket. I shot on a tripod with my Canon Rebel xsi, a Canon 50mm f1.8 lens and one room lamp and a window for lighting. f/1.8 1/5s ISO:100
—
Thanks,
CHASE
I had been looking for something good to shoot in black in white for a few days when on my way home from work I noticed the clouds were hanging low and looked kind of ominous. Unfortunately I did not have my camera with me. As soon as I got home I grabbed my camera, ran up to the attic, stuck it out the window and snapped this one. I only had a few minutes before I was due somewhere else, so I really didn't have time to check my results except for the little preview screen. I live in the suburbs so there were actually lots of trees in this shot that I cropped out. I left one tree in to give it a little perspective, otherwise it just looked like smoky cotton balls. I wish I had had access to the full sky/horizon. Not until 2 days later that I went to use my camera again that I realized that my polarizing filter was still on the lens. I hadn't noticed it when I shot this picture and I'm not sure what kind of effect it had. Shooting in RAW really helped with the post processing. I'll tell you these Shooting Challenges challenge me and teach me something new every time.
Nikon D70s, 18-70mm @18, f4.5, 1/320, raw, ISO 200.
-Brian McCabe
Canon PowerShot SD800 IS 9.1mm f/4 1/30s ISO 200
Never having entered a photo contest before, I pulled out a typical point and shoot and tried to take it to the next level with the appropriate build of CHDK to shoot RAW. I moved quickly mounting the camera on a tripod and placed my son Edison, who was hungry for avacado, in front of a blank breakfast room wall. I casually snapped of a couple of him before his smile erupted using the 2 second delay to minimize shake. The modified camera firmware's default saved to .CRW. This was not easily importable .DNG and surprisingly, the latest adobe dng converter didn't like the files, but seconds of internet research had me rolling again using the free dng for powershot2 software. After dropping them into photoshop cs4, it opened camera raw 5.7. I'm sure similar software setups will allow for similar modification. I raised exposure, pumped recovery, raised blacks slightly and then reduced saturation all the way. A simple crop removed about 4 different logos and brought the photo to contest specs. I can't type anymore because I hear noises and my guess is that I need to go change a diaper. My wife has been out of commission all weekend after pulling something in her neck. She looks hilarious and cute in a neck brace.
- Ben
Camera : Canon 7D.
Lens : Canon 60mm USM Macro
F : 2.8
Speed : 1/160
ISO : 500
Title : The little bird in the window.
History behind the shoot :
I was downloading some photos to the computer when this little dove comes thru the window and got all scared in the bedroom. so, gently my mother capture it, make her a little more comfortable on her hands. After a few pictures, we bring it to the window and let her fly to the nearest tree. Pure lucky I guess...
Regards !
José Gustavo Z. Rosa
I happened to take a ton of shots at a local arboretum, this one was taken with a Tamron 70-300 tele-macro at a effective focal length of 270mm. I used a tripod back about 5 feet. This shot lent itself well to converting to Black & White.
—
Marvin Francois
I initially wanted some railroad shots when I came across these old buildings time has left behind. I tried for a black and white with a little Holga effect. Shot this on my Canon T1i with a 35mm lens. ISO 100, F 4.0, 1/500.
Robin Coats
Canon EOS T3
ISO 800 50 mm 0EV f/0 1/60
RAW converted to B&W in iPhoto
- Brad
Shooting Summary
Shot with a Canon T2i, ISO-200, Monochrome colors, F-stop: f/5.6, Exposure: 1/25 sec
Story
I was trying to find something that was naturally black and white to begin with and being a big reader I naturally thought of books. I took several hardcovers and layered them on top of each other and experimented with different shooting angles and ultimately ended up with this.
—
Regards,
Carl Santos