This one I took at the Four Seasons Hotel in Miami, FL, when I wake up I saw this beautiful sunrise and the iPhone did that amazing reflections of the sun...
The equipment used is the iPhone 4, ISO 125, 3,9mm f/2,8 1/15
My Name is Andre Mello and I'm from São Paulo, Brazil.
- Andre Mello
Hi,
I shooted this photo with my iPhone 4, from my balcony at my house in Croatia, Zagreb...
2 days before I was on hand operation in Hospital, so, for now, I'm at home, and weather was beautiful today...
I tried some Apps on iPhone 4, and then I started shooting some photos...
And I came to this one, and I did some editing on my iPhone 4.
And, now, I'm just sitting and viewing to beautiful view...
Best regards from Croatia, Zagreb! ;)
- Vedran Papes
G/O Media may get a commission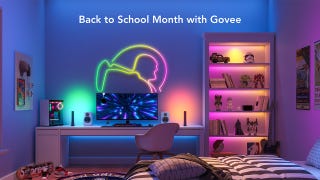 Back to School
Back to School Month with Govee Sale
I took this photo of the tree in front of my house on my Blackberry Bold 9650. Yes, the one with a crummy 3 megapixel camera. I did not edit the picture at all to create the swirly effect but just turned it around rapidly. Even I was surprised that a phone with such a camera could take a great photo!
- Walter Deleon
I used my Motorola Razr VE20 2 MP camera to take the shot, not edited in any way. I was in St. Louis for a track meet with my team and we stopped at the Gateway Arch, it was cloudy and raining all day and on the way out I snapped this picture on my phone. I just wish I would have had my standalone!
- Adam Lang
Dear Gizmodo
The above photo was shot with my iphone 4, with no hdr and was shot today at 2:10pm EST, outside of my work.
The story is as follows. Whenever I was a kid I always went fishing on the credit river in Toronto, Ontario, Canada with my father and we ended up stumbling upon this early 19th century bridge that was built for the Canadian Pacific Railway. My work location is a two minute walk down the valley where I work as an electrical engineer for CN Railway. I always have the fascination of how bridges were built with simple tools and how it could last for over two hundred years. This photo symbolizes the strength of the Canadian Pacific Railway and how it has shaped the development of Canada. As you can see the structure is in need of major repair.
- John Mastrella
Shot this picture on my IPhone 4 on the way home. Saw all the beautiful lights at night and decided to give the "SlowShutter" app a try. As you can see it works very well. I then pulled the photo into the "Photoshop Express" app to crop it and work on the saturation, contrast, and exposure.
- Chad Hathcock
Shooting summary :
- Camera : iPhone 4
- Lens : standard iPhone lens
- ISO : Automatic (Non-HDR)
Story of the Shot :
I read about your challenges before but never thought of participating, I'm not a good photograph. But when I saw the lead shot, from my own school, I thought damn I can make this !
So I grabbed my phone and started running in my whole apartment, looking for something interesting. There was clearly great sunlight conditions, but I didn't really got the thing before I went on my balcony. I thought this is it !
After having tried a few shots, I got a really neat one of the balcony fence : I loved the effect !
I then used Iris Photo Suite to enhance this effect and make a great sunset with more red,blue and less green, more contrast and a little less brightness.
I think I nailed it, damn !
- Alex Unnervik
Hello,
This is much more of a technical shot than a straight out beautiful shot, but I think it is pretty unique and thought I would submit it.
What you are actually looking at here is Jupiter and three of its moons – the fourth that can be seen with a telescope from earth is obstructed by the light from Jupiter.
I took this by holding the lens of the iPhone4 up against the eyepiece of my 60x Alpen spotting scope (on top of a tripod). This was extremely difficult to do because I had to get the lenses lined up correctly and long enough for the focusing of the iPhone to catch up and expose the image (I got a lot of black ones until this came out). Steady hands for the win!
This photo was taken on top of Cabrillo Point, in San Diego, CA.
enjoy!
- Tyler
Downtown Los Angeles sunset from 10 W Frwy @ East Los Angeles - After moving to West LA area the thing that I miss the most about East Los Angeles is the beautiful sunset view from City Terrace hills.
- HTC Evo 4 Camera - Android
- LittlePhoto App (Various filters)
- Juan Ramirez
Forbidden Stairs
I was delighted at how this picture came out. After touring St Dunstan's Basilica, Prince Edward Island, I had some time before a concert. I noticed the sun streaming down from the bell tower and through the locked gates, so in the absence of my T1i I shot this with my iPhone. All weekend afterward I fancied myself a pro with my cellphone, but really ended up deleting a lot of pictures, and taking just a couple of keepers.
Taken with iPhone 4, Camera+ app with antique effect and vignette added, and had to do nothing in Aperture.
- Brendon Brown
Walking into work And beautiful sunrise is waiting. Taken from my HTC Thunderbolt
- Robert Tolli
I took the picture with a nokia 5800 xpressmusic, with the normal camera function and standard settings.
kind regards,
- Roman de Weijer
The camera that I used was the one in a Nokia 5530 XpressMusic. I used the Symbian S60V5 camera app. ISO was set to automatic and the focus aswell. I took this shot today on the ferry boat that connects the cities of Niterói and Rio de Janeiro in Brazil. I was arriving at Downtown Rio and then I took the picture. I use the ferry boat almost everyday once the bridge is allways jammed with heavy traffic. Taking the ferry and then the subway is the quickest option to go to the University. Good thing about this is that I can enjoy the city's breathtaking views on the way to study/work.
- Ricardo Brenelli
I saw this contest in the morning and thought it was an awesome idea, but that I would be too busy to submit anything. Little did I know that my dinner plans would change and I would run into this great scene with the sunlight behind the Sakura trees on my way to the revised meal location.
Taken with an iPhone 4, using the Camera+ app for some light adjustment and a toy camera filter.
- Michael Yu
After hearing about the contest I decided to play around and see if I could snap anything on the way home that looked interesting. The roads in South Dakota are generally pretty straight so I strapped my iPhone to the steering wheel and started clicking away. Just before I got home I was passing this truck and the sun seemed like it was in just the right place so I clicked off one last picture.
The picture was taken with an iPhone 4, a 1996 Audi A4 as a shooting platform as well as an image filter as the windshield was very dirty, and the following software; Hipstamatic using the Roboto Glitter lens and Kodak XGrizzled film, PS Express for some additional sharpness to make it even dirtier, desaturated slightly and reduced the exposure just a bit. I also cropped it a bit in PS Express.
Thanks,
- Bert Behrens
This was taken with my new phone - Microsoft's Kin Twom. I'm afraid I can't provide details such as the ISO or lens, because the camera application is rather basic. Luckily, the camera itself seems to do a better job, with competent enough autofocus for fun shots like this. This is the rusty bolt that supports a local flagpole. It looks a bit ancient here, but it still does a good job.
- Tyler Gordon
Taken with my Nexus S using Vignette for android under a custom setting I call "Bleach". It's basically a bleach bypass w/ film grain & underexposed to compensate for the contrast. Usually use this setting when its real sunny because the colors just pop, but for some reason while waiting at Madison Sq. Park to get some shake shack, i looked up at the light post I was standing under & it looked eerie. Something made me pick my "Bleach" setting & out of it I got this, the clouds give the sky a painting look & the lamp replaces the Moon in the image.
- Omar Viscarra
I don't know about the ISO or anything, just shot it out my window with a Droid 2. I've been trying to find more beauty in these gray rainy days, and this just hit me one afternoon when I was gazing out.
- Josh Simmons
Whilst away in San Francisco or a week standing on the corner of the street I thought it would be an ideal time to take a photo of the block. Using the hipstamatic using lens lucifer VI and film pistil the image came out great with a great focus in the background.
From Lewis, Kent.
- Lewis Pugsley
Photo taken with a Samsung Focus running Windows Phone 7.
Happened to be walking by the Space Needle in Seattle when all of a sudden, the sun shined through the clouds and lit up the tulips next to it. I lay down to place the phone under the flowers facing almost directly up.
- Wook Chung
I quickly snapped this shot during a security operation here in
Iraq.Using an iphone 3GS with Hipstamatic with the "Kaimal Mark II"
lens and "Kodot XGrizzled" film with flash off. Currently at a remote
location where all we have is satelite internet that runs at 56K like
speeds. Needless to say it took a while to send this email. I hope
you guys enjoy. Nothing was tweaked except the image px size using
photoshop cs3.
- Nicholas Ferry
Hi, First entry into the shooting challenge (as i don't really own a camera, shame on me!) so please be gentle!
Shot on an iPhone 4 with Magic Shutter app.
My "Model" is a lego representation of my fiancé, that we plan to use on our wedding invitations. We bought them when the Lego store opened in Cardiff, Wales a few months ago, and i've been playing with the magic shutter app for a few weeks now. The light trails were made with a light pen, much like a doctor would use to look in your eyes / ears etc. Unfortunately the app will only shoot at low resolution so no wallpaper version. Sorry!
- Ian Lewis
iPhone 4, PS Express
This is my desk lamp in my cubical at work. It is my primary light source since we keep the overhead lights off most of the time. I spend more time than I'd like to admit working on the computer that is deskmates with this lamp. At the end of each night, after I shut down the tower and monitors, I lean over to gingerly switch off the lamp, which is hot to the touch from a long day of easy-bake-oven style heating.
I was a surprised that the entire photo didn't wash out looking directly into the 60 watt bulb. But the standard camera app corrected the exposure and focused in on the lettering printed on the bulb.
As you can see, there is some significant banding going on in this shot, a problem with most cellphone camera sensors. Rather than minimize it applied a sketch filter and bumped up the contrast in PSExpress. I also rotated the original 180 degrees.
- Yates Austin
Hello!
I used my iPhone 4 and then edited in Adobe Photoshop Express to increase saturation and add a rough edged border to this photo.
The photo was taken at the top of Peak 8 at Breckenridge, CO resort, and looks down the back of the range to peak 7. If you look closely in the picture you will see first, two people standing and pointing, looking closer you will see small dots on the far side of the mountain, these are actually people making their runs down into the bowl. It gives you a true sense of the size of this beast.
Peak 8 is only accessible by a hike up about an additional 50 vertical yards from where the lift drops you off. I have only been snowboarding for about 2 months prior to this endeavor. When I got to the top of the mountain, my hands were shaking but I managed to snap off this and another cool pic before I ultimately dropped into the bowl on the opposite side of where I was shooting from.
Hope you enjoy!
Regards,
- Matt Menaquale
This is a photo I took on my trip to South Korea in January, while visiting family over there. I took a whole bunch of other photos, but this is the one that I liked the best. The weather, framing etc. all came together in a lovely shot. All in all, a lovely reminder of my time there.
iPhone 4, no lens
Exposure - 0.002 sec (1/487)
Aperture - f/2.8
Focal Length - 3.9 mm
ISO Speed - 80
No Flash
- Jason Dewey
"Ghost Bridge"
Taken using an Apple Phone 4 and Magic Shutter app
Camera+ "Clarity" filter added.
F/2.8
Taken 4/20/2011 1:04pm
While riding in a car on my way to a late lunch, I launched my Magic
Shutter app. At that exact moment, we hit a pot hole. Buildings on
either side of the road frame the shot and the yellow street lines are
splintered from the turbulence. A pedestrian bridge, just ahead,
looks to be fading from existence.
- Adam Thornton
I'm in New York City for vacation and have been loving the architecture. When I saw the contests I knew that I had to enter so I snapped a few shots of some building that I thought had great architecture and got quite a few that a really liked so I had a difficult time deciding which to submit. I choose St. Patricks Cathedral because it is great gothic architecture and the shadows and highlights turned out great, not to mention the awesome giant sun beam on the left side. I used the Camera+ app and ran the photo through the clarifying light filter.
Thanks,
- Hayden Taylor
Hello!
Pete Green here, submitting a cell phone picture for the Cellphone2 challenge.
This picture was taken in Okemah, Oklahoma.
The subjects are two of my cousins... That's Summer on the left, and Mariah on the right. They're standing on a trampoline in their backyard.
I took the picture with my Nokia XpressMusic 5800, with a 3MP camera. I don't know what the settings were as I use it on full auto, aside from the flash settings.
I did use Adobe Lightroom to soften the noise, and bump the contrast and saturation levels a bit, but otherwise, this is a pretty typical sunset on a cloudless spring evening in Oklahoma.
Thanks!
- Pete Green
I took this (sadly lo-res) photo using the FX Camera app on my Motorola Droid, specifically the Toy Camera mode. I was visiting Cedar Point with my family and just happened to snap this shot of the Carousel at twilight.
Thanks!
- Drew
I took this photo on our way back from Key West aboard the Whale Watcher in the middle of the Gulf of Mexico. Everyone was outside waiting for the green flash so I had to stand on the bench to get a clean shot, and try not to fall into the gulf at 30 knots. This was the 3rd night in a row that we had watched the sun sunset, and probably the best, there was not a cloud in the sky and we did even get a glimpse of that mythical green flash. I took this picture with my Droid's (original) default gingerbread camera app and of the many I took that night this was probably the best.
- Ian Haag
Cellphone: Motorola Droid 2
OS: Android 2.2
App: Retro Camera using "The Little Orange Box"
Lens: Stock
Flash: No
ISO: Standard
My wife and I decided take our two girls to the Albuquerque Botanic Garden. Previously, I had been unimpressed with my cellphone's standard camera app. After doing a little research, I decided to give this app a try. I chose "The Little Orange Box" camera in the app because of its interesting description: "The Soviet Staple with aggressive cross processing and scratched square film. It's crappy plastic lens leaks in light and exhibits strong vignetting." This picture was the first one I took at the garden. It sold me instantly on the great ability of the app to turn a bland camera into one that produces nice, elegant photos. I now have a camera I enjoy and photos I treasure.
- Kevin Cooley
This poor beetle has been sitting dead on my stoop for about two weeks waiting for the sun to come out. It had been laying on its back and my friend accidently kicked it, turning it over revealing the muted red exterior, which had a nice stark contrast against the blue paint chipping off the concrete. Took about ten shots, I would have liked to get a little closer but my iphone 4 fails a bit when it comes to macro shooting. Only post processing was in format 126 for the square format and a slight vignette, and GIMP for resizing. Poor little bastard.
- Christopher Davis-Shannon
This day was the first day that my co-worker convinced me to arrive and leave early to work. She was generous enough to drive the both of us towards LA Wednesday afternoon. On normal days out the week, I would have been in the office too long to see any daylight. Luckily, the clouds opened up just enough to create a pleasant backdrop to accompany our drive through rush hour traffic.
This photo was taken on a Motorola Droid X using the native camera software.
ISO equivalent sensitivity: auto
Exposure: 0
- Danny Duong
Dear Gizmodo,
I was waiting at the Vienna Airport (Austria), and I saw this
construction work walking on one of the rooftops, so I whipped out my
painfully-slow iPhone 3GS, and managed to open the camera app in time
to take this shot, granted I had to time it well to properly frame the
man. I then took it into the app Photoshop Express and added a black
and white filter, and (for lack of the Levels tool) I upped the
contrast a tiny bit, and here it is. Enjoy.
Best,
- Fernando Gomes
Hello,
I am submitting a photo of a sunset at Venice Beach for the cellphone pic contest. My girlfriend, who was born and raised in Los Angeles, has never been to the boardwalk at Venice Beach. I decided to take her to the boardwalk during the week where there was just the right amount of crazy and just the right amount of people. I figured I could get some cool pictures for the contest as well. I wanted to capture something that was quintessentially LA, and what better example than a beach, some palm trees and a gorgeous sunset.
The photo was shot with a Nexus One, no flash, running Vignette with the "vignette" filter.
Thanks!
- Andrew
Hello,
This is my submission for the Cellphone Contest 2. This photo was taken from Castle Island, just south of Boston, MA. When the winds are right, the aircraft will land on runway 4R at Logan International Airport. When this happens, the final approach path is directly over Castle Island. This was taken around sunset, with Boston in the background. Zooming in, you can see the Prudential Building, and the John Hancock Tower. The best part about this picture is that it is unaltered. This is just how the photo was taken, with the stock camera application on the iPhone 4.
The photo detail says f/2.8, 1/2155sec, ISO-80. Thank you for taking your time to look at my photos!
Cheers,
- Max
Droid Incredible using the "Camera360" App. It was freezing in New York on the day I shot this. This week has been up and down, cold to hot and back again. I had just got off the rail and saw the Apple store on fifth avenue for my first time. I was in shock at all the sights and sounds around me. Horse carriages were by the dozen, taxis outnumbered cars and across the street was the park. There were huge rocks everywhere. I climbed up and this was what I saw. It was unreal, let me tell ya. I just hope this picture does it some justice.
- Tyler Besh
Camera- T-Mobile G2X (on in store release day) 8mp Camera
Settings- All Default, Flash off
Edited using- PicSay Pro for Android, which unfortunately reduces image size so the full size isn't the full sized unedited.
The Photo was taken at a Cincinnati Reds night game against Arizona, they were losing and very boring to watch so the only thing worth doing was snapping off a few shots on the new T-Mobile G2X I had bought earlier that day. Really Impressed by the camera, though disappointed PicSay Pro doesn't maintain photo resolution.
- Justin Hubbard
Giz,
I was driving down a side road at dusk when I came to a damp and bare intersection. I noticed the orange light of the setting sun created a very dramatic scene as it was shadowing a shed, a sign, and a web of wires that crossed the sky. I took this photo on my old Samsung Slyde keyboard cellphone. For a pretty bad phone, I thought it took a pretty nice shot.
Camera: Samsung Slyde M540
Lens: Cellphone Camera
ISO: Unknown
F Stop: Unknown
Cheers,
- Alex
Second file is the best available technical info: James Bond I am not, can't even tell you the ISO.
Shot on a DroidX, running Android 2.2 some decimal points etc., and Camera 360 app, current iteration.
Being Norwegian and raised on traditional folklore, I have always had a morbid fascination with bridges, Nordic tales of Trolls and Giants have always fascinated me, I picture this as a modern equivalent of the fairy tale troll bridge, somehow toxic.
- Felonious Max
I do not own a professional camera, and so when I saw this contest on Gizmodo, I was happy!
I took this photo while driving to get to the Cross Bronx Expressway in NY. At the time, my girl asked why I took a pic of the sky. I had my sunglasses on and saw a beautiful sky which did not seem as amazing without the sunglasses (She didn't have hers on). I took the picture anyway and thought maybe I could tweak it a bit. I only used the PS Express app on the iPhone for this one. I applied the 'sharpen' and then 'warm vignette' effect. Added the border and... well, my girl then understood why I took it.
This is aside the contest... thanks for the good times over the years. You guys make life at work better **but my boss didn't hear me thinking out loud**
- Marlon
When I stepped out of my car in the parking lot at work, I saw this imprisoned snail trying to hoard money behind my parking space. To my everlasting shame, I stole his money as soon as he turned around. The huge cement prison walls are actually the curb next to my parking space.
- Dan
simple sanity
taken using an HTC Inspire with no special settings, just the perfect physical environment.... If I don't win the contest, I still won.
Thank you,
- Randy
After raining for 4 days straight when sun came out thursday evening my fiancée and I went for a drive. We blasted the newest Bright Eyes album as we drove around and I tried to grab something for the latest gizmodo contest with the Hipstamatic app and my iPhone 4. we rounded the corner, "Approximate Sunlight" came over the stereo, and the sun lit up the side of this building. The contrast of the actual sky and the reflection of it on the building was perfect. "I wouldn't waste another thought on what is real and what is not."
Technical Info:
iPhone 4
Hipstamatic app
Lens - John S
Film - Blanko Noir
Flash - Off
- Rob Fraser
I took this shot of my amplifier while running karaoke. Sometimes after staring at the knobs for four hours you feel like you have tunnel vision and I wanted to get that effect. Lit primarily with my rack light and then the dim ambient lighting of the bar. I used the Vignette app on Android (Base filter Vignette; added Extra Vignette, Soft-Focus Halo, and Light Leaks). (Phone - Sprint HTC Evo 4G, Android App - Vignette, no further editing).
- Jon DePalma
My name is Michael Bandy and you can see more of my iPhone photography on Instagram, username: ronindice. You can view my website at www.autumnleafphotography.com which has my regular photography.
The company I work for has had me working nights in Oxnard, Ca. I usually get into Camarillo, Ca at approximately 7pm. The sun is starting to set and every once in a while the setting sun will illuminate this hill. Camarillo is a farming community with many fields and greenhouses. Thursday night, May 21st there was both the light and clouds I was looking for. I set-up my camera and tripod on the edge of this strawberry field and started snapping away. While doing so I pulled out my iPhone 4 and using the ProHDR app, I shot this High Dynamic Range image. ProHDR uses 2 images in their HDR process. I used the manual setting in the app to choose my bright point and my dark point so as to maximize the potential for the scene. When the image had processed, I then used the Camera+ app and the PhotoWizard app to do the finishing touches. I have about 20 different photo apps on my iPhone, but ProHDR, Camera+, and PhotoWizard are irreplaceable for me.
Thanks for your consideration,
- Michael Bandy
This photo was taken with the Camera+ app for iPhone through the lens of my polarized sunglasses. The image settings are ISO 80, 3.8mm, f/2.8, 1/1436s. Post processing in the Camera+ app include Clarity (Scene), Golden (Crops), XPRO C-141 (FX Effects, and Light Grit (Borders).
The story behind the photo is: I walk in this field all the time with my two dogs. Often we get to witness gorgeous sunsets here over San Diego. As I was walking I thought the light looked really neat through my sunglasses (Oakleys with polarized lenses). Wanting to duplicate what I was seeing I figured the best way was to take off my glasses and try shoot through one of the lenses. I took a few shots and this one turned out the best.
Sincerely,
- Ryan Raimo
Title: Jealousy
I captured a photo of this green eyed monter earlier today. He tried to escape but I was able to my Blackberry Bold to work and capture an eye-full.
In all actuality this is is a picture from the mouth of a green vase that my friend has next to his fire place. I set my phone right over the opening, turned the flash on and snapped the picture and the outcome looked a lot like an eye I thought.
As easy as this shot was to achieve I tried many different shots, but my Blackberry was not able to produce anything I liked more than this one. Enjoy!
- George Westlake
I was at a Chevy dealership looking at a new Camaro and along with a picture of the Camaro I shot this gigantic American Flag that was flying over the dealership. It was shot on an iPhone 4 at f2.8 with shutter speed of 1/3000 sec and ISO of 80.
Thanks,
- Tony Fling
"A lighthouse in the skies".
This rather surreal and atmospheric photo was taken with a iPhone 4, standard camera app.
Aperture says: ISO 80, 4mm f/2,8 @ 1/1257.
What, at least to me, looks like a beaming lighthouse rearing its head over a black sea, or dark foggy valley of clouds in a sunset atmosphere,
is NOT a painting of Caspar David Friedrich. ;-)
It's actually just the sun setting right on the metal handrail of my balcony. (The blackish thing in the lower 3rd of the picture)
Given the right angle, the metal reflected (after several tries) the sun in a most peculiar way, creating the illusion of a tower growing out of
the underexposed and unfocused handrail. The complete absence of hard lines, the soft transition of the colourfull sky to a
surreal black (spooky) mass is what I like most about it. :)
No hard photoshopping done. I just straightened it and added a hint of saturation, to keep up the spirit of cellphonetography.
Thanks,
- Marco
Hello :)
Equipment:
Iphone 2g
Credit Card
lighter
electrical tape
Salvaged lens
I'm a first timer in these contests so bare with me. I have no fancy equipment, in fact they are quite the opposite. The story behind this image isn't so much about the flower itself as it is the lens and camera I used. I had an old digital camera that just stopped working for some reason. I took that camera apart and just salvaged the lens for some odd reason. A few days later I started reading online how people were fashioning DIY lenses on Iphones for macrophotography. I decided to take out the lens and try it out. I fashioned a lens adapter out of a credit card, electrical tape, lighter and the savlaged lens. I was amazed by the range of pics it took and really opened a whole new world of photography.
- Juan Gallegos
Taken by an iphone 3gs
I am an RN. I came to work yesterday finding this beautiful tulip in the nurses' station. I was very happy to see it but at the same time i was very sad. A flower in the nurses' station could only mean one thing...a patient has died :(
- Joeton Labos
Can't tell you much about the settings I used for this shot because it was with a cell phone(Blackberry Tour). But what I can tell you is that I was the the Henry Doorly Zoo in Omaha Nebraska on a first date with an amazing new girl and the penguins have always been both of our favorite animals to watch and decided this would be my first entry into Gizmodo's Photo Contest. Overall the picture turned out alright and the date amazing.
- Samuel Woitaszewski
On seeing the post for the second cellphone challenge, I waited for the last hour of sunlight, and went outside and began taking pictures with my Samsung Captivate; some with the Vignette app, some with the stock camera. I'd taken quick snapshots with my phone before but hadn't really tried to get a good image with it, and I was quite surprised at the level of saturation, contrast, and detail I was able to get, especially with the default Vignette effects.
After I got some very good shots, I came inside, glanced in the kitchen and saw the last rays of afternoon light shining on an orchid in our kitchen, and took several shots of that, with various effects. The "sunbeams" are the setting sun diffused through a very dusty window. The only post-processing was a crop from the native 16:10 to 3:2 (I'd accidentally left widescreen on when I really wanted a more traditional crop) - I must say it was quite frustrating trying to crop this on the Android phone without reducing image quality. I tried all the imaging apps I have and none gave me the option to save at 100% quality, so I wound up using Picasa on my desktop to perform the crop.
In the end, I was torn between several different shots - a pic of my daughter came out particularly well, as well as a couple more "arty" textural shots. But the sunbeams in this picture sealed it for me - it has an ethereal quality that just grabbed me from the moment I saw it.
Unfortunately, Vignette doesn't store much EXIF info, so I don't know the ISO, shutter speed, etc.
- Brian Driver
Hi there,
The pictures below was shot on an iPhone4 in the standard camera app on good friday.
I was sitting in the park watching my son and daughter playing. I thought about getting a couple of shots of them playing but they were moving to fast. I didn't rate my chance of getting them to pose while they were having fun so I turned my attention to the tree I was leaning on. Luckily the tree was most obliging and kept perfectly still.
I Downloaded to my laptop with aperture and converted to black and white using one of the presets (Can't remember which)
Regards
- James
I took this with the Iphone 4 camera using the camera+ app, I used clarify and the XPRO C-41 FX effect to make the colors pop.
I was outside taking photos of the trees in my yard for this contest when my cat became nosy and had to see what I was doing, every time I moved my phone she kept getting in the shot, so I decided I might as well take her photo. I liked this shot because it reminded me of the paint by number kits I used to do when I was a kid.
- Tammy O'Neill
Land of the Giant Wildflowers
I like the ProCamera App because it allows me to set the focus and the exposure meter separately. In this case I focused on the flower and set the exposure on the sky. I got far different results keeping the exposure on the flower, or moving it to the tree, this combination worked out best. I also like that I was able to achieve some bokeh from a cell phone camera.
Camera: iPhone 4
Focal Length: 3.9mm
Aperture: f/2.8
Exposure: 1/1371 s
Camera App: ProCamera
- Robert Allen
While down in Atlantic City and walking on the boardwalk about an hour before sunset. The light playing over the path to the beach just made me stop and shoot off a shot. Photo taken with an HTC Thunderbolt cellphone, auto ISO and White balance. Auto focus was on. The camera has a 8 mg pixel camera which works great for taking random snap-shots. This will not replace my Canon EOS T2i but will be a nice supplement to it!!!!
- John McNamara
cellphone used: SAMSUNG GALAXY S 4G (SGH-T959V- TMOBILE)
cellphone camera info:
5.0 megapixel
shutter speed: 1/115 sec
exposure: normal
aperture: f/2.6
ISO speed: 50
focal length: 3.8 mm
I just recently upgraded to a Samsung Galaxy S 4g phone. I took this picture yesterday afternoon on Good Friday when i got home from work. Spring is my favorite season and I had to take a picture of the cherry blossoms in front of my Aunt's house to capture and celebrate that Spring season has finally arrived. I just re-sized the image to spec and didn't edit the photo for any effects.
- Gem Barria
I didn't really have much time this weekend so i decided to go the "lazy" way and take a picture of a sunbathing butterfly, and that's about it.
Stuff i used:
iPhone 4
"Genius" to take the picture
"PS express" to crop and stuff
- Henrik Paales