Hello, I thought that I would submit this regardless of it being late ( I thought I had an extra day or two somewhere). To take the shot I used an olympus e-510. The ISO was at 400 with at shutter of 1/13 and an Fstop of 3.5. This was taken before a massive snow storm. -Curran Craig
I used a panasonic DMC-FX150 point and shoot camera. I had to shoot it in manual mode because I was shooting into the sun. This is after a rainy day in Los Angeles. The shot is looking toward Century City (The water is behind it). -Jim Hale
Photo of Dolly Sods Wilderness Area in West Virginia. Canon 40D with 17-85 lens; Exposure 1/800; f20; iso1600 -Brendan Lilly
Shot with a Casio Exilim EX -FH20 with 400 ISO, 1/20s, f/2.8 -Andrew Underwood
The Brooklyn Bridge. As my day job I shoot reality TV shows and while filming at the base of the Brooklyn Bridge, I had a quick minute to take this still shot of the Bridge. Shot with just a little ole' Canon 450D Powershot (that I carry everywhere on my hip) at a mere 5 megapixel resolution. I've printed this at 20x30 with help from some of the enlargement plug-ins for Photoshop. Amazed at the prints that can be achieved with little point and shoots. Who needs to spend 5k on the big guns ;) Proof again that the best camera is the one you have with you! -John Sutherland
Saw this memorial set up by the side of the road & thought it was adequately depressing. Couldn't decide which shot to submit, so I sent 3... Shot handheld with a Canon Rebel XS with EF 28-105mm f3.5-4.5 lens in aperture priority mode. -Eric Kornblum
This is a photo of some dead, dried plants in my front yard taken at night time. Canon 500D/T1i, Canon 10-22mm @ 16mm, f4, 400 ISO, 10 sec exposure. -Henry Lee
160th of a second, F6.3, Nikon D90. It is a tree near my house, and the leaves all fell off in one day, after the first freeze. -Chad Estes
"Snowy Street" Yashica 635 TLR; 1/500 sec. @ f/5.6; Kodak Tri-X ISO 400, 120 film -Keith Derickson
Shot with a Nikon D40 with a Nikkor 18-55mm lens in B&W mode. Slight brightness/contrast adjustment in Adobe Lightroom. Focal Length:38; Aperture: F/4.8; Exposure: 1/1600; ISO:200 -Brian Dougher
D60; f/9; 1/40sec. shutter; ISO 400; 135mm Focal length. I know squirrels are not very depressing, but this was the only squirrel without a partner that i saw and upon review, i found that its ear was torn up! I'm sure this squirrel is having a very grey, depressing winter... -Matthew Staerk
Attached is an entry for Gray Winter. This photo contest was a good excuse to get outside (so cold) and do photography. It was shot with a 40D, EF-S 17-55 Lens, ISO 100, and in Canon's Monochrome mode. The location was in the hillsides of Silicon Valley, nearby Christmas tree vendors and a great stretch of mountain driving. -Rex Feng
Florida, as pretty as it can be, is just as depressing as anywhere else in black and white. Shot on a Nikon D90 in M mode, in-camera monochrome using a Nikkor 18-105mm G ED VR lens at 25mm. Manual mode allowed for use of ISO3200 for no good reason since it was a perfectly bright and sunny day around 3PM, 1/1000 exposure at f/11 letting in a little less light than desired. Aside from importing and resizing in Picasa 3.0, the picture is identical to what came out of the camera — no post processing needed. -Richard Foshee
Camera: Canon EOS 40D; Lens: EF28-135mm f/3.5-5.6 IS USM; ISO: 400; Exposure: 1/8000. Subject: Winter after California Wildfires -Devin Workman
I shot this photo at Hall's Harbour, Nova Scotia on December 6th with a Canon Rebel XSi using a 18-55mm lens and the no flash setting. Editing was limited to cropping and a slight vignette around the edges. -Bryn Karcha
Nothing special here- just a lucky shot. Winter isn't in full swing here yet, so I went for cold empty beach instead. The settings were as follows: Nikon D5000; Prime 35mm lens; Focal length: 35 mm; Aperture: f/2.5; Shutter: 1/3200 s. This was shot at Heckscher State Park on Long Island. -Tom Pagano
This picture was taken while I was laying on the floor in the middle of the Smokey Mountains in Tennessee. The camera was just an old Nikon Coolpix S230. I just liked this pic, so I thought I'd give it a shot :) -Nick Montes
Canon 5D MarkII; Canon 17-40mm F/4 L USM Ultra Wide Angle Lens; Manfrotto 055X PROB Tripod; Manual - F/11 - ISO 400 - 30 second exposure. There was a little bit of haze in the air with the bright moon. This allowed the barren branches show up in the foreground. It was nice to see a few stars make it into the shot too. -Zac Mansfield
This was taken in the parking lot of my office one snowy morning this week. Nikon D40, 35mm @ f/1.8, 1/30s, 800 ISO, B&W mode, no post-production. -Sam Martin
Nikon D90; 50mm Nikor Lens; 1/160; f/4. From Pittsburgh, PA -Neal Rosenblat
Taken from anza borrego desert state park (as winter as it gets around here=] ). My camera is a nikon d90, and this shot was taken handheld with a tokina 28-70 f2.6 at f22, as wide as it goes (28mm) with 1/125s shutter and ISO200. i actually have no idea how to take b&w pictures on camera so i used lightroom2, also used it to change the width to 800, but no other changes. i hope that doesnt disqualify me :P -Sukhyung Shin
Florida is a place many go to spend their Winter, enjoying the warm weather and sunshine (usually on the golf course or beach). Around the corner from our place is a golf course, seen in this picture, which has been closed for several years now and has become overgrown. There's some beauty in the natural landscape which has conquered what was once a manicured garden, but today, on an unusually dreary day, it looked especially sad. Camera: Casio Exilim EX-Z750 Point & Shoot; Info: B&W in-camera with only minor contrast post-processing; Exposure: 1/200 sec at f / 2.8; Focal Length: 7.9 mm; Date: Dec 6, 2009 4:59pm EST -Miki Moro
Equipment. Camera: Sony A200; Lens: Lensbaby 2.0; Camera Settings: Shutter: 1/640 sec; Aperture: f/2.0; ISO: 100; Foc Len: ~50mm; Focus: Manual... very manual I went out with the Lensbaby because I wanted to exaggerate the "Wintery" feel, which to me, at least for this challenge meant "soft and dreamy" and the Lensbaby does just this. Subject is some sort of evergreen outside Scott Hall on NCSU's main campus. Minimal post processing was done in Lightroom 2.0 and Photoshop CS3 which was mostly upping the contrast and such. -Shawn Richardson
Nikon D5000, Nikkor 18-55mm VR, Exposure: 1/20, Aperture: f/5.6, Focal Length: 55mm, ISO: 1600. Shot when I arrived early to a job in Bellingham, WA. The moon was still visible as the sun was rising. Getting to work in the dark and headinghome when its dark is depressing, but I least I have a camera to play with! http://www.flickr.com/photos/sethstoll/ -Seth Stoll
All 3 were shot with a Canon 7D, Tamron 17-50 f/2.8 lens. Very light exposure correction or cropping may have been applied, but they are otherwise unadulterated. Dead Potted Plants: (JonathanFranklin2.jpg): 1/1600, ISO 100, F/2.8, 39mm; The dead potted plants depress me the most. They were left at a farmer's market among other neglected flowers and trees that never sold. -Jonathan Franklin
Paris Playground; Panasonic GF1; Lumix G 20mm; f1.7; ISO 100; 0.6 seconds. This is along the Seine in the 19th arrondissement of Paris. I rested my camera on the seat of another seesaw and set the timer. Maybe not the "greyest" shot, but the end of this week saw the first blue skies in about a month here, so I settled for a night shot. -David Forsythe
Shot next to the entrance of a Helsinki night club in the wee hours this weekend. Not sure if having snow would make this less depressing. Canon EOS 7D + Sigma 30mm f1.4, 1/50 sec at f/1.4, ISO 2500. -Janne Kytömäki
My name is Wesley Duffee-Braun from Asheville, NC. These were shot with a Canon 5D, 400 ISO, picture style Monochrome. 17-40L lens. It has been a wet, windy and chilly few days here in the mountains and was perfect timing for this challenge. -Wesley Duffee-Braun
I used a Panasonic dmc-fs7 unfortunately. Of course I used the B&W setting, iso at 400 with varying exposures. I waited for the snow to fall the night before, so thank you mother nature for that extra bit of "winterness" that otherwise would have been lacking. The clear skies though I could have done without in regards to the "gray" that was the point here. Then it was merely waiting for a proper time of day, dusk, to eek that extra bit of winter out of it. -Brendan Babaian
Here's a shot taken on a typical rainy Swedish night, December 6th at about 10pm. Weather doesn't seem to get any better than this this year I'm afraid. Equipment used is a Nikon D90 with a 30mm lens, +0.3 Exposure and an ISO of 200, Shot is taken at "night time" here so a tripod was used to stabilize the camera. -Gustavo Curiche
Camera: Canon Rebel XSI; Lens: 50mm fixed USM; Tripod; Software: Touch-ups done in Lightroom v2.5. Aperture: F8, Shutter Speed: 1/60 sec, ISO: 200, hand held shot, shot while sun was going down, wanted the texture of the statues to really stand out as well give it that artsy spin, while still having that depressing background of winter, minor edits in lightroom -Stephen Eckert
This is a picture of the abandoned Penn Station light rail stop in Pittsburgh. I took this handheld. I was facing the sunset, so it took quite of bit of tinkering to get the lighting right. Equipment/Settings: Body: Sony A-100; Lens: Sony DT 3.5-5.6/18-70; Focal Length: 18mm; Aperture: F3.5; Shutter Speed: 1/80th sec. ISO 200 -Ryan Hays
Hi here is a picture I took today after our recent snow over here at West Point. The picture was taken using an Olympus E-P1 and here are the stats: Lens: Voigtlander 40mm f/1.4 Nokton Classic; Exposure: 0; Aperture: f/4.0; ISO 200; Shutter Speed 1/160 -John Bonds
I went home to my parents this weekend in celebration of St Nikolaas' birthday (the local saint). In between storms outside and unwrapping gifts inside I took these two shots, one of a bunch of ducks trying their luck crossing the pond and the other of the last leaf still attached to a tree in our garden. Pretty pretentious (the leaf at least) and hopefully depressing enough to your taste. Ducks: f/1.8, shutterspeed 1/1600, iso-100 on a canon eos 350d with 85mm f/1.8 lens; Leaf: f/2.5, shutterspeed 1/640, iso-100 on the same canon eos 350d with 85mm f/1.8 lens. -Berend-Jan de Bruin
This is one of the churches in my village of Olsbrücken, Germany, shot using my Canon Rebel T1i with the kit 55-250 lens. Trying to use the camera one handed while holding an umbrella with the other due to the rain.. Found this spot a few weeks ago when the leaves were still on the trees, so I figured I return to see what it looked like now. The rest of the perticulars are: Canon EOS Rebel T1i; EFS 55-250mm lens; ISO-800; Aperture F/4; Focal length 65mm -Bill Griggs
Santa Monica Pier. 30 second exposure using two ND filters, on a Canon 5D Mark II, using a 24-70mm F2.7L lens at 40mm focal length. Shot at ISO 200 my mistake (intended to shoot it at ISO 50). Extra long exposure was used to give the ocean a creepy surreal quality. This image not manipulated in post at all, and straight from camera (well, I exported it from the raw file as a .jpg using Canon's Digital Photo Professional). -Patrick Salter
Taken with a Canon Xsi, Canon 55-250 lens, mounted on a tripod. I had to use manual focus because the clouds were partially obscuring the moon, giving it that hazy look. Focal Length: 250mm; Aperture: 7.1; Shutter Speed: 1/20; ISO: 400 -Kristi Evans
Nikon D 5000 w/ Nikkor 55-200mm lens at 102mm; f 4.5 @ 1/1000 sec exposure bias .67; Technique: I leaned over, composed and took the picture and went into my warm house. -Bob Kleinhans
Canon Digital Rebel XT; Canon 28-105 L IS Lens; ISO 200, 67 mm, f/7.1 @ 1/500. I sat on the ground as woman gave me an unfriendly look and walked by. -Joe Russo
This is a shot of bare trees in a park against overcast sky, taken at night with only the park lamppost lighting. I knew that my camera was condemned to getting a grainy shot, so I shot at ISO 800 to increase the graininess, trying to create an artistic grainy/posterized effect like I used to get in a darkroom in years past. I'm glad to see that the grain survived being reduced to 800 pixels for the contest. Also per the contest rules, it was shot in B+W on camera, then just a little lightening up with the "exposure" slider in iPhoto, but otherwise no post processing. (The original full-size is also a nice base for crazy manipulations.) Consider it serene or scary, bleak or beautiful, I hope you like it. Canon PowerShot SD790 IS, f/2.8, 1 sec (braced against a tree and holding my breath!). -Pete Puleo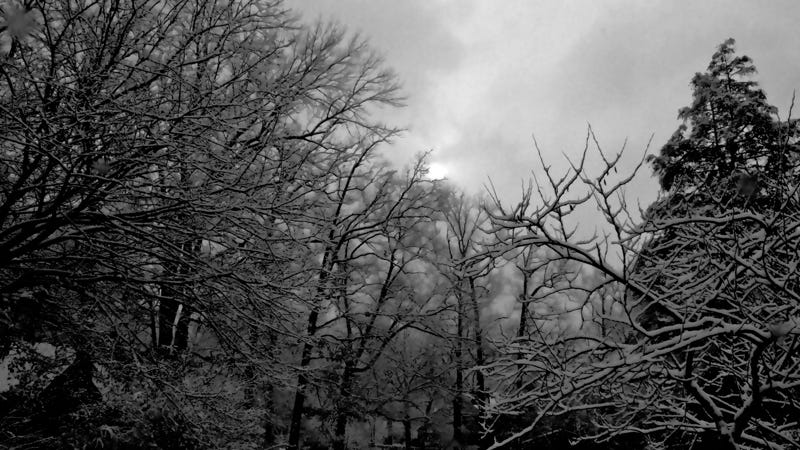 I really tried to come up with something that you would need to hide the sharp objects before you look at. there was a snow here in town so I snapped a few pictures before it all melted. canon eos t1i; f/20; 1/1250 shutter spd; 18 mm focal length; ISO 3200 -Brett Winston
A view across the Concord River in Lowell, MA in the late evening on Tuesday. The picture was taken with a Canon T1i at ISO 100 using a 28mm lens at f/8 with an exposure of 10 seconds. -Emerson Speyerer
Equipment: Olympus E-620, Sigma 18-50mm F/2.8 Macro lens, polarizing filter; Settings: 20mm (40mm "full frame" equivalent), ISO 200, f/4.5, 1/160 s; Scene: my front steps after the first real accumulating snow of the year. In keeping with the challenge, I shot using the camera's "Monochrome" mode and composed using live view, which showed the image in B&W. This was the first time I've used Monochrome mode and it definitely helped me see the scene differently. I shot RAW so I made a few tweaks in Adobe Camera Raw CS4, namely reducing the contrast, increasing the exposure, and adding a little bit of a vignette. -Peter Lee
I used a D40 with a prime 35mm. ISO200. Shot in RAW and Black & White and played very little with the contrast and brightness on the first shot. Cant wait to see what other people have come up with. -Tudor Cucu
Shot in the Glasgow Necropolis (Scotland) in a foggy day with my Canon EOS 450D, 30mm, 1/8s, f/4.5, ISO 800 using the 18-55 IS lens. And yeah, that's depressing... -Louis Hoefler
Tried focusing on capturing the snow before it hit the ground. For the first picture: Canon Rebel XTI; 18mm, F-3.5, 1/2000 Sec; For the second picture; Canon Rebel XTI; 46mm, F-5.6, 1/6000 -Javier Miranda
For this shot I used a nikon d40x with a 50mm f/1.8 lens. I used an exposure of 1/40 (.025 seconds), an aperture of f/3.2, and an ISO of 100. Hope you enjoy my photo, thanks for holding these contests! -Skyler Burkhart
shot with the my touch 3g using the FX Camera app set to toy camera, bw, medium vignette. shutter speed, aperture and exposure not recorded -Michael Borders
Date taken: 12/5/09; Foggy morning on the river in Snohomish, WA; Camera: Nikon D3000; Lens: AF-S Nikkor 18-55mm VR kit lens; f/10, 1/250s, ISO 100 -Megan Michaelis
Canon 7D with 24-70mm 2.8 lens; ISO 320, f 2.8 1/40th sec @24mm shot from car window while at stoplight; Shot in RAW and converted using Adobe Lightroom 2.5 -Stewart Smith
This shot was taken using my D200 and a 28mm 2.8D lens, at 1/90 second, ISO 400, @ f/2.8. I just framed the whole tree, did a square crop using Lightroom, and adjusted some levels to give it more pop. -Rodolfo Doleski
"The scene some know all too well. Celebrating holidays on a bar stool. A landscape of liquor bottles ready to wash away the winter blues...or at least obscure them..." Nikon D90; 18-200 Nikkor Lens; 63mm; f4.5 1/25; ISO 640; 2009 December 6: 1:18 am; Udagawachou, Shibuya, Tokyo, Japan -Scout
This was from my iPhone 3GS and run through TiltShift Generator to make it black and white (saturation and contrast adjustments). Thanks. -Daniel O'Morrow
Great Subject for this weeks contest. I love to shoot with an eye towards processing in B&W. For these shots of a lonely tinman mailbox in a desolate plowed under field I used a Nikon D70 that has been modded to shoot Infrared by a company called Life Pixel. The lens used was a Tokina 12-24. I shot these at f5.6 at ISO 200. All were at 1/125th of a second and were hand held since I was standing in the middle of a county highway. I choose f5.6 to allow for a hand held shot but still allow for some depth of field. I find with the IR-modded camera, the shallower depth of field adds to the effect. If you want to see some more IR shots I did earlier (outside the contest dates) check out: http://www.greyoaksphoto.com/foggyam2/index.html -Don Jeske
I took this photo just before the submission deadline. No snow had fallen here in Edmonton all November but 30 cm fell the day I snapped this shot. This photo was taken from my balcony as the snow began to cover the Christmas lights. I used my Canon 40D, with a 28-135 IS USM lens at 35 mm, F/4.5, 1.6 sec., ISO-200. -Ryan Kane
I couldn't decide, so here are my 4 favorites. All photos were taken near my house in mid-Michigan, with an old Pentax Optio S4i. No special settings, just the "black and white" digital filter setting on the camera. I'm not even an amateur photographer :-) -Pete Tirrell
Camera- Hasselblad XPan; Lens- 45mm; Yellow filter; f8 @ 125th; Film- HP5 shot @ 320 Processed in PMK PYRO; Scanned- Epson V750Pro; Locatin- near Homan and Division. This is a project I started shooting a couple of years ago and continue to shot every fall/winter. When Chicago turns gray I still want to shoot. The traditional landscapes of Gray Chicago are too depressing for me, so I decided to focus on the textures of winter in Chicago. I tentatively called my project "the Streets of Chicago", its quit literal. -Andrew Ballantyne
Well I hope this counts... This was outside in my garage..... Winter depression at its best on my workbench...BTW I love GIZMODO! Spec. Cannon xsi. Sigma EX 30mm 1:1.4 dc hsm hoya filter -Jaron Kaczmark
Canon Rebel XTi, Canon plastic fantastic 50mm lens/Sigma 10-20mm and an umbrella to keep the snow off. ISO400. -Andrew Holmes
iPhone 3GS; Brought it into Photoshop only to drop the saturation. No other changes made. -Michael Falk
Equipment: Nikon D300 with 60mm Nikkor lens at 400ISO; Adobe Photoshop CS4 (just to convert to black and white colour profile) Other information: Some of the charred remains of what was supposed to be Thanksgiving dinner. Used fluorescent white balance with incandescent lighting to achieve a more washed-out background, in addition to the narrow field of focus. -Cedric Thiel
Virginia had a rare December snow on Saturday, so I went out and took loads of beautiful black and white nature shots with a blanket of snow. After reviewing them, however, it seemed the snowy scenes weren't in the depressing, gray spirit of the contest. So, I drove across town to the mall. Although the snow was still falling, the frosting on the trees in the parking lot had melted, and they seemed to weep as they stood amongst the SUVs. This was sufficiently depressing! I used my Nikon D40 with a Nikkor 55-200mm VR lens @ 120mm, f/4.8, 1/40 sec, ISO-200, JPG, then I picked up the contrast a bit in Picasa. -James Maxwell
canon g9 Both images shot with same settings: F 2.8 1/160 no cropping, a bit of de-noising, a bit of sharpening...that's it. shot from my apartment window at 77 and Broadway -Thomas Taddeo
A dead, frost covered flower still with yellow petals (though you can't see it here of course) growing in a crack in the asphalt near a railway crossing. Not quite as depressing as requested. The day was excruciatingly beautiful and cheerful and because of lacking time I didn't manage anything better. I had lots of fun though, having hardly shot anything in B/W before. Thanks :-) Canon 450D, Canon EF 28mm USM lens, 1/320, f/4, ISO800 -Staffan Thomén
F 2.8; 1/200; iso 100; exp bias +0,3; Canon G10 -Daniel Gall
Nikon D80 with Nikkor AF-S 18-200mm lens; f/5/6; 1/25 sec; ISO-100; No flash -Melody McClure
Nothing really special to say , All shot on a Canon A720IS, Free Hand, Full Manual Mode, ISO:80~200, Various Shutter Times 1/60 ~ 1/400. -Bazooka Joe
the picture was taken with canon 50D with a lensbaby composer, with an plastic optic and the wide angle attached to it, so at 30mm, and a 2.8 aperture, ISO was 200, and shutter speed was about 1/320. it wasnt snowing when i took this shot or anything, just cold and windy. this is my first time submitting anything to you guys even tho ive been reading gizmodo for over a couple years now, and i thank you for taking the time, umm, i guess if there is any other questions, or anything at all, please dont mind asking. -Jordan Mudrack
Canon Powershot SX20 IS; ISO 200; 1/4 Second Shutter Speed -Rod Serna
Newbie photographer and my first submission(s)! (I was unsure if 2 submissions was acceptable or not).
Both pics were shot with the same setting. Just change in focus. Shooting Summary: Camera: Nikon D40; Lens: 18-55mm kit lens; ISO: 1600; exposure time - 1/6 sec; fstop - f/5.3; flash: none; Technique: With a dark environment and not wanting to use the flash, I turned up the ISO, slowed down the shutter speed and just set the camera on the bar for steadiness (I don't have a tripod yet). Summary: Not "outdoors nature" but definitely "city life" nature. NYC financial district bar (Whitehorse) at 9:40 pm on Friday night. There were about 3 other patrons in the bar. Two were sitting at the bar, and ordering a glass wine and onion rings. Happy holidays. -David Weissler
Hi - here's my entry number two. Details are the same as the first - shot with a Sony alpha 100 from the Queen Anne area of Seattle, looking south towards the city, and this was taken a little while later, close to 10 AM. The sun had stopped shining through the clouds for the most part, leaving bleak, disheartening swaths of grey at the top and bottom of frame, with a more putrid yellowish grey where there was some light coming through. I didn't do anything to this but resize it, though it seems my camera tends to push colors into the warmer range in low light. Thought it might fit well in the contest, since this looks like it could be used as some anti-pollution promo image, and makes me want to slit my wrists the more I look at it. It's beautiful here in the summer, though! -Keith Huggins
Picture taken on Lido beach in NY. Using a Nikon D60 with a standard 18-55 mm lens. auto settings. -Stefan Kazmi
Shot this at a lake by my house, shot in black and white and cropped with Lightroom. Camera: Nikon D90; Lens: Tamron 17-50mm 2.8; ISO: 200; Shutter Speed: 1/80; Focal Length: 34mm.
If I had more time I was going to stage myself setting up a noose with my wife trimming the Christmas tree in the background. This one is only slightly less soul crushing, but the day I took this was BLEAK. I was walking my dog (who was fine with her full length fur coat on) and my fingers were numb. I shot it with a Panasonic Lumix FZ35 at ISO 400. The aperture was set at f/5.6 for an exposure of 1/400 of a second. -Luke Lavin
—- "Deflated Santa Pooh on a Snow Starved Lawn"—- Canon T1i; Canon 50mm f/1.8 prime; 1/1600 sec; F 1.8; ISO 200; And a quick run through Picasa to convert to B&W jpg from RAW -Eric C
All shots taken w/ my Panasonic FZ-20, originally in color and converted to B&W. no extra enhancements other than turning up the contrast. -Kevin Oppenheimer
Unfortunately I'm being forced to use the excuse of "the best camera is the one that's with you" until i pick up a 7D for myself. iPhone 3GS - All settings automatic, slight crop and gray level tweak in post. I was walking to work when the sight of the morning sun cutting through haze wrapped skyscrapers stopped me in the street. -Kyle Jones
Taken by Dean Myers in Katy, TX on Friday, December 4th. Canon PowerShot S90; f/4.9, 1/50th sec., ISO-125, 35mm focal length. My technique was I sat in my car and pointed it out the passenger side window. -Dean Myers
Herewith the characteristics of the shooting and the attached picture:- Canon 7D - Lens Canon 18-200mm EF-S - ISO 3200 -Juan Jimenez
I shot this image from the overlook at Ecola Park looking south down the Oregon coastline. Here are the stats: Nikon D300, 18-200mm VR; 1/3200 sec, f/11, 200 ISO. Desaturated in Photoshop, then dropped the shadows to achieve a nice black silhouette in the foreground. I would normally use Lightroom to make initial edits, but this one was quick and dirty since I was at work. -Troy Wilkinson
Taken from my deck on the corner of 20th and South at around 10am, there where low cloud which gave the buildings these top down shadows. I used a Nikon D60 w/ kit Nikor 18-55mm lens at f/8, 1/250, ISO 100, with a 48mm focal length. -Brad Fitzpatrick
Shot in West Sacramento CA 12/3/09; Nikon D50 set on app priority 2.8. Nikon 10.5mm 2.8 Fisheye 200 ISO. Photoshop to enhance Contrast and Bright also cloned out a power-line that bisected the tree toward the top and burnt in the corner flare a bit. -Adam Gonzalez
Photo taken with PENTAX K10D, f/22 @ 50 mm, 1/90, ISO 400, No Flash -Benjamin Rogerson
This was shot with a holga (internal frame removed) so technically this is 2 clicks of the shutter in one frame. It is my version of nature landscape, but winter none the less. -Spencer Schutz
The camera used was a Canon 450D with the 18-55 kit lens. 1/640, f3.5, ISO 100. It was a sunny winter day in Amsterdam, Holland. The place where the shot was taken is in Durgerdam, a little village just outside of Amsterdam where i used to live. The sun was all ready very low at the time the picture was taken at about 3 PM. -Jim Lemmers
Canon Rebel XSi; Sigma 10-20 f4-5.6; ISO200, 1/100, f7.1 @10mm; Red filter. B&W using Aperture 2. Slight sharpening. -Christian Bohrt
This was shot with a Nikon D200. 100 ISO, 50mm, f/1.8 @ 1/400th. Walking to the office, it was the first frost I saw this year in Seattle. It was so cold out! Colder than my ex girlfriend's soul. Happy Holidays! -Tyler MacLeod
This photo was shot Dec 3rd using a Nikon D40 with the 18-55mm kit lens at . The photo was cropped in Gimp and the LOMO effect script (available as part of the FX-Foundry: http://gimpfx-foundry.sourceforge.net/) was used to give it a bit more of a dreary look. -Heath Petty
Perfect timing on this contest! All images are shot with a Canon 1DS & the lens used was a 80-200mm with the exception of shot #2 for which I used a "Lens Baby" and shot #6 which was shot with a 17-40mm. Pretty much straight up B&W conversion. #'s 1, 2, 5, 6 & 7, I created a B&W layer and erased out some areas to let muted color through. #'s 1, 2, 3, 4 & 7 were taken halfway between Cincinnati & Columbus Ohio, on a miserably cold damp foggy day. The others (# 5 & 6) were taken in Cincinnati. Thanks! -Christian Dohn
These were taken with a Nikon D50 with an 18-55mm lens. -Katrina C.
Taken with a Canon G11; Used a tripod; Program Auto Exposure, ISO 80 -Thomas Hsu
Nikon D40, 720nm + pass ccd filter. (Ir modded d40); 18-200 VR w/ UV @ 18mm (27mm equiv);f/11 , ISO 400. 20 sec. Tripod mounted, 14 exposure photomerge to get the angle I wanted, B&W was specified in camera. Photoshop chose to ignore that. Included is also an example of a raw ir image, without any adjustment, just as adobe camera raw first sees it. -Glenn Philen
Took with HTC Vogue out the window at work.; No B&W setting so I had to grayscale it on the PC. Depressing because I need a new phone. The grainy texture (almost like newsprint) was contributed to by the dirt on the outside of my window and the sorry state of the lens on my crappy phone. Taken in Lexington, TN. yesterday at 4pm -Steve Holladay
Im a 16 year old tech geek and amateur photographer. Anyway, I used a old Kodak M763 point and shoot that I got for $50 using one of your dealzmodo posts awhile back. This was shot a day after thanksgiving in Indiana. -Evan Mileus
Camera: canon rebel xsi -this picture taken from east haven Connecticut beach. -shot this picture after it rained last Wednesday. -Ellie Cabie
(nikon d3000, nikkor 18-55, ISO 1600) -Everett Bouwer
Canon EOS 7D; Canon 50mm 1.4; ISO 100, f/3.2, 1/100. Had to stand in the one perfect spot to get a clean shot with no junk in it (fences, cars). It was COLD! -DanJuan
camera : sony dsc -v3 in night shot mode aka infra red. i use this camera because of its built in infra red capabilities combined with the black and white setting. this is a shot of my families old christmas tree farm. my grandfather used to grow xmas trees and sell them every year. my brother and i got roped into help customers mostly women...we would have to walk around with ladies and cut down the trees for them with bow saws. we would also have to drag these trees out and help them fasten their piece of evergreen goodness to their car. we were doing this at the ag of 11, 12. i am 35 now. we would traverse back and forth with many ladies and older people who couldnt make up their minds in hopes that we would get a good tip. though never implied or expected, it was always nice to be acknowledged for hard work at such a young age....while my grandfather was selling trees for $10 a pop....anyways.....i went back to this plot of land because the farm is no longer in the family. when my grandparents passed, the 30 acres of land which included the tree farm pictured here as well as a lake home was all given to aunt, while my father received nothing. i recently ventured back as i wanted to take a few photos and walk the paths one last time. memories come and go of all the time we planted trees and helped old ladies remember which tree they first saw while ending up walking aimlessly believing their first favorite was just over here....-M. Hepp
Shot with Nikon D5000, Exposure time 1/25 @ F22. Focal Length 18mm, ISO 400, & Manual Exposure. Shot 60 miles north of Los Angeles. -Angel Olavarria
OK, I know you said B&W but in Seattle winters are always Black and White! Shot with the RED One from a Helicopter traveling at about 70 MPH in high winds, doors off and me hanging out the side. The RED One is great for pulling stills. Helicopter: UH-1H "Huey" Camera: RED One 4k; Lens: 18mm Carl Zeiss Arriflex Prime (circa 1957) ISO: 320; Shutter speed, FPS, etc: My own special blend for heli shooting. (could tell you but I would have to kill you, slowly.) -Ivan Agerton
Chapel Hill, NC; Canon EOS 5D Mark II; EF24-105mm f/4L IS USM; ISO 250; f4; 1/800 sec -Ken Nesbit
I call this photo "Winters Lynch". Took this photo in my backyard when it rained/light snowed a little bit, then the water froze due to the cold wind. This was the last flower/fruit left on the plant. Rebel XSI. Focal Length 47. Exposure time 1/25. Lens EFS 18-55mm. -Aran Armutlu
This is a photo of someone on my street who has had this early 60's Mustang sitting on their driveway to rot since I moved in back in 1996. Camera used is a Canon PowerShot S3 IS, F-Stop was f/3.5, Exposure time was 1/400 sec. ISO speed was 200, focal length was 6mm and the aperture was 2.875. -Chris Neufeldt
This shot was actually taken with a LOMO camera with b&w film -Chris Rossi
Shot: 12/3/2009 at Croton Point Park in NY. 64 degrees (crazy weather) and high winds. Canon 40D; Canon 24-70 f2.8 L; f/16; 1/320; ISO 400; Focal Lengh 24mm. Softened with Color Efex Pro -Justin Carney
I use a Canon 5D with a Tamron 28-75 f/2.8 lens. Tripod mounted with a shutter release cable. The first shot was @ 1/13sec f/13. The second was @ 1/5sec f/8 ISO was set at 200. A little sharpening was done in Photoshop. -Joseph Baltazar
-Brandon Prince
Sony T50, Exposure 1/640 sec @ F8 ISO 125. Unexpected shot while running errands in Estes Park Colorado, did not have nicer camera with me (Canon S90 is my next purchase). Sign is in front of Lake Estes, not sure if the Elk can read it, they are usually the ones stuck in the ice. -Teryn Wilkes
-Brandon Prince
Nothing says Chicago like a cold train yard. I took the picture from above the train yard on a cold day in Chicago. I managed to lean over and snap the shot with the train coming in. All that was used was a simple point and shoot camera and a little luck with the train coming in. -Renee Lee Greco
Canon 5d, Canon 17-40 f/4L ISO 160 - Joe C
"Footsteps in the Snow" by Shaun Nelson; I used a Canon 40D with a Lensbaby Composer, 2.8 aperture, 100 ISO, then converted to BW with Nik Silver Efex Pro. -Shaun Nelson
Hi! Here is my participation from my work office. HTC G1, set in black and white ("niveau de gris" in the french menu) just handle front of the window and resized in photoshop. That's it. -Alexandre HAINAUT
I used a Canon SD1100IS point and shoot to take this photo. 1/400 shutter speed, F2.8, and ISO 80 were the settings I used. I pretty much just pulled over to the side of the road and shot a couple of these photos and then picked the one that looked the best. -Craig Lloyd
Camera: Canon EOS 33v; Lens: Canon EF 24-105 f/4 L IS USM; Film: Ilford PAN 50; ISO: 50. I took this picture (and couple of others) yesterday with tripod and very long exposure times (longer than 30 seconds). I've developed it today - it was still wet when scanned (finger prints visible). -Andrzej M. Szlaga
This is a shot I took myself at my college Campus in Goshen, Indiana. Was a very rare morning with snow on the ground, yet a tremendous amount of fog also, it almost whited out everything. This tree is in front of our cafeteria, not sure the type, but always looks very spooky at night, and this fog made it really stand out and look awesome. I shot it with a Canon 30d, Sigma 17-70 lens. No real special technique other than framing the shot and taking it. (hope this shot can be extra depressing and destroys the hope of happy holidays for everyone.) Believe me, living in Indiana in the winter, I know a thing or 2 about a gray winter.... -Andy Graber
1: Nikon D200; f/22; 1.1 second shutter; ISO 100; 18-70mm lens @ 22mm; B&W mode; some contrast adjustment & resize in photoshop. The camera was on a tripod and I set it to timer, and I sat on the bench. (UK) -Máté Kiss - zensflare
I took this photo very early on Wednesday morning (around 2am) during a snow storm that rolled through the area that night. Basically, this is the lamp post outside of my house, sitting all by its lonesome as the swirling snow falls all around it. To capture the shot, I opened my aperture all the way to let in the most light and then cranked up the shutter speed to try and freeze the snowfall - no pun intended. Because of the quick shutter speed, and the fact that there are no other light sources in the vicinity of the lamp post, the rest of the scene was lost in the blackness of a cold, dark winter's night. Is that depressing enough for you? -Marc Barrios
This is my first time entering one of your contests. Fun! Equipment: Canon 7D with Canon 85mm f1.2 lens. Settings: ISO 1600 and f1.2. As for the technique I used; the lens has a 1m focusing distance, so I stood at exactly 1m and sort of swayed back and forth while shooting. The focusspot kept changing and some shots were a bit more depressing (artsy) than the others. As for the work afterwards, it was just to turn it into black and white (I shoot in RAW so doesn't matter if I shoot in black and white in the camera) and make it a bit brighter, that's it. Took all about 30 seconds. -Halat Sophie Askari
This shot was taken in Seaside Hieghts NJ around 9pm. The equipment used was a Canon Rebel XT with a 18-55mm EFS stabilized lens. ISO was set to 100 with a 4 second exposure at F/11. -Jeff Holway
The view from my officewindow in Moscow, usually it would be covered in snow at this time of year... but now it just looks like a ghosttown. -Søren Jensen
The photo was taken from my own backyard while looking up directly to the sky. The tail-end of a storm was blowing by and the clouds that silhouetted the sun made the sky look very dramatic. Fitting picture as it is ominous of what Winter has in store for us. Photo was taken with a Nikon D70.; F8; ISO200; 1/1500 -David Hadizadeh
So I was on the way out the door to work in the morning and noticed that it was really foggy. I looked to my left, caught this view (I live on a golf course) and had to capture it. I actually only took this with my iPhone and just used the Photoshop app to apply a black and white "filter". I had to frame the shot just right as to not get any buildings or sidewalks in the photo. -Paul DeLuca
I am seriously concerned that this image is not depressing enough. However, I took this just after my wife called to tell me she had backed her car into the side panel of our neighbor's Ford Explorer. So, I find this image quite gloomy. This was taken last Saturday so technically, it was not taken this week, unless you are like me and consider Saturday the first day of the week… actually, I'm retired, so I really don't have weeks. But, being retired, the incident with the car is just that much more (financially) distressing, so I think that should count. The image was taken in the upper Snoqualmie Valley, which is in central King County, Washington, about 15 miles from Redmond, and the Microsoft campus. Which reminds me that I once had a job interview with Microsoft back in the 70's, just after they had moved here from Albuquerque, but I had another interview first, and I ended up accepting that job and I never did go to the Microsoft interview and I didn't even call them to tell them that I wouldn't be showing up. And I felt really bad about that for years, to the point that I never bought Microsoft stock all that time, until about January 2001, but that turned out to be a mistake. I hope you like my picture. I think I will go lie down now. -Michael Rainwater
I went for a walk with my friend Sarah. took a few other pictures of her on the walk. all black and white.
I'm a fashion photographer and she is a model. we've known each other for a while. it'd been a long time since I've shot anything off the cuff just for the sake of doing it. I grabbed my camera. 1 roll of black and white, and decided not to return home until I had finished the whole role. after an hour of walking I saw the trees in a way that I've never seen before, even though I've lived in Studio City California for a long time. anyway thanks for throwing up a contest! ps. I understand that that gizmodo is all about digital, and you must be wondering why I submitted a 35mm image. the first 4 years of my photo career were entirely digital. hours and days of post processing. I initially hated the Idea of film. this year I made the conversion because of constantly being criticized that I am "giving away that I'm shooting digital" most of us are constantly trying to replicate the look of film in our post processing, in fashion at least. so i bought a nice modern SLR, and 7200dpi negative scanner. It was the best transition I've made. -Ryan Aylsworth
Shot on top of a parking structure at University of California, Irvine late at night. Shot at f/4, ISO 400, 20 sec shutter. Camera Body: Canon 40D tripod mounted. Lens: Canon TS-E 17mm f/4 L - 6.5 degrees of tilt -Mike Tran
I took this image outside my house with the leafless trees and the outline of this decoration my town puts up for the holidays.The equipment used to take this photograph is a Pentax MX 35mm SLR with a Vivitar Series 1, 70-210mm telephoto lens with 125 ISO Ilford black and white film. The image is a black and white 35 mm negative processed in my closet and printed in my darkroom at home on 8x10 Ilford paper. I then scanned the print using my Brother scanner onto my 24 inch iMac. No modification or enhancement was done with this photograph, its pure black and white. -David Drahos
Camera: KODAK EASYSHARE Z8612 IS Digital Camera; F-stop: f/2.8; Exposure Time: 1/320 sec. Exposure Bias: +0.3 step; Edited in: Paint.Net Hey, It's me again. I kinda had to cheat on this competition. Seeing as i live in Florida, winter doesn't affect anything. This photo was taken over the thanksgiving holiday on a hike in Tennessee. It's inspired by Ansel Adams, even though not his direct style. It was originally taken in color and converted in paint.net. My grandpa greatly appreciated this one. People said that they wanted to hear more from me in the last contest's comments and I really hope this one makes it in.
I was standing in the woods looking up and spinning as fast as I could. Shot with Sony Cybershot DSC-S85. ISO - 100. Focal Length - 7mm. Exposure time - 1/50. F-stop - f/2.8. -Justin Hawk
Nikon D90 w/Nikkor 18-200mm VR with tripod. Shot in Aperture Priority at ISO 100, f/4.2 @ 38mm w/5 second exposure. I just saw the (almost) full moon poking out behind some branches, and decided it might fit the shooting contest theme. No real prep work apart from fetching my tripod and removing the lens' UV filter (learnt my lesson there). RAW image was cropped a little before saving (should probably crop it more). -Jonathan Wight
This was taken hiking above Multnomah Falls in Oregon. I took this using my Nikon D90 with no special features except a blk/white filter. The settings were at f/4.0 and used a 1" speed. -Kevin Dykes
Taken in Florida with a cheap Holga camera using B&W Kodak T-Max 400-120 film. Developed and scanned. -Juan Rodriguez
"Road To Nowhere" Canon S90 Point & Shoot, Auto ISO; Edited in Photoshop (B&W conversion, blur) -Li Fan
I attached a shot I took outside my house in Hermosa Beach, CA. It's super foggy today so the beach has been completely washed out, pretty fun to shoot. I shot it with a D40x with the standard 18-55mm lens at about 35mm, ISO 200 f/5 at 1/60. Thanks for the fun contest! -Derek Mead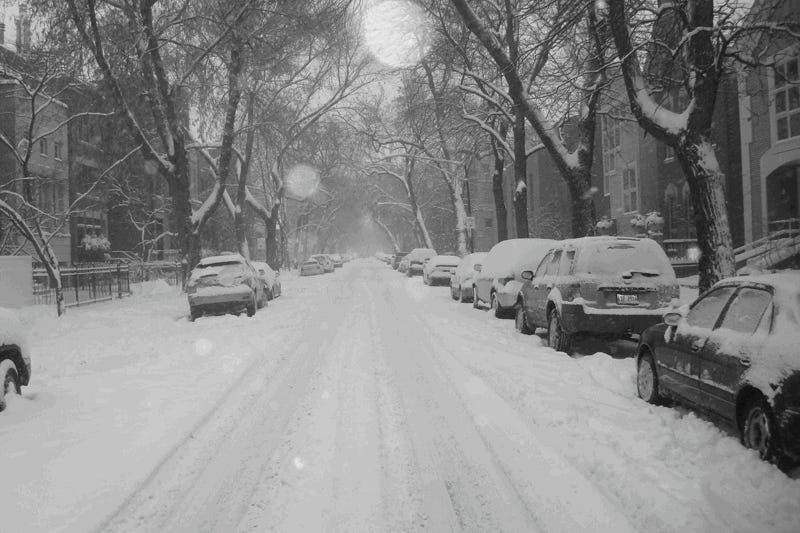 Canon EOS Digital Rebel XT, 18.0-55.0mm Lens, Shutter Speed 1/160, ISO 400, Aperture f/9 -Samuel Zoll
Canon 1D MKII, Canon 50mm f1.4, ISO 100, f4, 1/400; Post processed in Photoshop to B&W; Cathedral Rock - Sedona, AZ. -Chris Dodkin
Shot with my iPhone 3GSas I was currently in my car and my D90 was in the trunk.- Kevin Keegan
A snapshot of winter at the ocean. Cold and damp. I took this picture a couple of days ago while visiting Lysekil, a small town in Sweden. Canon EOS 350D; ISO 200; Sigma DC 18-50mm 1:2.8 EX; Unsharp mask in Photoshop -Robin Govik
This was taken in a mountain in Macau (A little place near Hong Kong), by a film camera Canon QL17 -Z Shining
35mm Canon; 18-55mm zoom; ISO 800 -Luke Cahill
Winter in Los Angeles - I used my Canon Rebel XTi, nothing too technical, just a really cool shot that shows how un-winter-like Los Angeles can be. -Jordanisnifty
For this picture I used a Casio Exilim EX-S880 and I used the 'Best Shot' feature which I set to 'monochrome'. -Curtis Ricks
Shot with a Canon EOS 1v HS, Canon EF 50mm 1.8 on Ilford Delta 100, exposure time 1/125th, developed in Rodinal 1:100 for 60 minutes at 20C with no agitation. Scanned on Epson V700 with Silverfast Archival Suit Ai, 2 passes, edited in Photoshop (brightness / contrast adjustment). -Michael Kalus
Camera = 5d; Lens = 50mm f1.8; Details = f1.8@1/20th. Didn't shoot it B+W in camera but only usually carry my 5d -Kevin Smith
I used my very old Canon A530, thats all I had with me when I took it. No flash, I believe ISO 400. -Adam Van Kampen
took that picture last Week in Sonntagberg, Austria! Canon EOS 450D + EF 28-135 3.5-5.6 IS USM on a tripod. 1/50 f/10.0 ISO200 44mm. AV f/10 - ISO AUTO. postproduction: Fade Color (9) in iPhoto + resized in Photoshop -Mik
Presents of Fall photograph by Aaron Nickels mamiya 645 tl pro aperture 22 1/500 used a seker mamiya lens. i used ektar 100 iso medium format film seen this groove on the side of the road the time was perfect when travling to new mexico used aperture and photoshop scanned in at 2400 dpi -Aaron Nickels
Canon 30D with EF 28-135mm f/3.5-5.6 IS USM set at 112mm. Exposure, 1/13 sec at f/10 at 100 ISO.
Under exposed a full stop. Cropped, framed and vignette added in Adobe Photoshop CS4. I live in Timmins, Ontario, Canada, we have 6 months of winter and the other three months are jammed in the other six months. I shoot a lot of monochrome winter scenes, it helps you from loosing your mind in the great white north. -Dale McConnery
Camera Model: Canon EOS 40D; Exposure Time: 1/125 sec.; Aperture Value: 5.62 EV (f/7.0); ISO Speed; Rating: 400; Metering Mode: Pattern; Exposure Programme: Aperture priority; Focal Length: 85.0 mm. The lens is just the kit lens for the 40d 17-85mm and I used a manfrotto monopod to keep it all steady. There was no real special technique involved, just saw the shot and composed it as I wanted it. -Joe Cook
Toyo 45C; Polaroid 100 film; Toyo Polaroid adapter; 150mm lens; city park lake, heavy overcast, dreary day -William Garrett
Canon EOS 7D (BOOYAA); Shutter Speed: 1/30s; ISO Speed: 800; Aperture: f/10 Taken from my porch looking down at the street as some tasty snow fell from the heavens. I guess you can't eat it all...