Well, this photo is less "of" ice and more "through" ice.
I figured there'd be a bevy of incredible macro shots, and since I can't compete in that arena I decided to try something different - I made a lens filter out of ice.
I knew if I just dumped some tap water into the filter that the resulting ice would be milky and opaque, so I did some Internetting and discovered that the best way to get crystal clear ice is to distill and boil the water before freezing (bartenders take note). Once I had the purified water, I dropped just enough into a generic UV filter to cover the glass and placed it in the freezer. When the water was frozen I just screwed the filter onto the lens as usual and started shooting.
The resulting lens-flare-filled photo is of the sun rising outside my front door. And I've also attached a pic of the icy filter itself.
G/O Media may get a commission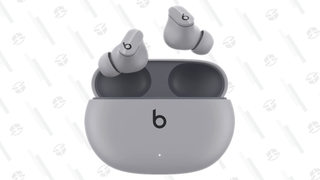 Canon 50D & Canon 2.8L 16-35mm w/ IceFilter(Trademark!)
ISO-200 f/8 1/1250
- Adam Bailey


It was a partly cloudy 40 degree something day in Sandusky, Ohio and as soon I got word of this challenge I thought, oh great, all the snow has melted. I decided to head to the beach because the lake was frozen at one point earlier in the year, and that spot would be the last place that would boast mother natures ice. I took a lot of photos that day but this one really stood out to me because of the rich contrast in color. I used my Canon EOS REBEL T2i, with the maximum F-stop of 1.8 on my new cheapy 50mm prime lens to achieve the high blur effect, ISO-100, 1/2500 sec. exposure, with spot metering. I was excited to put my new lens to work! Thanks, Giz!
- Alex Slattery


So, I spent three hours lying on the ground in the middle on the night shooting a crazy HDR, focus stacked photo of some ice crystals. That's 198 individual photos, if you're interested. It may be a bit of overkill, but I never tried focus stacking before, and the scene had some insane dynamic range. Anyway, then I spotted this as I stopped at a gas station, and it was just too perfect. The only thing that could have made it better would be if the ice man was actually there refilling the ice box. I'll let you know how the other one comes out whenever Photoshop finishes processing…
Nikon D300, Nikon 18-200 mm lens, 1/125 s, f/10, ISO 200
-Alfred Barnat


Photo was taken in N. Woodstock VT at a dam. The running water was almost completely covered in ice with only a few bare spots where the water was still visible behind the ice. Taken with a Nikon D7000, Nikkor 18-200 VR lens in SP mode with the shutter at 1/30 to get some motion in the running water. The sky was quite gray so some fill flash was used to improve contrast and definition in the ice structure.
-Almis Kuolas


Nikon D7000
Picture on the left: 50mm f/1.8 1/50 ISO 320
Picture on the right: 50mm f/2.5 1/30 ISO 320
Unfortunately I live in Southern California, and snowfall is more likely than a Botox clinic going out of business. So I put some ice on a mirror and took a bunch of pictures. I did that thinking I would have a better idea by the end of the week but it never happened. So enjoy this lackadaisical photography. This is my first time actually following through with the challenge, (I always say I will but never do) but next time I will try harder.
-Aman Singh


Canon 60D with a Tamron 17-50mm f/2.8 lens
Shot at 1/500 F8 ISO 100
I was walking above a patch of trapped microscopic air bubbles when I found this surfing chef frozen about 8" deep in Lake Michigan. His board was constructed from an air bubble that was trapped while the ice was forming. His hat was formed when the sun reflected off the seaweed and melted the ice above him. The ice then re-froze and filled with snow when the temperature fell. Focusing on this guy was nearly impossible as the seaweed was about 1/2" - 8" deep and completely covered by the ice. Most of the "scratches" in the photo are actually vertical shafts of tiny air bubbles trapped by the ice as it formed. - Tony Three
My concept for the Ice Shooting Challenge is "On the Rocks". I wanted to play with both meanings of the phrase: a rocky relationship, and a way to order a drink - which often go hand in hand! I simply froze 35mm transparencies in cubes and then set up the shot. I used amber drink and a red wall to contrast the connotations of ice, and backlit to show detail in the slide.
This was shot with a Canon EOS 5D Mk II and Canon 28-70 f2.8L at 55mm. Exposure was 50 ISO, 1/85th, f/6.3. I lit the scene with two Dynalite heads, snoots and barndoors. I used Photoshop only for a slight unsharp mask and resizing for the assignment. -Andrew Payne


This shot was taken on my walk into work this morning, here in Copenhagen. Much of the ice here is already gone after a few warmer days, however, the ice that IS left is very angular and pockmarked. Here's the residue of a footprint made when this ice was snow. One small step for man...
Taken with a Canon 7D, 50mm prime, f2.0, 1/320s - Andrew Zirm


Temperatures dropped low enough for a little ice to form overnight and while not overwhelming, it was enough to bring a little life to the stone.
Shot RAW and converted to B&W in Lightroom
Canon T2i w/ Canon EFS 15-85 @ 55 mm
ISO 100 f25 @ 13 sec.
-Andy Creek


Diamond on Ice in Black and White
Lit by Low Voltage Quartz Halogen Lamp, No Flash
Taken with a Smart Phone: DROIDX (Motorola)
Focal Length: 5.0mm
Exposure Time: 1/120s
Aperture: F2.8
ISO Value: 151
-Anne P. Masterson


Alphabet Tray
What's more fun than having a drink with alphabet ice cubes?!
I added cranberry juice to the letters spelling out ICE and had Christmas lights add a hue to the background.
I first heard about Gizmodo a couple of days ago and decided to join this week's photo challenge as a friendly competition with two other people. Let the games begin!
Canon Rebel T1i
1/13s
f/4.5
ISO: 400
Thanks for considering my photo!
- Annie Chor


I took this picture on my break while doing a computer network job at the
Gaylord Texan Resort last week in Grapevine, Texas.
They have a huge show there every Christmas time called Ice. The show consists of a giant refrigerated room with imported ice sculptors from around the world, but I think mainly Asia. There are frozen trees and themed rooms and slides it's a big deal and the tickets are expensive. The show is over and it's in a
giant pile of multicolored ice blocks and ice crystal shard formations at the
end of the road melting in the sun. They have little dumptrucks loading the
bricks out to the road and a guy holding traffic for them to cross the street.
I picked up one of the melting pieces and placed it on about a six foot tall
pole so that I could get the sun behind it. There were some awesome formations out there. I took the picture with my iphone 4 and edited the
brightness/contrast/shadow/highlights in iPhoto. I have a folder of these Ice
show pics on my facebook page if you'd like to see. - Brad Bogle


Taken with a Canon Powershot S90, 1/13th second exposure at f/2,8, ISO 100.
Since the coldsnap that provided plenty of natural ice had passed, I had to resort to freezer ice for this assignment. You can't tell it from the picture, but there's a model of a "Big Daddy" from the game Bioshock in there. I froze the model in a container of water overnight. I set up a black cloth as a backdrop, and shone a couple of strong white LED lamps for backlighting. As it turned out, the ice itself was rather more interesting than the model in the ice. This picture is a close-up of the fractures and bubbles in the ice. Modified in Paint.NET by giving it a gentle "S" curve, and inverting colors. Now it looks a bit like you're looking out from the ice, past specs of black dust towards the blue sky.
p.s. Due to uneven freezing, my poor Big Daddy had his feet frozen right off. A victim of frostbite, I guess.
-Brian C Hall


Shot this at the last minute... we had 10 inches of snow overnight, but the Temp. went up during the day and all the Ice melted.

Was headed out to the Store, and this was on the hand rail... got 2 shots and it fell of the railing...

So, I got what I got...

I used a Panasonic Lumix DMC-ZS5... the Exposure was at F/4 at 1/400th of a Sec... the ISO, was set to 100 and the camera was in Macro Mode.
-Charlie Carroll


Canon EOS 50D ISO 100 f10 .5 seconds, Canon EF 100 mm Macro IS USM Lens, tripod
Santa brought me a macro lens for Christmas so I was excited to participate in this week's challenge. My city has not had snow or ice in nearly two months but snow was forecast for the day after the challenge submissions were due, of course. So I had to create ice. I got the idea to put food dye in ice cubes while reading about how to make perfectly clear ice, which is more difficult than I imagined. Even though I was unable to make crystal clear ice I was actually pleased with the appearance of the air bubbles and cracks in the ice cubes. I had to work fast because the ice cubes were melting and moving around on the plate despite being outside in the 40 degree weather.
-Christine Lyons


ISO 100
1/320
F 2.8
Canon Powershot SD 1200
My first winter in Chicago can only mean, the beach's landscape is more exciting and powerful than ever.
Yesterdays freezing cold walk to Loyola Beach gave me the nice reminder that a grey winter will forever make colors pop.
The "ice pads" made the sky even more beautiful than imagined.
- Claire Lacy


The day the contest was announced was the day the little bit of ice hanging around melted in town so I had to turn to the freezer for this one. Found some interesting ice patterns on an old freezer-burned piece of Texas Toast, picked them off and stuck them under a microscope. The only camera I had that would focus sharp enough through the eyepiece was a Panasonic Lumix P&S. Things looked interesting enough but putting a red filter over the microscope light made it much better...the colors are all natural on this one with just a contrast boost in Photoshop. I wanted to make it look a little less obviously like an ice closeup so I applied some mirroring as well and got this odd ant/mantis/alien looking thing. - Cowbot Media


Sony Alpha 350 w/ Minolta Maxxum 35-70 f/4
82.5 Effective Focal Length; 55mm with 1.5 sensor crop
1/100 sec, f/5.6, ISO 800
Handheld, 25A Red Filter under Pentax Ghostless filter, Hood
Shot in colour and converted to B&W post process, cropped
Walked down to the shoreline and out onto the frozen river about maybe 50 metres to a patch of exposed rock. The ice moans and creeks and sometimes buckles up on itself leaving gaps for water to come up through. I expect that my photo shows the result of water splashing up from the river below onto the bare rock and freezing.
I had initially wanted to get a shot of the buckled up ice, but liked this better. Shot at 6 PM at sunset to get more defined shadows, and further defined using a red filter. I emphasized the contrast between the surface of the rock and smooth ice by using a high ISO.
-D.H. Styles: Verrerime


Specs: ISO 3200, 55mm, 0EV, f:5.6, 1/15
This was shot at the Frog Pond in Boston, MA. It's was crazy cold.
-Diego Jimenez


I went snowshoeing up the canyon and took lots of nice ice and snow pictures, a few days later Gizmodo announced an ice shooting challenge and none of my pics qualified because they were taken a couple days early; just an excuse to go back up the other canyon this time. With all the recent moisture and cold temperatures there were too many cool "ice sculptures" to choose from. I liked this one of the splashing water making icicles on a branch.
Taken on January 9, 2011 at 2.04pm PST
Camera Panasonic DMC-GF1
Lens LUMIX G VARIO 45-200/F4.0-5.6
Exposure 0.002 sec (1/640)
Aperture f/4.0
Focal Length 45 mm
ISO Speed 100
Exposure Bias -0.66 EV
-Dustin Baugh


Conditions were not ideal for taking my shot of frost crystals on the ground in my yard. I only had about 15 minutes before my fingers got too stiff from the cold to work, even in light gloves.
To have a clear view of the crystals, I wanted to get as close as possible with as much depth of field as possible. But the day was dull, limiting the available light. To get the shot, using all manual settings and RAW file format, I boosted the ISO to 6400 on my Nikon 5000. I used a Nikkor 60mm micro lens with my longest extension tube, a Kenko 36mm. Unable to use even a small tripod, I hand held the camera. I set the shutter speed as slow as I dared, 1/125, and underexposed by 2/3 stop, in order to get an aperture of F29 for depth of field. To keep the camera still enough to avoid tremor, I rested the front of the lens on the ice, braced my elbows, and held my breath while shooting.
When processing the photo in Aperture on a Mac, I cropped it somewhat, gave it a small boost in contrast and saturation, and flipped it upside down. Enjoying the architectural feel of the crystal towers and their positioning relative to one another, I named the photo Frost Skyscrapers.
If you are interested in seeing my photos, mostly macros, my website is brootphoto.com and my screen name is Broot on Flickr.
-Elizabeth Blackmer


This was shot with a Canon EOS REBEL T2i and a EF50mm f/1.8 II lens with the ISO set to 1600.
When the contest was announced I knew that I wanted to photograph colored ice. I was hoping that it would be cold enough this weekend where I could make ice outside, but that didn't really work out. So what I ended up doing was taking the mold we have for making frozen shot glasses and adding colored water to those. Since this was Ice I had made inside, I decided to try and really highlight the texture of the ice by using strong directional lighting. I set the colored ice-glasses out and shined a strong flashlight on them.
Thank you, -Elizabeth Howder


Since the probability of icing here in Rio de Janeiro is 0%, I've had to look for ice at the refrigerator...
Then thinking of what to do with the little cube I started looking inside the cube then i get lost at an another dimension made of ice...
Can this be possible?
Camera info: Panasonic lumix DMC-FS42 - ISO 800 - Paulo Victor Rodrigues
Shot with my Nikon D200 18-70mm Lens off the side of a building in my town,l I drove by them on my way to work and had to turn around and take a picture. Shot at 100 ISO F/16 1/5 sec at 25mm - Grant Stanley


I made due with icecubs instead of natural ice this week, and this week my photo was quite simple. I filled a clear glass with crushed ice and then some water. I cropped in as tight as possible to capture as much detail as I could, and out of the photos I took I chose the design of ice I liked best.
f/5.6 1/30s at ISO400. 18-55mm Nikkor lens, Nikon D60
-Haley Strohschein


Here's my submission for the ICE Photo Contest.
Started off by freezing the front section of my Maglite into an ice disk. Flipped it on the second day and threw on some ice cubes in no particular arrangement. Then placed the Maglite in between the cushions of the couch with a dark sheet for a back drop and turned it on.
I don't remember the exact camera settings but I was using a D5000 with a 55-200 lens, small aperture and an approximate 5 second shutter speed.
- Harvey Taylor


A buddy of mine left his lighter at my apartment during our New Year's Eve party and, naturally, I froze it in a block of ice.
The lighter was suspended in a small Tupperware container with a combination of chopsticks, floss, scotch tape, and then thrown in the freezer. For the actual shot, I used my Canon Digital Rebel XTI with a 24-70mm 2.8L lens mounted on a tripod triggered with a wired remote. I shot in the dark, lighting the scene with a small flashlight.
1/100 sec @ f/4.0, ISO 400.
-James Rand


Having just bought my first non-kit lens, I anxiously awaited the announcement for this week's shooting challenge. Imagine my disappointment when I discovered the theme; I live in the middle of the Sonoran Desert, where the daytime temperature isn't below 60 degrees. Not to be thwarted however, I grabbed a cup full of ice and a mini umbrella, found a pair of convenient palm trees and shot away.
Shot with a Nikon D3000 and a Tamron 18-200mm F/3.5-6.3 IF Macro lens. 1/200 second exposure time, ISO 100 and f/7 at 18mm focal length.
- Jaron Townshend


My first Gizmodo challenge. I knew I couldn't do much with ice in Miami, so I figured I needed to do something with the sun & ice melting. My last staging attempt was as the sun was going down. I was looking around for a surface & my car was offered a nice surface as the sun was setting behind it.

I used a canon T1i with the kit lens. 5.6 aperture to bokeh everything behind the ice & 1/3200 shutter speed so it wouldn't be over exposed & have a nice sharpness. This challenge forced me to try some new things, among those manual focus, which I employed here.

the image can be seen here
http://www.flickr.com/photos/jajajavi75/5341339937/
-Javier Valencia


Shooting Summary: Used a simple point and shoot Sony Cyber-shot (7.2 MP), with macro on and no flash.
Story: For this photo I really wanted to play with the properties of the ice, mainly the translucence and reflectance of it, making sure to catch every detail within it (frozen in time). So after trying a few different camera and lighting settings I end up placing the ice on a piece of aluminum foil and placing a LED flashlight a distance behind it in the dark. The reason I used the aluminum foil was so I could catch as much light on the ice (even the reflection from beneath it) as possible. LED light was also key because of the sweet bluish light it produces, makes the ice look AWESOME!!!
Hope you guys like it as much as I did
Thanks,
-Jeff Groom II


Gizmodo Iceman contest,
Story:
Originally out to shoot the half-frozen Waconah Falls, we trekked a little farther away and found two small connected caves. The floors being completely frozen solid, we were able to get in to photograph the giant icicles and sheets of ice cascading from ceiling to floor. The telephoto shooting distance of the macro lens had me shooting the picture lying on the floor of the cave, with the camera positioned almost directly underneath this 4 foot icicle. The aperture was kept relatively low due to both the low light in the cave and the sense of depth you get of the icicle's size. This picture stood out not only because the icicle was so prominent as you walked into the cave, but also because the ice's sharp visual menace fades as the focus softens.
Info:
Shot on January 9, 2011 near Waconah Falls, Dalton, MA with a Nikon D60 and 105mm Sigma Macro lens (Manual Focus), with built-in flash at 1/4" shutter, F7.1 aperture, and ISO 400. Post-shoot Photoshop editing to adjust exposure and reduce noise.
-Jill McLean


Nikon D70s on tripod with 18-70mm lens set to 56.
Three exposures blended together. ISO 200, f13 @ 1.6, 4, & 10 sec,
I received the Ice Lantern mold at Christmas. I made and used three Ice lanterns for New Years. Those ones melted and when it became cold again I started making these for my wife's birthday that will happen later this week.
Did some experimenting with color and clarity of the ice.
With previous experiments I have found out that freezing the water in one go took a long time so I did it in layers or combined already frozen ice cubes. The water with particles and air will freeze last. The outside and top will freeze first and will be the clearest. The frosty colored ice is among the first to melt.
Distilled water will have the least amount of particles and air in the water. Melted snow will have very few particles dissolved into the water. Boiling the water helps remove the air. I kept the water I would use next outside in the cold so it would freeze quick once it was added to the mold.
The clear Ice Lantern was made from melted snow that was boiled. The lantern is created upside down and the water was froze in three layers. The last (bottom) layer includes boiled tap water, and is the least clear.
The Ice Lantern on the left with green was created by filling the form with ice cubes created using boiled tap water. Then I froze many small layers of previous boiled green colored water. The small layers allowed the color to be from top to bottom.
The Ice Lantern in the middle with red was created by filling the form with ice cubes created using boiled tap water. Then I froze a few medium small layers of previous boiled red colored water. The larger layers forced the coloring away as it was freezing.
The Ice Lantern on the right has many colors and was created by filling the form with ice cubes created using boiled tap water. Then in layers I added water and a few drops of different food coloring. Tried to not disturb while each layer froze. It looks mostly muddy green. The blue and yellow drops mixed together, the red is not showing much and I also added green.
-Jim Watters


The Story:
I've been meaning to take part in one of Gizmodo's photo challenges for a while now. Somehow, I always end up coming across them at the last second without enough time to shoot. Last week, I was at home - sniffly, sick and miserable. It was snowing lightly outside when I happened upon the Ice challenge. I looked out at the shivery wet snow, thought to myself, "This is probably not recommended for beating a cold," grabbed my camera and macro lens and went out to find some ice. My cough and runny nose and ever-present-inside-voice-warning-of-pneumonia didn't allow me to stay out long, but I did find this little, unexpectedly colorful scene amidst the gray, wintry, NYC cityscape.
Equipment:
Canon 20D, Canon EF-S 60mm f/2.8 Macro Lens
Settings:
f/2.8, 1/60th, ISO 200
Technique:
Held the camera as still as possible and tried to get the photo before the lens was covered in snow. Developed RAW file in Aperture with light tweaking in Photoshop (Curves, Contrast, Sharpening).
- Joe Rivera


I had not planned to enter the photo compertion this week as I did not have a macro lens and we had many mild mornings. However on Sunday I was out with a very crisp morning and shot this with HTC Desire phone. The HTC camera does not have a great amount of control however holding at the right distance away from this old trailer tyre in the corner of a farmers field as the sun came up gave this dawn shot. - John Kilmister


Nikon D60
Sigma Macro 105mm f2.8
SB600 Flash
ISO 400
105mm
f/18
Shutter: 1/125
I just got a new macro lens so I immediately decided to take some close up shots of icicles. With the snow storm hitting the northeast (which was no fun to drive in, by the way) I essentially carried my camera around all weekend searching for icy stalactites. I took a ton of shots and settled on this one. Combined three different exposures to bring out the colors, then tweaked the colors a little further in iPhoto.
-John McGrail


Here's my entry for the Ice Shooting Challenge.
While I live in Boston, which is of course replete with ice, it's far too cold (and I'm far too lazy) to wander outside. Instead I used a plastic mold to form an "ice candle" — a cylinder of solid ice with a hole in it for a tea light or similarly small candle. My intent was to shoot the various air bubbles captured in the ice, with the flame acting as a backlight. Sadly, the depth of field at this distance was far too shallow at any aperture to capture all of the bubbles, so instead I shot a slightly different photo, with the ice candle burning in the foreground and the incandescent glow of the Christmas tree in the back (which, yes, is still out — refer to laziness above). Looks pretty sweet, I must say.
Settings:
Camera: Canon XSI (on a tripod)
Lens: Tamron 28-75mm f/2.8
Focal Length: 75mm
Exposure: 1/4 sec at f/4.0
ISO: 100
Manual exposure and focus, RAW capture, and some minor developing in Lightroom.
This is my first entry into the Challenge — hope to have many more. Keep up the good work!
-Joshua Jarvis


Title: Hot Popsicle
I spent a good number of days freezing cups and other objects full of water trying to see what shapes I could get. After a few different experiments I remembered i had a syringe in an olg first aid kit, and figured it might look neat. I pulled the top off a CD spindle, filled it with water and a syringe to let it sit overnight in the freezer. The next day I melted the block with some warm water into a desired shape and after a few different angles I found a shot I liked.
Camera: Canon 7D, Cannon EFS 18-135mm, ISO-250, 1/15sec, F/5.0 shot and then played with in raw.
-Joshua LeBlanc


This shot was taken with a EF 100 macro lens fixed to a Canon 7D mounted to a tripod.
I used a can of compressed air turned upside down to freeze the cap, and form the fuzzy ice crystals. - Jude Hall


CAMERA: Nikon D300S
LENS: Lensbaby Composer w/Macro Kit +10 & +4 Stacked
APERTURE: f/11 Aperture Disk
ISO: 400
SHOT IN MANUAL @ 1/100
When winter and our first snow came in the northeast, I decided to pull out the Macro Kit for the Lensbaby, as I hadn't shot with it much and wanted to see what I could do with snowflakes. My focus though quickly turned to ice because I had some incredible formations hanging from my bedroom window after the post-Christmas blizzard. So naturally I was excited to see this contest open. We got a nice little snow in NJ on Saturday, so I went out on Sunday am to browse the neighborhood and found a few beauties including these hanging nicely onto tiny leaves. I almost pulled the +4 lens off to get a little wider view, but this worked out. I converted it to B&W in Aperture using NIK SilverEfex. -kamau z. akabueze


Title: Ice-solated
Nikon Coolpix L100
9mm Focal Length
1/170 sec, f/3.9, ISO 80
Cropped, auto exposure balanced in Lightroom 3
In the early evening as the sun was beginning to set I walked onto a frozen river and I saw the small ice raft and found the juxtaposition of the smooth frost-like ice surrounding the crystal raft compelling. The lighting was also interesting during this time with the light blue hues along with the ruby reflections from the sunset.
- Katy Gill


It was a bitter cold day in Cleveland. The sky opened up and let some light through so we decided to grab some photos of Lake Erie in its frozen state. By the end we couldn't feel our fingers. It was worth it. [Canon 7D, 24-70 2.8 L, f22, 30sec., iso3200]
If you're too warm, and want to cool off, check out some more ice shots from the day here: http://www.aestheticemotions.com/frozen
- Ken Clunk


Equipment:
Panasonic Lumix GH1. 75 mm ISO:160 f/5.8
Took advantage of an unusually warm day and headed to a partially frozen Clinton Lake. Used my Gorillapod to take 5 shots during the magic hour, which I later combined in Photomatix Pro to get this HDR image. Denoising was done with Noiseware and final tonal and color adjusments were made in Lightroom. I wish I had a better, more exciting story behind it, but I don't. Sorry. - Kenny Voelker


Camera: Canon EOS 60D
Lens: EF-S 60mm f/2.8 Macro USM
F-stop: f/5
ISO Speed: ISO-100
Exposure Time: 1/200 sec.

This was a difficult challenge but only because there were so many great potential photos to take. For one series I decided to freeze fruit punch flavored Gatorade in a styrofoam cup. I let it sit over night, slowly peeled away the styrofoam, and took a bunch of photos of the resulting ice as it melted. This shot is actually turned on it's side, it was originally shot in portrait (you can see the torn edge of styrofoam cup on the left). It works in either orientation though, I think. I had a lot of fun with this challenge (additional photos from the shoot can be found in my Flickr photostream atflickr.com/dropslash).
-Kyle Mercury


Shot with Canon XSi and 100mm f/2.8 macro lens (Tv 1/13, Av f/7.1, ISO 200).
I made a hemisphere of ice with a dish. I used a piece of aluminum foil molded around a vitamin bottle to displace water in the center of the dish. After freezing for a few hours I saw these really cool streaks in the ice. I setup my camera in the kitchen with a few extra lights and put some food coloring on the ice.
This is my first contest entry (or really the first time I've shared one of my photos with someone I didn't know). Hope it is enjoyed.
Thanks,
-Les Lasater


Point and shoot on macro-zoom pressed up against a lupe magnifying glass with a piece of ice off a small puddle in the driveway. Side-lit with an LED flashlight and all placed on a piece of colored cardboard. A little level and saturation adjustments in PS. Strangely enough, out of the 30 or so that I took, none came out a clear as this one with most being too blury or fuzzy - somehow this one managed to focus just right as I was about to give up and try another camera or technique. - Mü


Camera: Nikon D7000
Lens: 35mm f1.8 DX
ISO: 250
f-stop: 2.0
Went out with some friends to the local waterfalls, and while I got a few shots in, I was kicking myself for leaving the house without my tripod, but oh well. After some more hiking, stumbled across a massive rock formation where I saw a whole collection of huge icicles formed,. I knew I wanted to get down there, but being about forty feet down and no rope/rock climbing gear, I was a bit stuck, but I spied a cave and tracked where the other end let out, tested out the ice (since the whole rock formation ending up having its own body of water, and went on through the cave (much to my friends figuring I was going to fall through some ice. instead, got the spot I wanted, and everyone was pumped to get some cool photos. Pays to be fearless with a camera in hand. Also, it pays to wear two pairs of gloves when dealing with subjects like this.
- Marc Wrzesinski


Attached is my submission for this weeks contest. Sorry about only one version, I'm still trying to figure out how to resize.
Taken with a T2i using a Canon 60mm Macro
ISO 100, f/4.0 (cranked it up for this shot—i have better shots of snowflakes and the like, but it said those are excluded), 1/320
I live about 10 minutes east of Lake Michigan, so we have no shortage of ice or snow. I was laying in about a foot of snow to take this shot, and it may not have been worth it lol. I have some awesome macro shots of snowflakes, but they required a little too much photoshop for me to feel like they could qualify for this contest.
-Michael Brock


Camera: Canon EOS Digital Rebel Xti
F-stop: F/10
Exp. Time: 1/125 sec.
ISO: 800
Focal Length: 55mm
Custom White Balance
Admiral Akbar- " It's a (Ice) Trap". Walking down the toy isle at my local supermarket and it's an ice trap popped into my head when I first saw him. This was of course while I was thinking about what to shoot for the ice photo challenge. I froze him in a Tupperware container with water and shot him on my computer desk while using a desk lamp with a compact fluorescent light bulb for lighting.
-Michael Haggarty


Everyone's always down on the death and destruction caused by lethal amounts of dihydrogen monoxide. I chose to capture it's refreshing, desirable side in my submission; I'm already filling my glass for the first cold drink of summer! Shot with a Nikon D60 tethered to an SB-400 behind and to the right of the camera, which triggered an optical slave LumoPro 160 about four feet directly behind the subject. Kit lens at 18mm with iso100, 1/40 shutterspeed and f/3.5.
-Mike McEuen


Settings:
Canon Rebel T1i w/ 50mm 1.8
F/2.8
1/250 seconds
1600 ISO
Lego Explorer
Walking around Brooklyn with no inspiration is hard on a guy lugging around his equipment. I finally found a snowy patch of ice by my friends apartment. 1 X-wing lego man later, it turned into a mountain range on Hoth. Poor guy just wants to get home.
-Nikita Ostrov


Shot with a Canon Powershot S5is, to emphasize the idea of ice
using the power of contrast; a spur of the moment idea executed quickly. Final shot reworked with Corel Photo Paint to clean up the oven and add a motion blur to the broiler element.
-Patrick Masterson


Since the probability of icing here in Rio de Janeiro is 0%, I've had to look for ice at the refrigerator...
Then thinking of what to do with the little cube I started looking inside the cube then i get lost at an another dimension made of ice...
Can this be possible?
Camera info: Panasonic lumix DMC-FS42 - ISO 800 - Paulo Victor Rodrigues
It is surprisingly hard to find ice what with all this damn snow around here! Luckily I never emptied my wheelbarrow after the last fall rainstorm, so, ice-a-plenty. This was taken with a Nikon D40 and my new Tamron 60mm macro lens at 1/60s and f/11. I adjusted the levels a little in Photoshop to bring out the colors. Otherwise, its pretty much untouched. Thanks.
-Pete Berg


My original idea for the shot was to have my wife's diamond ring sitting in a bowl of ice. However when I was getting everything together, she couldn't find her ring. Great. I went ahead and took the shot without it. The set up was a glass bowl full of crushed ice. I placed a flashlight underneath the bowl and shot from above. I adjusted the brightness and added a little tint in Picasa.
Nikon D3000, 35mm, 1/250s, f/4.5, ISO 800 -Sean Yoshimoto


This is my first ever shooting challenge submission. I've made a sort of New Year's Resolution to attempt all of the weekly challenges to try to strengthen my creative and technical chops as a photographer. I admit I really had no idea where I was going with this one... there was no natural ice here, but I have one of those Tetris ice-cube trays so I figured I'd try a simple geometrical pattern, with some green laser light thrown in for extra geek points. Canon S90, Shutter Priority, 1s, f/6.3, ISO 100. I had to dial the exposure back about 1 stop in post-processing because I metered the exposure before adding in the laser light. Otherwise straight off the camera.
-Shaun Wrightson


Shot with...
Pentax K-x
Lens: MF SMC 50mm F1.7
f/1.7
1/1000s
ISO 100
Came across this bay in Grand Marais, MN that had obviously seen some stormy weather. The ice was coating everything inches thick.I took many shots that day and it was really hard to pick one for this challenge. - Shawn Nicholas


For this weeks entry i returned to my Freelensing entry and froze a CD and took a few shots.
Canon XSi, 18-55mm, Freelens.
-Stephen Galpin


In separate containers, I froze clear, red, orange and yellow water.
Once it was all frozen, I smashed it up with a hammer, mixed the
colors together, added water, and re-froze. For the shape, I had
everything in a zip-top bag, which was sitting in a bread pan.
Camera and Lens: Canon EOS 60D, Canon 50mm f/1.4
Exposure: 50mm, f/5.6, 1/125s, ISO 200
Touch-up: RAW exposure and sharpness adjusted in Canon Digital Photo
Professional, cropped in Adobe Photoshop. - Tom Haflinger


Taken with my Canon t2i and a tamron 2.8 28-75 lens at f/2.8 75mm 100 ISO shutter 1/500
A couple of my buddies and I decided to go for a stroll around town in below freezing weather today! We stopped at few factories and took some epic shots when I remembered the Ice contest! This shot was taken at a factory in downtown Cleveland. I always liked the stalagmite type ice formations.
- Tony Mansoor


Canon 60D with a Tamron 17-50mm f/2.8 lens
Shot at 1/500 F8 ISO 100
I was walking above a patch of trapped microscopic air bubbles when I found this surfing chef frozen about 8" deep in Lake Michigan. His board was constructed from an air bubble that was trapped while the ice was forming. His hat was formed when the sun reflected off the seaweed and melted the ice above him. The ice then re-froze and filled with snow when the temperature fell. Focusing on this guy was nearly impossible as the seaweed was about 1/2" - 8" deep and completely covered by the ice. Most of the "scratches" in the photo are actually vertical shafts of tiny air bubbles trapped by the ice as it formed. - Tony Three


Turning first to a few novelty ice cube trays collected the past year, I figured a sugar-skull cookie mould instead would make a more interesting ice subject. Layed this one on top of a large flashlight with plastic wrap over the glass and lowered the exposure a bit. Levels adjusted in Photoshop.-Travis B


Camera: Canon 7d
Lens: Canon 50mm f/1.4
Aperture: 1.4
ISO: 2500
Exposure time: 1/160 sec
Focal Length: 50mm
I had heard that tonic water glows under a black light, I had thought the idea of a mixed drink full of ice would look neat, which evolved into a bowl of ice filled with ice and tonic water. I have the bowl raised off of a black backdrop by about a foot. All in all I am very happy with the shot.
-Tyler Franke