Ray Of Light Contest,
Equipment – Canon Powershot A470
Settings –
F-stop, f-9
Exposure time - 1/640 sec.
ISO speed - ISO-80
Flash Mode - No flash, auto
White balance - Auto
Digital zoom – 1
As I was walking out of my car garage I gave chase to my two year old with only a pull-up on darted out and was heading to the street, I grabbed him at the end of my truck in the drive way, as I picked him up I looked up to my left and I saw this massive cloud near the mountain with rays just shooting out of it, so I darted inside to grab my trusty Canon to capture this amazing shot. This is behind my house in Hawaii, very beautiful. Enjoy!!!
-Abel Munoz

Taken with Moto Droid while in the process of landing at DFW. Noise removal in Lightroom. I am not entirely sure what is considered "lens flair" but the whole bottom of the picture is set up by rays of light passing through the clouds.
-Adam Harris
G/O Media may get a commission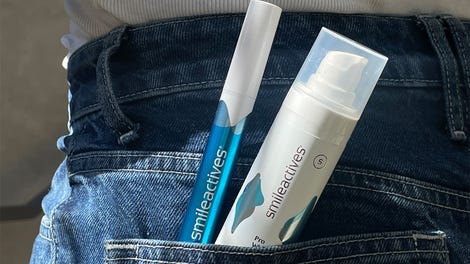 58% off
Whitening Powerhouse Pen & Gel Duo

Nikon P100, Nikor Wide op lense
I took this photo randomly while walking through a forest one day because I thought the tree itself looked cool. When I got home i saw the sunlight on it that i had not even noticed when shooting
-Andrew Stowe

Im from New York but was in visiting Disney when my brothers and I decided to head to Tampa (actually St Petersburg) to see the Rays take on the Red Sox. While driving there I noticed the Sun's rays coming in through the clouds, so I pulled out my iPhone 4 and snapped away. This was the result.
-Andy Tavarez

This is a confessional at the Vatican in Rome, and the whole section was roped off so I was able to get a great shot without any tourists in the way.
I used a Canon PowerShot SX200 IS without flash & ISO 400. The photo was only cropped & resized afterwards.
-Anthony Hankins

Around here, the next brightest light to the sun would be the Hillsboro Inlet Lighthouse. Courtesy of a Fresnel lens and about 5.5 million candles, the light can be seen for 28 nautical miles.
I went out on Thursday night and took this at about 1am (there are far fewer drunkards to trip over along the beach on a weeknight, including me).
I used a Canon 5D Mark ii with a 15mm fisheye lens. ISO was 3200 (thanks, Mark ii) and a 2.5 second exposure time at f2.8. No flash was used, all the light was ambient and the fill light was brought up slightly in Lightroom. The only other edits were cropping from the super-wide angle to frame this shot, some noise reduction, and adding a little contrast to the sky to allow the stars, clouds, and beam to pop. The ray itself is untouched.
-Austen Amacker

Shot with a Canon T2i. We setup a buddies DJ lighting and his fog machine for a house party and saw this shot waiting to happen when one of the girls was dancing in the lights. I also took a lot of ray of light pics with the disco ball, but this one here stood out the most.
-Bobby Triantos

I was on my home from work where I pass by a lot of corn fields and I noticed the sun breaking through the clouds. So I pulled down a gravel farm road to snap some pics but the corn was so high, I had to stand on the roof of my truck to see over it. I used a Nikon D90 with a 18-200 VR, ISO 250, 1/640th sec, f10, handheld with VR on. Exposure was at -1/3. Edited in Aperture 3.
-Brandon Durham

While practicing for church I noticed we had some cool spot lights setup for the band. i quickly turn on the fog machine and asked one of the singers to quickly step into the light before the guest arrived. Canon 5d mkII 24-70 mm @ 24 mm 1/50 sec, f 2.8.
-Brent Schnarr

-Bruce Li

Because of back problems, I have always missed the "Tribute in Light". This year, I decided that I would go no matter what. So after a good dose of painkillers, and with the help of my husband, I went to Jersey City to take this shot. There was a lot of people there, most of them took pictures, and all of them remembered.
This HDR was shot in RAW with a Canon 50D, and a Sigma 10-20mm lens.
The setting were : f/10, ISO 100, 18mm, 15s-8s-30s.
Next year will be the last time they display these lights.
-Céline Ruffino

Taken with my Blackberry Bold 9650 (3mp)
I was riding my bike through Boone, NC on September 11th. The rain earlier in the day created an intense fog that descended upon the whole town. I didn't my Nikon D3000 with me, but I didn't want to completely give up on the challenge so I took two photos with my cell phone. Of the two, this one showed the most evidence of light rays falling from the bright street lights. I did some simple image editing to cover up the grainy cell phone quality. I am mostly upset that I missed a great opportunity to take some unique pictures on a unique night.
-Chris Barron

Leica Digilux 3, 14 - 50 mm Leica Zoomlens @ 29 mm
f/5,6 HDR-Bracket from 1/200" to 1/13"
There's a spot right here in Vienna, were I walk my dog each and every day.
And on someday you'll find there not only wonderful nature and peace but also breathtaking light. Before I read about your contest I never had my camera with me, because that dog walk very early in the morning is kind of that event where you don't carry your bulky DSLR with you. But today I thought of your contest and voila - there you go: A Weimaraner Dog flooded by the early sunlight. I decided to take the picture as a 5 time exposure bracket to get the full dynamic of the light situation. Hope you enjoy it.
-Christian List

Nikon D5000
Nikkor 10-24mm
Manfrotto Tripod
Exposure: multiple
Aperture: f/11.0
Focal Length: 10mm
ISO: 100
WB: Fluorescent
It's a 7 exposure HDR from +3ev to -3ev in 1 ev steps tonemapped in Photomatix.
I hope this qualifies as a ray of light. I shot the Tribute in Light from various locations in Brooklyn but ended up liking this one the best. I don't know where all the thieves were last night but they missed a golden opportunity, hundreds of amateur photographers all wandering around Brooklyn with thousands of dollars or camera gear on their back. I even saw one guy with a Hasselblad H system. Hope no one got mugged, I doubt they'd let you hold to your memory card.
-Dan DeChiaro

Panasonic Lumix camera on auto-setting.
I was driving along the Colombia river in Oregon when the heavens parted and god spoke to me. Sounded like "aaaahhhhhh...." ... Nuf said. ;)
-Dan Gareau

Camera: Canon 7D
Lens: Sigma 24-70 F2.8 EX DG Macro
Settings: ISO 500 / 28MM / f/8.0 / 1/250sec
Location: Islamorada, FL
While on a romantic getaway in the Florida Keys, my boyfriend grabbed the camera & we decided to take advantage of the spectacular sunset & place the setting sun in just the right spot. :)
-Danielle Menendez

Canon EOS 550D with EFS 18-55 Lens
f/4
1/30 sec.
ISO-2000
I took this shot in Vatican, St.
Peter's Basilica. I think i made ~15 shots, but this one looked just right
for me. Basilica is amazing, because every sun ray that comes inside
deserves a shot..
-Darius Sulte

85mm , exposure time 1/250m, f number 10
This photo was taken at a cross country race in salinas california. As the runner ran by dust was kicked up from the trail producing the light rays traveling through the branches. I quickly looked up to snap a few shots before the dust settled then resumed taking photos of the runners.
-Derek

Camera specs: Canon T2i, Ap f/5.6, ISO 3200, No tripod.
After trying to find mist, haze, fog, dust, rain and/or steam in a (very dry) Boston weekend, this is the best I got. This is the 'Scituate light' lighthouse in Scituate, MA.
-Diego Jimenez

Canon EOS 450D with Sigma 17-70, 33mm, 1/400, F/13, ISO200, EV -0.7
This Saturday, I was driving with my girlfriend to visit her parents in the farmlands in Belgium. I've been following the Gizmodo contest for quite some weeks/months now and had finally decided to start participating this time. Already the whole week I was talking about it and about some ideas to artificially create rays of light at home, until suddenly we saw the real stuff. It had been raining all week here and finally the clouds opened.
Prepared the camera and hit the button. I underexposed a bit in order to make the clouds look extra dark, and cropped and added some contrast in Picasa.
I like how the rays seem to stop and start at both sides of the electricity transmission lines.
-Jan De Decker

Greetings from sunny Barbados!

We were at a photography class, getting ready to do our first fashion shoot. We were waiting for the sun to come out a bit more, then someone looked up and saw this. We all promptly ignored the tutor, pointed our cameras to the heavens and started firing away.

Canon PowerShot SX20 IS
f 3.2, 1/1600, ISO 80
Bumped up the contrast a smidge in Photoshop
-Jason Downey

Nikon D60
18-200 VR II
18mm
f/ 7.1
Shutter: 8 sec
ISO 400
My apartment is a block from ground zero and this weekend the spotlights commemorating the towers were on. Rather than taking a more standard picture of these lights, I decided to find an object where I could use some perspective to show the lights emerging from something interesting. I used this stone column to get a light sabery looking shot. Han shot first.
-John McGrail

F8, Shutter 1/4, Canon 500D & 18-55mm Kit lens.
My first foray into Gizmodo's shooting challenge was taken in my Garden Shed in Wales, UK. I went in there for some spuds as we call them and the door slammed shut behind me just beaming out a narrow shot of light, couldn't resist the photo opportunity!
Not much post-processing other than a de-saturation using Aperture 3.
-Joseph Middleton

Photo Taken with a Canon Rebel EOS Series T2i. Iso: 800 F-Stop: 5.6 +2/3
"3 Jews Go to National Cathedral" has a ray of light coming in through the side of the National Cathedral. The light comes in one of the many stained glass windows and chose to underexpose the image for the most part to accentuate the details and vibrant colors of the stained glass. I took this photo with a couple of friends as we went on a walking tour of the Cathedral.
-Joshua Feldman

Canon Rebel xt
ISO 100
300mm
f/32
1/160 sec.
tripod
Yeah I know, another sun through clouds picture. Not very original but fun to shoot nonetheless, this one is from Virginia Beach. After living in the area most of our lives, my friend and I had never shot the sunrise. Hopefully I beat him to the Gizmodo shooting challenge punch.
-Juan Limtiaco

I was scuba diving this weekend in Australia (doing a semester abroad here) and every now and then the sun would shine through and create these rays of light. Made me think of the contest from Gizmodo! Looked up at one point and saw this Jellyfish floating above me. Lined it up with the sun and took the shot with a small aperture so it didn't get washed out. Also got some nice shots of sun rays hitting a rock with polyps but saw I could only submit one. If you like this one let me know and I will submit the other too. Both are pretty nice shots. Cheers!
-Julian Tempelsman

Saturday night, September 11th, was the last night of the "Tribute in
Light" memorial, here in New York City. I spent the evening walking
around the city taking various long exposures of the memorial. I got
some neat shots from the Empire State Building observatory and a few
other areas in town, but this picture in TriBeCa kind of captured the
spirit of the evening for me. While it's understandable that people
were out and partying, this was the only part of town that I felt like
reflected the solemnity of the anniversary. Even Ground Zero itself
still had kitch hawkers and a few wandering photographers (myself
included) that looked like vultures circling for prey. Also, it's my
old neighborhood, so it just felt right.
I used a Canon 5D MarkII, a tripod, and Canon's corded remote trigger.
I had originally planned on shooting bracketed exposures, with the
hopes of doing an HDR merge. But I'm still new to doing HDR work and
I correctly guessed that the moving cloud cover in my long exposures
would give me fits trying to do the merge (this is my first photo
challenge as well). So, thankfully, by this point in the night I was
shooting on the Bulb setting, setting my aperture around 8.0-10.0 and
my ISO around 200-400. I would then essentially "eyeball" the length
of my exposure, checking my display frequently for feedback.
-Kelvin Chen

D700 + 70-200mm f/2.8 II
Shot at 70mm at f/2.8 for 1/6s at ISO 6400
I was out doing some high ISO night photography (to capture the stars) when I thought, "what the heck, let's go shoot the airplanes while they're landing." I had always wanted to try this during the day, but it was pretty tough at night. I setup the tripod, locked my focus point down and to the right, and hoped for the best while manually tracking the planes. This photo is the one that came out best. The large image looks better and it helps to be in a really dark room.
-Kevin Chew

This was taken at the Georgia Aquarium Pacific coral reef exhibit. I loved how the sunlight coming into the water illuminated the yellow sailfin tangs against the blue water. Taken with a Canon Powershot SX20IS, ISO 80, f/3.2, 1/125 exposure.
-Kristin Echerd

Camera: Nikon d60
Lense: Nikkor 18-105
Iso 200, 18mm, F4.5
Adjusted slightly in Lightroom for exposure and contrast
Hiking the Rattlesnake Mountain trail in WA when the sun broke through the fog. Right place at the right time.
-Lorien Farren

I took this picture somtime yesterday and It was amazing. The sun was
coming through the window, literally. 50mm 1.8, XTi, ISO 400 F20
Note: This is actually a staged photo. It involves a construction lamp
and some dry ice. I filled a sink with dry ice and began taking pictures.
-Lucas Lim

Canon XSi
f/22
ISO 200
1/100 sec
Canon 10-22 mm @ 10mm
It was overcast all day but the clouds were starting to break up a bit so on the drive home from work I decided to pull into Lake Sammamish to hopefully get a shot for this weeks challenge. There weren't any rays shining down right off the bat but everything was so beautiful I started taking a bunch of shots anyway. About 10 shots in I find out that I forgot to charge my battery after shooting all last weekend. I check my bag and of course I don't have a spare on me. Not much I could do but hope the battery has a tiny bit of juice left so I composed my shot and set my lens to manual focus @ infinity. I then removed the battery and shook it like crazy before putting it back in hoping that it would give me a little juice (it works with the tv remote!) then I sat there waiting for some rays of light to shine down, hoping when they did my camera would have power. About 20 minutes later I saw some rays shining down and decided this was it, so I steadied myself for the shot, turned the power on and luckily I was able to get 3 shots off before the power died. It wasn't until I got home and put in a fresh battery that I was able to check if the shot actually came out.
-Mark Lee

Shooting Summary: Canon T2i with 18-55mm Kit Lens. Picture taken at f/5, 4 seconds, ISO400.
Description: So this may be a loose interpretation of 'ray of light' but I decided use a 5mw laser to create my picture. With a black backdrop, I used a laser and fog machine to slice through the fog to create a wall of light. Although this is in no way original, the laser slowly trailing across the surface creates a sense of depth while the smoke gives a sense of oil on water.
-Matthew Davenport

Nikon D80 f2.8 3secs 50mm Lens.
Fire Doors!
These door handles were bought about 5 years ago and I still haven't fit them on any doors yet! For the shot I attached a handle to a piece of black foam, cut a hole and shone a halogen spot light through the key hole. I had a gold reflector to light up the handle and the wife's iron was appropriated for the 'smoke'. I didn't have long for each shot as the spot was melting the foam!
-Matt Upward

Fujifilm s100fs / F3.7 / 1/2.5s / 21mm fl / ISO 100
Krypton-Argon laser passing through a prism.
-Mike Case

I work on the 19th floor of an office building in downtown Phoenix and tend to wander by this window every morning checking the sunrise and just staring off into space (avoiding work as you might guess). I usually bring my camera with me everywhere I go, so on this morning (9/8/2010) I definitely had it slung over my shoulder with all the storm clouds rolling though the area that morning. There were so many cool cloud structures that morning, but this one stood out to me. Sun rays exploding in all directions from behind a fading storm cloud, illuminating the city below and the sky above. This view is looking east from Central and Osborn, with the main prominent peak being the Camelback Mountains.
This is an HDR photo from three bracketed images (-2,0,+2) shot at F8 and ISO 100. I normally would do 6+ exposures, but I had no tripod with me and my camera can only rip off three in a row. Processed in Photomatix and polished, refined, tweaked in CS5.
-Mike Olbinski

Device: Canon PowerShot A620
color space: RGB
Setting: Manual
F: 4.1
Exposure 1/400 sec
I shot this picture in the zoo, safari world. when I look through the lens, I really felt I'm in a wild forest from dream. I can inhale the mist from above combined with the golden ray of light. To a true city girl, this scene was surreal, breath taking and uplifting to me.
-Nai Wang

Canon Rebel T2i
f/14
Exposure 13 secs
ISO 400
Kit lens at 47 mm
My wife and I decided to go out and do a little night shooting for this one. We took this shot at a pier by UCSB, the college where we first met.
-Nick Bottarini

The weather wasn't very compliant, so I got together with a couple
friends to make our own light rays. We set up a bright halogen light
inside a cardboard box punctured with holes. They blew handfuls of
flour into the light as I snapped photos. Shot was taken with a Nikon
D90 and 50mm lense @ f1.8, 1/200, ISO 1000.
-Nick Sprankle

Shot this photo on my Droid Incredible using the Vingette app. Tropical Storm Hermine passed through here (just north of Austin, Tx) over the past few days, and there was some pretty heavy flooding. I work at the Humane Society, and our 100+ dogs were miserable, you can imagine the smell of an old horse barn flooding with 60 or so dogs in it. Anyway, as the storm broke, and between torrential downpours, the sun broke through the clouds and I snapped this shot of the sun's rays shining over what is a river of flood-water flowing through the field about 20 feet from the kennels. Lightened the grass a little, as the Incredible makes decent, but not "incredible" photos. Tomorrow I start mucking out the outdoor kennels and re-filling them with gravel, as right now the dogs that stay outside have turned them into mud-and-s**t-pits.
-Oliver Friedheim

This photo of the September 11 memorial 'Towers of Light' was shot from my balcony in Brooklyn using my Samsung TL500 on a tripod, using a long exposure. The photo has not been processed.
I was on my balcony doing some stargazing with my telescope last night and this beautiful cloud drifted over the memorial with the ray of light piercing through it, giving it this ghostly glow. The long exposure made it seem like it was almost day time outside with a lot of stars poking through.
-Rob Duran

Shot with a Sony SuperSteadyShot DSC-T300.
I'm on a business trip to New York staying next to the World trade center site. To say today was somber would be understated. Hearing bagpipes as soon as I walked outside definitely set the tone for the rest of the day. Even more so, passing so many people who tried to keep an emotional tide from crashing over them. I understand why some many New Yorkers choose to take the day off.
This evening I chose have a drink at O'Hara's pub, where many firemen decided to gather. I noticed the towers of light and remembered the tradition. There are moths and birds that fly through the beams and shine brilliantly. The lights are definitely amazing to see up close. I'd estimate each beam is as wide as a semi truck trailer is long.
Without a doubt the lights send a strong and bold message. There is a park that stretches along across the street from where the lights are projected. I took this picture there by laying the camera down on a bench, starting a delay timer and taking the picture. It took a number of tries. The tree above seems to mask the bold aspect of the lights but it seems to add perspective to the beauty.
-Robert Bejarano

Nikon D90
35mm lens
F stop @ 2
Exp time set @ 0.4
Candle light
Flash lights
Smoke
So this week I completely forgot all about the challenge until the last minute so I tried to toss together some things I had laying around and put something together. I had a shoe box that I cut a design into, some flash lights, some candles, bits of incense and my nikon d90 w/ 35mm lens.
I basically just wanted the smoke from the incense to get captured by the rays of the flashlights and candles going through the box to make a cool design. Hopefully. No Photoshop used.
-Rocco Fiandaca

Gear: Nikon D90, Nikkor 50mm f/1.8, Cheap Laser Pointer
Settings: 10 sec, f/1.8, ISO100
It's a rather plain photo, isn't it? It's not that I wasn't inspired this week. The day this contest was posted, as I was leaving work, the sun and the clouds were vomiting shafts of light all over the city, but my camera was at home. I missed that opportunity, but I didn't stop there. I have this complicated set of ropes holding up a set of blinds and blackout cloth in my garage right now. I spent an hour setting it up. It didn't work. Even the photo I'm submitting isn't the shot I wanted to get out of it! So, challenge-wise, it might not be that spectacular, but it makes a pretty sweet background picture!
-Ryan Powers

This was taken with a Nikon D5000. 55-200mm. The sun looked really cool this morning. I ran around my apartment complex trying to get a decent shot with out telephone wires or the ugly building around. I zoomed out all the way and got the very top of the buildings vent thing and some branches. But when you look at the picture it looks like a little house with some trees and a cool sky! I am pretty pleased with the out come.
-Sam Katz

This shot is titled "7" and was created with a lantern flashlight, a mirror, some smoke, and a nikon coolpix l20, oh and some enhancements with photoshop.
I was trying to figure out how to create a ray of light in the first place while sitting in my garage having a cigarette and i looked over and saw my large flashlight. So i setup the flashlight on the ground and turned out the lights i could see the ray but it was still only faint so i blew some smoke at the ray from my cigarette and it was much more pronounced. After seeing that i immediately set to work and enlisted my fiances help. I had her hold a mirror and reflect the beam back toward itself. When we finally had what i thought to be a good angle i took the shot. I then just enhanced the shot in photoshop and made it black and white.
-Shawn Baird

This was shot with a Pentax K-x with the 18-55 kit lens.
18mm
100 iso
F/6.3
5 second shutter (I swear it was longer, but thats what my info says)
This was shot in the hay loft of my in-laws barn. It's a decent sized barn, and old I'm sure. It's got a lot of character. I've always loved how you could see the sun peak through the slats from years of weathering. So of course, This was the first place I thought of for this challenge. So I tried a few shots, many I liked, but I wasn't having much luck with capturing rays of light. I just didn't get it. I've never really thought about it, so I had to ponder a while on how to get a ray of light to show in the picture....and then it hit me. I need dust or something in the air, a no brainer really. (but thanks to the gizmodo shooting challenge, I never would have tried this) So what did i do? Set my camera on a tripod and waited for the sun to really shine through (cloudy day). I then threw some loose hay and dirt up into the air and sure enough, there it was! I quickly backed out of the shot and used my remote once I was out of the shot. I may have thrown some into the air while the shutter was open too. But it was a success. You can actually see the hay in the rays of light, I think it makes for a neat effect. I was very happy with the shot. Not very happy with the air quality....I did a little post editing but not much.
-Shawn Nicholas

Camera: Nikon D90
Lens: Tokina 11-16mm
Focal Length: 11 mm
Exp: 1/400 sec, f/8
I was hiking at Arches National Park in Moab, Utah this week. This is a picture of the landscape opposite to the Delicate Arch at sunset. I was shooting using the sunny 16 rule (ISO 400, 1/400 sec at f/16), and noticed the rays of sunset filtering through the canyon were captured nicely. I opened up to f/8 to prevent shadows. The rays in the bottom third of the frame were formed likely due to the sharp rock ridges and the dust being kicked around by strong winds. The red dust kicked up from the trail gave the extra orangish hue to the sky with the setting sun. I cropped the photo in Lightroom to include the silhouette of a person standing in the right edge of the frame to give an indication of scale.
-Sourabh

Picture taken on September 11th around 11 pm from the Staten Island 9/11 Memorial. Taken with my Canon T2i with 35-128 USM at 65 mm. F 5.0 bracketed at (.4 , .6 , 1.6) and merged to HDR in Photomatix to make the Tribute in Light really pop out.
-Timothy Schubert

Picture was taken on an iPhone 2G in the Church of the Holy Sepulchre in Jerusalem, Israel. Messed around with it in Best Camera App.
-Zack Finer

Photo is of Jason Mraz performing at the Life is Good Festival in Canton, Ma. The festival was amazing featuring music, food, and activities all day in a family oriented event in which 100% of the proceeds from every stand, every ticket, went to the Life is Good Foundation. The only problem i had the entire day was not having a better camera than my Olympus point and shoot for this contest. The lights filtered through not only artificial smoke but set up of grills less than 100 yards away (and as Jason put it, "we can see the animal souls floating up from the grills.")
-Zac Wallace