Shadows. They're ghoulish entities that come and goes with the whims of the sun. But shadow puppets are what happens when Man harnesses the sun, or artificial light, and creates life of his own.
The Challenge
Take a photo of a shadow puppet. It can be as simple as the shadow from a lamp and your hands, or as complicated as the gorgeous set piece at the top of this post. Your call!
The Technique
You have two options. First, you can create your own shadow theater—which is basically a cardboard box with some tissue paper and a lamp—and accompany that with all sorts of intricate puppet cut outs. Or, you can just look at this Pinterest board and make a cool animal against the wall with your hands.
G/O Media may get a commission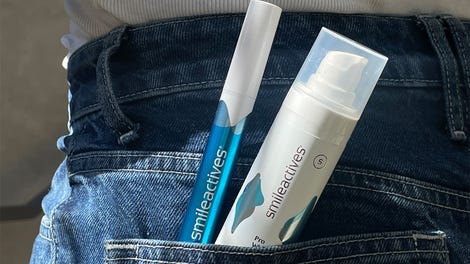 58% off
Whitening Powerhouse Pen & Gel Duo
The photo itself won't be difficult (in fact, good old autoexposure can probably handle the image). But depending on how much light you're using, consider using tripod.
The Example
Our lead image is by Ivetta Inaray. It's an example of what you can do with a shadow theater if you really, really commit yourself this week.
The Rules
1. Submissions need to be your own.
2. Photos must be taken since this contest was announced (read more on that above).
3. Explain, briefly, the equipment, settings, technique and story behind shot.
4. Email submissions to contests@gizmodo.com, not me.
5. Include 970px wide image (200KB or less) AND a natively sized image in email. I know that your photo may not fall into those exact high rez dimensions, so whatever native resolution you're using is fine.
6. One submission per person.
7. Use the proper SUBJECT line in your email (more info on that below)
8. You agree to the Standard Contest Rules - though we DO accept non-US resident submissions.
9. If the image contains any material or elements that are not owned by you and/or which are subject to the rights of third parties, and/or if any persons appear in the image, you are responsible for obtaining, prior to submission of the photograph, any and all releases and consents necessary to permit the exhibition and use of the image in the manner set forth in these rules without additional compensation. If any person appearing in any image is under the age of majority in their state/province/territory of residence the signature of a parent or legal guardian is required on each release.
Send your best photo by Monday, April 7th at 9AM Eastern to contests@gizmodo.com with "Shadow" in the subject line. Save your files as JPGs, and use a FirstnameLastnameShadow.jpg (970px wide) and FirstnameLastnameShadowWallpaper.jpg (2560px wide) naming conventions.