Greetings Gizmodo!
Our place is a building from the 90s, way before the town became a city. Sadly, the top floor wasn't occupied for many years - leaving it open to the harsh elements. I wanted to take shots of the old drain covers and rain-soaked flooring, then there it was... A little plant starting to grow out of the concrete. (It would've been nicer though if it was a bit bigger to provide a green contrast. *sigh*)
Shooting summary: Canon EOS 60D / 50mm EF lens / ISO 200
Thanks and more power!
- Gary F. Rivera
Here is my submission for the Urban Decay Shooting Challange
An overcast day in the Los Angeles area reults in a perfect day for a drive up the coast. We went out searching for examples of urban decay. These are air hoses from an abandond gas station on the Pacific Coast Highway in Malibu, California. The station was surrounded by temporary chain link fencing. I had to reach under the fence to take this shot.
Nikon D90, Auto exposure, Aperture-priority AE, 1/2,000 sec, f/3.5, ISO 400
AF Zoom-Nikkor 28-200mm f/3.5-5.6G IF-ED, Shot at 28 mm
G/O Media may get a commission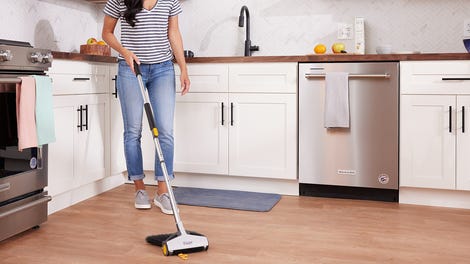 BOGO 50% Off
Flippr - BOGO 50% Off
- Jereme Skelton
Hi Guys, here is my submission. I used a Canon 60d with the Canon 18-200mm lens, ISO400, f/8, 1/250 speed and at a 40mm focal length. I walk past this abandoned store every week on my way to Safeway (in Washington DC). The exact location of the store lies within about a 3 block area that is sandwiched between two neighborhoods that are being gentrified. Basically it's rich kids to the left, rich kids to the right, and despair in the middle. I've always thought that the irony of a paint store in such terrible conditions would make for a great photo. I waited until about 20 minutes before sunset to get some warm colors, and then de-saturated them in post in order to get a more gloomy feel.
Cheers
- Zeke Silvani
Urban Decay in a Decade
D300s - 18-200mm VR - f8 - 1/250secs. - ISO-250
The Bandra - Worli Sealink, a bridge in the City of Mumbai, India joining two areas of the Metro that took nearly 10 years to construct and complete has already started showing its ill sides.
I was wandering about one afternoon when it struck me that "under the over" would be a great place to get some pics.
on my route i had to walk a great to deal with my equipment. once i reached, i was overwhelmed by the sheer size of the bridge.
all in all in made a good photography site and i hope you guys like it too.
- Arsh Sayed
"I came to America because I heard that streets here were paved with gold. When I came I learned three things:
first: streets in America are not paved with gold;
second: streets in America are not paved at all;
third: I am expected to pave them."
This picture was taken (Canon 60D) in the rapidly developing Williamsburg Brooklyn streets. It's hard to see any decay among the brand new million dollar condos that are being built every day . In all of New York City though, the landscape is always changing and decaying at the same time. History is rich right beneath our feet. Even if we see it or not.
N13st & Wythe Ave - Brooklyn, NY
- Tom McCarthy
Hello Gizmodo.
Here is my entry into the Urban Decay shooting challenge. It is a good old fashioned London post-box that has succumbed to years of crappy London weather.
It was taken on an overcast day using my Canon G12 and finished in Photoshop CS5.
Canon G12
f4 @ 1/125 with a little bit of flash
ISO 100
Regards,
- Mark Jeffries

Perfect contest to be in Detroit! This photo was taken outside the old Central Station. Shot with a Nikon FE2 on Kodak 200 ISO long live film!
-Ryan Lorenz
The Nursing home on 111st and Amsterdam is getting a much needed facelift.
Construction workers have began working on one year plan which will include an indoor/outdoor patio and many other amenities, but not everyone is happy about the situation. Maria Mena a 30-year resident of the building across is tired of all the noise and dust that has spewed over since construction began. "I can't sleep past 7 a.m anymore, it's only been a few weeks and I'm already sick of it.
The company "Budd" providing the materials could not be reached for an opinion on the matter.
Canon T2i
F8
1/50
17mm
-Ian Delacruz
Shot with a canon 60d 17-55mm F2.8 Canon lens at f 5.6 six images at several different exposure levels merged in Photoshop.
When I heard about this challenge, I thought of the parking garage I use every day for the work which was build about 30-40 years ago. It's actually been kept in good shape so the only decaying part was the stairs. I loved the orange door next to the blue sky.
- Adam Harris
Hello,
My name is Lindsay Blair Brown, I'm a documentary photographer in the Greater New York area. The moment I saw your ad, I knew I had to shoot this theater I saw while walking around Newark.
The Proctor's Palace Theater was an eight-story complex with a large 2, 300-seat theatre at ground level and a smaller theatre of about 900 seats occupying the top four floors beneath the roof. Built in 1915, designed by architect John W. Merrow in downtown Newark. Unfortunately, the theater was one of the many places that closed down as a result of the infamous Newark riots of 1967. Since that time, Newark fell into a state of urban decline, causing places like the Proctor's sit vacant, unnoticed. This photograph was taken on the top floor of the complex, referred to as the "roof theater". The cloud screen was by far the most fascinating thing I have seen in an abandoned building in quite some time, it was painted to create an atmospheric feel to the theater. It is amazing how beautifully built theaters were back in the day.
I feel this photograph represents urban decay in a different light than broken down, dilapidated buildings. There is still a beauty to this image, this theater. Something you don't often see.
This photograph was taken on a Hasselblad 501CM with Kodak Portra 160VC film. It was shot at f/16 at one second.
I hope you enjoy the photograph.
-Lindsay Blair Brown

Took this picture on my recent trip to Venice using Sony Cyber-shot DSC-H70 14.1 MP Digital Camera. Used SnapSeed app to add dramatic filter.
At first, the subject of my fascination was the Venetian musician whom I wanted to capture without being too much of a tourist douchebag and aiming right at him. I discretely raised my camera to my waist and pulled the trigger. The photo turned out better than I expected with the added effect of the eroding walls beset in the background.
Hope you like it!
- Greg Birman
"Coastal Decay"
Camera: Nikon D3100
Lens: 18-55mm (kit lens)
Maine isn't really an "urban" area. So this technically isn't as urban
as your New York subway or Boston T, but this, at least where I'm
from, is as urban as it gets. This was taken atop of a restaurant,
looking out of their classic New England single pane windows. What I
personally find interesting is the affect the light plays on the photo
overall. It almost looks as if a "lomo" affect was applied, but this
photo is entirely natural.
- James Maloney-Hawkins
This is a shot I took in an area of Toronto known as "Grafitti Alley".
This alley is the definition of urban decay, with all sorts of junk
spewed around (toilets, mattresses, garbage etc), cluttered, decayed
but beautiful at the same times, if decay interests you.
I shot this hand-held with fading light with the following specs below:
Camera: Canon EOS 50D
Exposure: 0.033 sec (1/30)
Aperture: f/2.8
Focal Length: 17mm (exif reports as 32 mm for some strange reason)
ISO Speed: 400
-Dan Cronin
Early Morning I took a trip to the Eastern end of Portland, Maine. By the water is an old railroad bridge that crosses the bay. During the late 1970's, the city decided to get ride of most of the railroad system in Portland so they decided to destroy the bridge by setting it on fire. After a full day of trying to destroy it, the public workers gave up and just put an "out of order" sign by the entrance. The bridge still stands today and is very unsteady to walk on. I used a cheap Rokinon Monopod and took this shot of the bridge as symmetrically as possible.
I took this shot using my Canon T2i, (100 ISO) (2.8 aperture) using my Rokinon 35mm f1.4 lens.
Thanks for looking!
-Field Stobaugh
Shot with an EF 24-70mm 2.8L at 24mm attached to a Canon 5D Mark II
f/4 at 1/1600s, ISO 100
I was recently exploring Golden Gate Park in San Francisco, California when I found a very secluded beach. Some people were around, so I walked past the sandy area and walked over some dangerous, rocky terrain and found myself all alone. The big block of concrete contains some very old style hexagon tiles with indicates that it could be an old bathroom stall or phone booth. Whatever it is, the structure probably used to be surrounded by smaller trash items and was too heavy to be cleaned up.
- Daniel Jang
Camera: Nikon D90
Lens: 18-55mm kit lens
Shutter: 1/160 sec
Aperture: f 9.0
ISO: 400
I shot this photo of these two side tables that have been sitting on a cracked sidewalk near my house for as long as I can remember. People truly don't seem to mind them, and I personally think they have quite a lot of character and backstory to them.
- Allison Nazzareno
Shot with Lumix DMC-LX5
200 iso; RAW; 3 Image HDR
- On HWY-80 in between Vacaville and Fairfield, CA theres a field with a string of wonderfully decrepit farm equipment. Given the nature of this challenge I felt it might be fun to give the machinery a shot. Albeit inspiring to shoot the equip, the real gem of the shoot was the rusty barrel next to a shack covered in graffiti which the locals appear to have taken over as an air-soft shooting range.
The vertical composition speaks volumes over the horizontal. It looks so much better that I could not pass the opportunity to send it.
sorry about the first email. Gmail was being an asshole.
- Nicholas S. Rutledge
Took this photo on one of my runs around St. Louis, MO. Right after the London summer riots all sorts of graffiti referencing looting was showing up around the city. This piece of urban art showed up on an abandoned building across from St. Francis de Sales Oratory Catholic church on Gravois. There were more examples all over the place. I think the heat was getting to everyone in the August doldrums.
Joe Millitzer
Hi GIZMODO!
The story.
I live in Chisinau, Moldova - the country of high contrasts - rich people are getting wealthier, and poor ... well, you've guessed it (= Which is why parts of town differ a lot. Sometimes you might even forget, that we were part of USSR only 20 years ago.
Me and my girlfriend were visiting the old place we used to rent a flat at, so I took my camera. It felt warm and pleasantly nostalgic, even thought we lived in that area for a short period of time. On our way back I was taking pictures of the streets, that was when the shot was taken. Only when pics got imported from camera, I realized how that place looks from aside )=
The funny thing is that this gate was in better condition on the way there :D
The shot.
Taken on Canon 7D with 50mm f/1.8 lens (F-stop f/4, exposure 1/100s, ISO-200). Did a little bit of color correction in camera raw and re-size for the contest, everything else is "natural".
Hope you feel the atmosphere on both sides of this photo (=
-Stanly
This pic is of an abandoned water tower is Mississauga, Ontario. Close to Lake Ontario, the entire lot where this is has been cordoned off, with signs saying "caution - buried radiation hazard". Hmm. The actual land has a building that used to manufacture ammunition (used now mainly for film shoots). The fenced-off area is quite easy to get into, numerous holes in fence. Unfortunately, this area is also the #2 Gay Cruising area in Mississauga (seriously), so time of day WHEN you go take photographs is very important.
Leica M9
Lens: Jupiter-8 50mm
iso 160, f8
-Ian Pettigrew