This picture was shot on a Canon T3i using the kit 18-55mm IS Lens. The focal length was 29mm and I shot this in Aperature mode with an F-Stop of 4.5.
I did the Black and White conversion in Adobe Camera Raw. I adjusted the exposure and tone scale before converting it to grayscale and then adjusting the grayscale mix.
This camera is a recent acquisition so this is my first submission to the shooting challenge. I live on the Mississippi Gulf Coast so I thought that one of the local piers would make a good shooting location. This picture was the last shot of the day. I saw this while walking by the base of the pier. I loved the clean lines of the railing and the nice depth of field effect. The weather was also bad today. It was so cloudy and gray out that the shot was almost black and white without the adjustments. Plus my kids and I biked down to this location so my wife appreciated the peace and quiet for a couple of hours.
Cheers,
Carl Schuett
A photo of a friendly truck driver from Orlando takes a drag on a cigarette on a cold, blustery spring night.
- Kyle
G/O Media may get a commission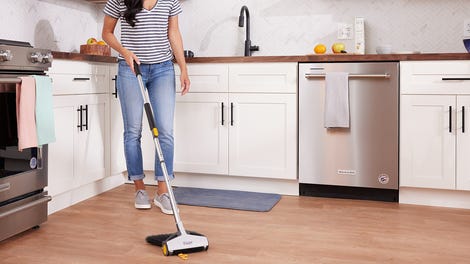 BOGO 50% Off
Flippr - BOGO 50% Off
Taken with
Canon 7d
17-55mm @27mm
f8@125
ISO@100
- Penn
Shooting Summary
Camera: SONY a300
f-stop: f/13
exposure time: 1/400
ISO: 100
exposure bias: 0 step
focal length: 55mm
aperture: 4
lens: 55-200
Story
As a university student in a foreign country, one which is far away from my home country, I guess there are so many mixed feelings in myself. Being so occupied with school work and all, sometimes I feel like I'm losing myself. Thankfully, I found love in photography, I found friends who share the same interest as me. Looking at this photograph, I realized that in search of good photographs, we go all the way and give it our best, hoping that we capture the essence of every scene. And this is exactly what I love about photography, being able to immerse into it and not feel bad. And looking at every photos I have, I feel energized. I believe that's what every photographer love about being a photographer.
Catherine Kok
This is Nantucket Island's Colored Cemetery in black and white.
Nantucket's reputation is obvious: a playground for the rich. But it wasn't always the way.
In the 1800's, Nantucket was the whaling capital of the world. It was a rough and tumble place to be sure; it was also the seat of a lot of forward thinking, especially when it came to issue of slavery and abolition. Nantucket's Quakers led the conscience of the nation in the 1830s and 40s; the schools were integrated in 1846. One of the oldest "African" meeting houses left in the country. The island went into decline just before the Civil War, but there still continued to be a community of escaped slaves, Native Americans and Cape Verdeans. This is where they rest.
Here's a good description:
http://www.nantucket-ma.gov/Pages/NantucketMA_Clerk/ColoredCemetery.pdf
Greg Creedon
Commenter mackensie
Everybody's favorite desk toy. Nikon D40, Lensbaby Scout w/ 12mm fisheye optic, 1/320, f/8, ISO 200.
Andy Holton

I had been trying to find an interesting subject that would work in black and white, but I don't have much experience working with it. I tried shots of landscapes and trees mostly, but it looked mundane. But I kept telling my fiance about it, so she suggested the Stanley Hotel since it was close by and recognizable. We had to go up to Estes Park to talk to our pastor about the wedding anyway, so we stopped and got some shots of it on the way. I'm no Stanley Kubrick, but I dug the "house on the hill" look :)
Shot on my iPhone 4. I used Camera+ to convert it to black and white, and also used it's "Clarity" effect to make edges stand out a little more.
- Joshua Bowman
D700, Sigma 85 f/1.4 @f/2, ISO 800, 1/125 sec, -3EV
Was walking back from a meeting around 10pm or so in the high 30's on 8th Ave and saw an old neon sign for OTB with some busted lamps. I took a few shots of those, but didn't like how they came out so I walked further towards 8th on my way home. I saw this sign here on the corner, and save the font on the signage for pizza at the bottom, it looked as if this could have been the scene from half a century ago, when black and white pictures ruled the world.
-Geoff
The Last Turn
I shot this photo of the Gare du Nord (North train station) in Paris through the fence on the edge of the boulevard above and overlooking the railroad tracks.
I always thought the curves of the tracks right before entering the covered part of the station were cool to look at. I don't usually do a lot of black and white so this time I used one of the B&W presets in Lightroom. This one makes the platforms white and stand out of the dark tracks and it looks like a striped pattern.
Even though I live here, I'm always amazed to see that some of those train are actually going abroad and in just a few hours, without ever leaving the ground, they'll reach England, Belgium, Germany, Holland and so on... Trains are awesome :)
Canon 5D Mark I - f/9 - 1s - ISO 100
- Ben Lanon
So as I went outside this afternoon I saw we had a few friendly young Monarchs in our back yard, so I grabbed the camera and took a few shots and remembered about this challenge. I thought to myself what would this colorful shot look like without color. So after shooting the picture I brought it into Photoshop and to my surprise the butterfly almost seems to disappear…
Canon T2i w/Tamron 70-300mm, f5.6 @ 300mm ISO 100
Jim Bunger
Canon rebel T3i
Canon EF 24-70mm f/2.5L
ISO-400
Magic Lantern Hack to push the picture details
Had to tape a treat to the top of the camera, and have her follow it till she finally held still long enough but not long enough to jump out and snatch it and attack the camera. Even though she looks at peace she was far from it.
- Kevin
Abandoned factory in Fairfield NJ
- Paul
Cheryl MacLean
Canon 60D, Tamron Lens 18-270 mm
f/6.3 1/50
Our neighborhood is loaded with these dandelions right now.... While their weed status is not desirable, my photographer's eye saw them as an interesting subject, especially for experimenting with black and white, which I thought would bring out the detail nicely.
Shooting Summary
Location: Nairobi National Park
Date Taken: 19/04/2012 - 16:59:02 GMT+3
Camera: Nikon D7000
Lens: Nikkor 18-105mm f/3.5-5.6G ED
Focal Length: 105mm (157mm eqv.)
Exposure: 1/60
Aperture: f/5.6
ISO:400
Filtered Black and White using Picasa
Story
I've been working on a project in Saudi for a while now and some of the guys from the team get weekend travel budgets to fly out and have some fun (read - drink). Some of them have gone to Bangkok, Hong Kong, Jordan, Egypt etc. but they've never been to Africa (Egypt doesn't count). So the invited me along to Kenya, saying they wanted and "African" guide - seeing as I'm South African.
Now, since I don't get a budget to travel and didn't see myself going anywhere I left my D5000 back at home, you can only take so many pics of the sand. I desperately wanted to have a good camera so I after putting it off for a long time I decided to get the D7000 and take that along.
We organised everything through the Crowne Plaza's Travel Desk as we would basically have 1 day in Nairobi. They arranged a jam packed day for us visiting Sheldrick Elephant Orphanage - www.sheldrickwildlifetrust.org - The Giraffe Centre - http://giraffecenter.org/ - where I "Kissed" a giraffe and a Safari through Nairobi National Park.
I told the guys we would be lucky if we saw a Lion (which everyone wants to see when they visit Africa) and we were blessed with seeing 5, two females - hiding in the grass - and 3 beautiful males. The first one leisurely strolled up to the van and passed right by us, the second walked up the road, roared to let everyone know he's there and then just plopped down to rest, we passed by him slowly and took some great pictures. Then this one, lazy bugger, just laying there yawning and looking majestic.
So please, come visit Africa... you won't be sorry
I have included the colour photos also.
—
Ruan Steyn
Hey!
First submission, love your photo contests. A lot of inspiring stuff. Here's mine for Black & White:
Title: Monkey Bars
Nikon D80
ISO 800
52 mm
5.6/ f
1/500 sec.
Remembered seeing 30 of these tables stacked at a conservation area off Georgian Bay, went back to take some shots today. I like the symmetry and shadows the more I look at it. Tried a lower f-stop and the trees in the background fade pretty nicely. Only read about low ISO after I got back, and agree, I'll have to remember that the next time I'm out.
Thanks!
Mike

Long time fan, first time submission. I took these photos with my agfa Billy, it's probably about 80 years old. Instead of film I used photo paper (not ink jet, old school chemical bath paper) The whole process probably took about 45min including setup and tear town.
ISO: whatever Ilford RC paper is
Shutter: 2 min 30 second exposure
Aperture: somewhere above 22 (probably about 32)
I find the slower the exposure with photo paper the better picture.
- Ryan
Camera: Sony SLT-a35
Lens: 18-55mm with +10 enlargement filter and 16 point star filter
ISO 500 (used flash for reflection)
f/4.5
Being fans of photography, my wife and I like to experiment with various aspects of the art. I was having fun taking shots with a new 16 point star filter I got and on a whim grabbed the +10 enlargement filter we have and shot a close-up of my wife's eye (using the flash of course so I would get a good reflection). I immediately loved the shot and performed some minor post-processing to get a nicely detailed black and white version.
Don Bradbury