Paolo Bacigalupi's smart, worldly writing has made him the new darling of the literary scifi scene, and now you can read his latest story online - it's a very plausible tale about blogger newsrooms of the future, including Gawker. In "The Gambler," our hero Ong works at a media conglomerate competing with Gawker, but he just can't keep his feed numbers up. Bacigalupi's written a keenly-observed story about an unpopular but idealistic writer in a media landscape dominated by celebrity news and gadget reviews.
Here's a great scene where Ong talks to his editor, who is upset because our hero refuses to write about celebrities and "news you can use." Instead, he focuses entirely on environmental issues:

I try to protest. "But you hired me to write the important stories. The stories about politics and the government, to continue the traditions of the old newspapers. I remember what you said when you hired me."

"Yeah, well." She looks away. "I was thinking more about a good scandal."

"The checkerspot is a scandal. That butterfly is now gone."

She sighs. "No, it's not a scandal. It's just a depressing story. No one reads a depressing story, at least, not more than once. And no one subscribes to a depressing byline feed."

"A thousand people do."

"A thousand people." She laughs. "We aren't some Laotian community weblog, we're Milestone, and we're competing for clicks with them." She waves outside, indicating the maelstrom. "Your stories don't last longer than half a day; they never get social-poked by anyone except a fringe." She shakes her head. "Christ, I don't even know who your demographic is. Centenarian hippies? Some federal bureaucrats? The numbers just don't justify the amount of time you spend on stories."

"What stories do you wish me to write?"

"I don't know. Anything. Product reviews. News you can use. Just not any more of this 'we regret to inform you of bad news' stuff. If there isn't something a reader can do about the damn butterfly, then there's no point in telling them about it. It just depresses people, and it depresses your numbers."
There's a lot of good stuff in Bacigalupi's story, and he offers a pretty accurate sense of how it feels to try to write good stories while tracking audience attention at a micro-level. Interestingly he doesn't take the easy route and set up the Gawker-esque new media companies as the bad guys. The celebrity stalkers and gadget hounds aren't craven idiots - they're good reporters, too, in their own way. One even tries to help Ong get his numbers back up.
But Ong only wants to focus on stories that are beloved by scientists and policy wonks, and they don't represent a demographic the advertisers care about. Interwoven throughout Ong's tale of his struggle to stay competitive in the newsroom are his memories of his father, kidnapped by the secret police during a future Laotian revolution that puts a conservative monarchy in power. Ong's past and political interests are about to propel him into the biggest celebrity gossip news story to hit the feeds in hours . . .
G/O Media may get a commission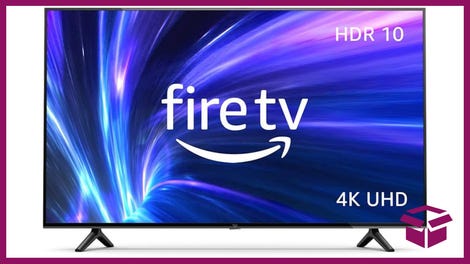 42% Off
Amazon Fire TV 50" 4K Smart TV
You can now read "The Gambler" for free online here, or pick up a copy of the awesome anthology Fast Forward 2 where it first appeared in print.