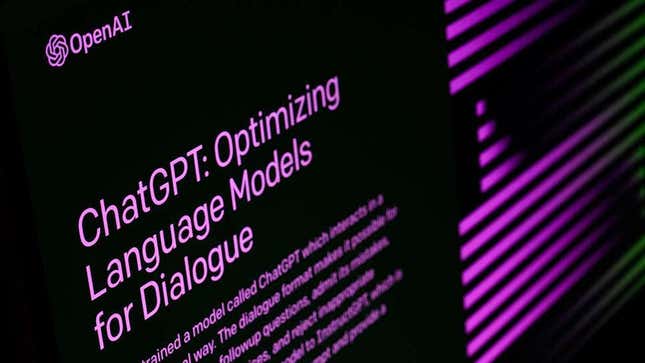 Are you one of the many users tired of Siri not being able to answer answer your questions? Now you can transform Apple's scatterbrained voice assistant into an AI-powered know-it-all using a shortcut created by developer Yue Yang. All you need is a device that has Siri and an active account with OpenAI.
Google's Antitrust Case Is the Best Thing That Ever Happened to AI
Spotted by BGR, this shortcut doesn't replace Siri with ChatGPT, but rather uses Apple's voice assistant to forward your questions to ChatGPT and provide responses from the AI chatbot. Yang states that since the shortcut connects ChatGPT and Siri, it can work on almost any device with Siri, including iPhones, iPads, and Macs.
The first thing you need to take advantage of this trick is an Open AI account to use ChatGPT, which you can create on OpenAI's official website. After you've created an account, visit this page to access your API key. Alternatively, you can click on your profile on OpenAI's website and select the option to "View API Keys" and then click the option to "Create a new secret key."
API (or application programming interface) keys are a tool used by developers that allows them to connect different services for one specific user. In this case, they're the identifiers and keys you need to give Siri permission to operate ChatGPT. If you've gotten this far, you've probably realized that this trick isn't as simple as downloading an app from the App Store, but it's not that much more complicated.
Once you've copied your API key, you have to go to Yue Yang's GitHub page from the Apple device you want to use with ChatGPT and download the latest version of the shortcut created by the developer, which at the time of publication of this article was version 1.2. When you open the shortcut on your Apple device, it'll ask you for data from your API key. After you copy and paste your key, the only thing left to do is to choose a phrase to activate your ChatGPT-powered Siri instead of just plain Siri. As of now, the shortcut only works in English.
After you've chosen a phrase, you can use Siri as an intermediary to talk to ChatGPT and even configure specific commands for the popular chatbot. Yue Yang explains that all ChatGPT's functionalities can be accessed via Siri and that you can further personalize your new assistant. For instance, you can set its personality "to be a joker, a writer, a chef, etc. There are endless ways to play," the developer says on GitHub.
If you're feeling inspired, you can also use your ChatGPT-powered Siri to try to create a new mathematical puzzle game, although you might not get the results you were hoping for.