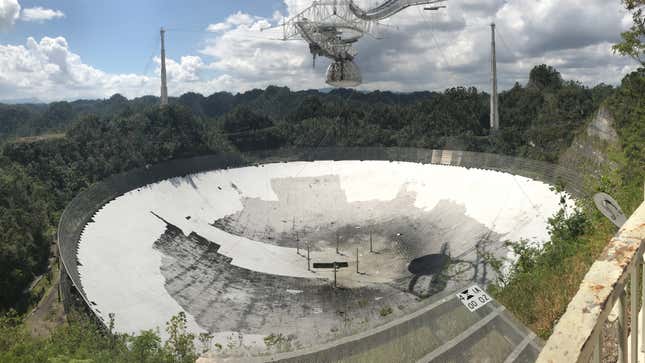 ARECIBO, PUERTO RICO—The drive to the Arecibo Observatory from San Juan is breathtaking in both beauty and treachery. The hour-long journey follows a roller-coaster-like path of humps and switchbacks through the dense tropical forest on what should be, but is not, a one-way road. Houses remain covered in tarps, awaiting repairs to their storm-ravaged roofs, and at least one sported anti-FEMA graffiti. Though Puerto Rico's huge, historic observatory survived Hurricane Maria with little damage, its future remains troubled.
The Boogeyman's Sophie Thatcher Reveals What Draws Her to Dark Characters | io9 Interview
Recently, the University of Central Florida revealed itself as the leader behind a mysterious consortium that would take over management of the storied telescope—the world's second-largest single dish. Six months after Hurricane Maria, which killed hundreds of people and left Puerto Rico with widespread power outages, some that continue today, Arecibo could potentially be in a better place than it was before the storm, as it transitions to new management with more private funding. But there's work left to be done before the Arecibo is out of the woods.
At 1,000 feet wide, Arecibo was the largest single-dish telescope from 1963 until 2016, when it lost its title to the 1,640-foot FAST telescope in China. It's responsible for years of asteroid imaging, exoplanet and pulsar studies, and atmospheric research. It sent the famous Arecibo Message meant for extraterrestrials in 1974. Its observations earned two scientists the 1993 Nobel Prize in Physics for discovering binary pulsars, a tool that could be used to further study how stars emit gravitational waves.
Arecibo appears as alien on the Puerto Rican landscape as the beings it attempted to contact back in the 1970s. Three support towers, all taller than 200 feet, suspend a massive ring with a dome and antennae over the thousand-foot-dish, built into a sinkhole in the area's hilly topography. It looks like a hidden Cold War-era weapon with its dark, dirty panels, but this doesn't get in the way of the cutting-edge science conducted there (and the panels are currently getting a cleaning). Its look earned it a spot in the 1995 James Bond film GoldenEye.

The telescope's troubles began long before Maria. The federal government discussed budget cuts as early as 2006, reports the Associated Press, as the National Science Foundation has hunted for ways to free up money by letting go of older projects. The NSF previously funded two-thirds of Arecibo's $12 million budget, as Nature has reported, and has been looking for a way to reduce its contribution.
Maria struck Puerto Rico as a category 4 hurricane on September 20, 2017. Much of the island lost power, and hundreds of thousands were still in the dark as of last month. The telescope seemed to weather the storm miraculously, only losing part of one of its instruments, which crashed down into its dish, breaking 30 of the nearly 40,000 reflective aluminum panels that focus radio signals into the telescope's antennae.
But good news came in November: The NSF announced a way forward that wouldn't require shutting down the observatory. Over the next five years, the NSF would decrease its annual funding from $8.2 million to $2 million, while private backers would take over the rest.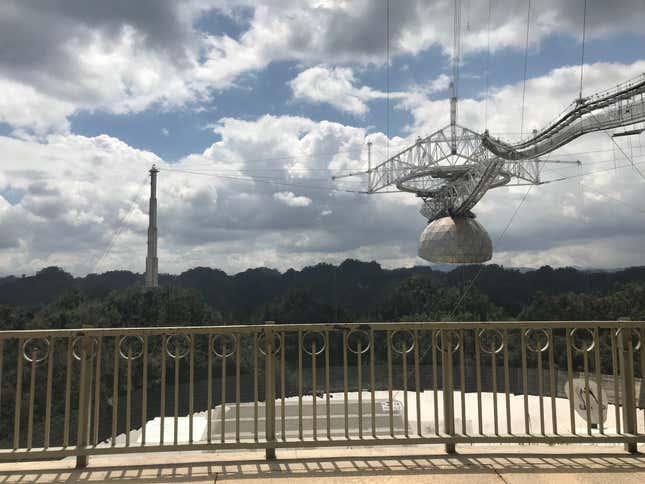 More recently, the telescope's management team announced a restructuring, as a cooperative agreement with managers SRI International, the Universities Space Research Association, and Universidad Metropolitana (UMET) was set to end on March 31. Instead, a consortium led by the University of Central Florida, with help from a private company called Yang Enterprises, will take over, with UMET remaining involved. NASA will continue to fund around $4 million of the telescope's costs per year to support its own research.
Next steps for the telescope are fraught. Physics Today reported that all employees will need to reapply for their jobs by the end of this month; that the University of Central Florida doesn't currently have scientists with the expertise required by Arecibo; and that the consortium is looking for other options for more funding, too, such as partnerships with the Department of Defense (who does fund some science research through programs like DARPA) or arrangements for scientists and agencies to pay to use the telescope.
Gizmodo reached out to Francisco Cordova, Arecibo's director, for comment about the Physics Today article, and we will update the post when we hear back.
Then of course, there's how Arecibo fits into Puerto Rico as a whole. The telescope's local staff of around 120 was responsible for clearing the roads and ensuring things were back up and running a week after the storm. But the island still faces power outages and its own long road to recovery. Some worry the island is being forgotten.

"It's easy for the government to focus its energy on things that are easy to fix," planetary radar astronomer Alessondra Springmann from the University of Arizona told Gizmodo. "But it's also easy for the US to forget."
Back at the telescope, some of the observatory's users are more optimistic. After all, the future may be hazy, but at least there's a future.
"I think things will get much better," Abel Mendez, planetary astrobiologist at the University of Puerto Rico, Arecibo told Gizmodo. "This is a setback, but with the plan that the observatory is making, that NASA is putting faith in it—I think in the long run, we'll have a better telescope."