If you've ever been inside New York City's Penn Station, you know that it often smells like piss and shit. Yesterday, things somehow managed to get worse when commuters were greeted with a waterfall of rotten-smelling, poo-colored water that gushed from the station's ceiling.
The Associated Press reports that people "were holding their noses" because the smell was so bad. NBC New York reports that the liquid was a sewage leak coming from 2 Penn Plaza upstairs, though Gothamist was slightly less definitive in their appraisal of the brown-colored water. What's clear, however, is that the water smelled like literal shit.
"It just smelled like poop or rather sewage water," commuter Daniel Goodwin told Gothamist. "It was brownish, but that could've been from rust or debris. As I was walking by a custodian said out loud that it smelled like sewage water—I imagine he has a better nose for these things than I—and was telling other passers-by."
"It's horrible. It gets worse and worse," commuter Todd Brown told NBC New York. "You pay more and more, you get less and less."

"At first we have nonworking trains, then derailments, now this," another commuter, Theresa Lally, told the Daily News. "This is what you get when you don't put enough money into the system." To that end, parts of the station will reportedly close this summer for repair. It's unclear what this means for the poo water situation.
G/O Media may get a commission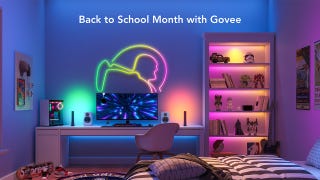 Back to School
Back to School Month with Govee Sale
Workers were reportedly asked to mop up the smelly water to prevent it from leaking on nearby tracks. Videos posted online show that workers eventually used large garbage containers to control the flow of water:
Still, the leak produced quite a mess and left commuters feeling taken advantage of in the face of ever-increasing price hikes. (Mercifully, however, train service wasn't affected.) A spokesperson for Vornado Realty Trust, the company that manages 2 Penn Plaza, confirmed to NBC New York that the leak came from a pipe and that no injuries were reported.
So, congratulations to the tourists who now have a fun story about The Real New York, and to actual New Yorkers, who now have yet another complaint to add to the list of the city's crumbling infrastructure.