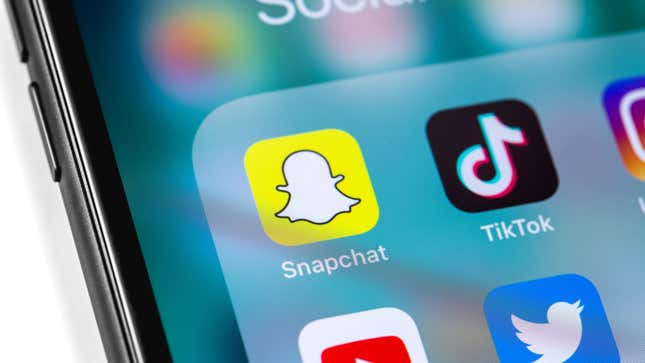 Snapchat is looking to expand its massive sound library—called SnapChat sounds—with a new deal between its parent company Snap and several major music distributors across the world.

Why Banning TikTok Won't Protect Our Privacy
Snap announced the news in a press release today, and explains that the plan is to bring more music to the Snapchat's 375 million daily active users. Snap says that its new deal includes partnerships with UnitedMasters in the U.S., BUMA/STEMRA in the Netherlands, SUISA Digital Licensing AG and its subsidiaries across the world, and other unidentified direct-licensing music publishers. Snapchat hopes the move will bring more local artists' music to its users' Snaps, messages, and filters. The deal adds onto Snapchat's pre-existing relationship with other, major and independent records labels like Universal Music Group, Distrokid, and Sony Music Entertainment.
"These partnerships will add local artists' music to the Snapchat Sounds library, allowing Snapchatters more options to innovate and easily embed licensed music into their messages and Snaps across Snapchat's platform and creative tools like augmented reality Lenses," Snapchat announced in its press release.
Sounds is a feature on the Snapchat app that allows users to include music, sound bites from TV and movies, and their own audio clips into their messages, photos, or videos. Sounds operates in much the same way that TikTok allows users and musical artists to upload their own audio or songs to the platform for use in TikToks. The major difference between Snapchat and TikTok's audio features is that all of Snapchat's audio that contains music, or clips from TV and movies is officially licensed, whereas TikTok seemingly allows anyone to upload anything. A Snapchat spokesperson told Gizmodo in an email that the company has a system for removing copyrighted material from the platform in the event that music from the licensing deal is uploaded as a Sound.
Snapchat unveiled Sounds to the masses in October 2020, as reported by TechCrunch. The move was likely an attempt by Snapchat to recapture the magic of its rival TikTok, after TikTok exploded in popularity during the onset of the covid-19 pandemic in March 2020.
Updated April 13 3:00 p.m. ET: This article was updated with additional comment from a Snapchat spokesperson.