Not only did Tinder cofounder and CEO Sean Rad comes off as extremely dumb in a recent interview, he may have violated the Security & Exchange Commission's quiet period for Tinder's imminent IPO. What's the word for that?
After an interview was published today in the Evening Standard where, among other things, Rad confuses the definition of "intellectual" and "sodomy" (honest mistake), Business Insider pointed to an SEC filing from Tinder's parent company Match Group. The filing specifically disputes the user data in the article, which claims "analysts believe" Tinder has "around 80 million users worldwide and records 1.8 billion 'swipes' a day":
While these statements were not made by Mr. Rad, the Company notes that they are inaccurate and directs readers to the Preliminary Prospectus, which states that for the month of September 2015, Tinder had approximately 9.6 million daily active users, with Tinder users "swiping" through an average of more than 1.4 billion user profiles each day.
The problem here is that with Match Group's IPO happening this week, representatives of the company are not allowed to talk about certain aspects of the business, especially that kind of stuff. However, today's filing also asserts that Rad was not officially speaking on behalf of Tinder, not at all (even though the interview says he is the CEO and we know he is the CEO and Tinder's communications person was sitting right there):
The article was not approved or condoned by, and the content of the article was not reviewed by, the Company or any of its affiliates. Mr. Rad is not a director or executive officer of the Company and was not authorized to make statements on behalf of the Company for purposes of the article.
G/O Media may get a commission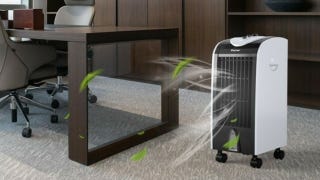 Save $10
Evaporative Portable Air Conditioner Cooler with Filter Knob
The filing then goes on to reprint the entire agonizingly uncomfortable interview IN FULL, sodomy and all.
Meanwhile, we wait for Tinder's interns to mount an epic tweetstorm counteracting the interview, like the last time Tinder got negative press.