Okay, so I know the reason why—because Ford has a new marketing deal with Marvel to promote its latest car through the medium of cosmic superheroes. But come on. If the Star-Lord's ship the Milano could have feelings, it would be very hurt right now.

Announced today, Ford and Marvel's partnership includes the usual things like sweepstakes to win a Ford Ecosport or tickets to the movie, a bizarre "Make your own Guardian of the Galaxy" character creator that I used earlier today to craft a horrifying racoon-tree-bird man with robot arms and a Drax-esque torso, and an upcoming tie-in comic book that will presumably see Star-Lord, Drax, Gamora, and Groot ogle over the majesty that is the 2018 Ford Ecosport, a car they should have zero connections with because they're in goddamn outer space.
The most interesting thing about this bit of corporate synergy—and most pertinent to us—is a tidbit buried in the press release that alongside the above comic, there'll be a TV spot (starring Groot) and the car itself will actually be in Guardians of the Galaxy Vol. 2:
All-new Ford EcoSport to appear in Marvel Studios' "Guardians of the Galaxy Vol. 2," in theaters May 5; EcoSport and Groot will be seen together in a TV commercial calling for customers to "Be the Guardian of Your Galaxy," and in an exclusive digital comic with a limited print run of 500 copies highlighting the vehicle's fun, capable and connected features.
G/O Media may get a commission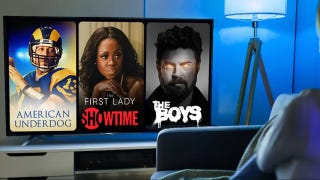 UNDER $1
99¢ Prime Video Channels
But... how? The first Guardians of the Galaxy did establish that the crew's adventures took place in our present, just far off out in space, so it's perhaps reasonable to expect that the MCU's Earth also has a new Ford Ecosport coming out in 2018. But how are the Guardians going to see it? They're off having space adventures, far, far away from Earth.
Does the Ford float by in the background as intergalactic debris? "We'll use your new car as space junk" doesn't sound like it'd be that appealing to Ford. Are there scenes on modern-day Earth that somehow inexplicably prominently feature a Ford Ecosport? No, wait, does Ego the Living Planet—who's already been established as being able to transform and manipulate matter to be both Kurt Russell and a planet—also turn into an SUV he and Mantis can drive around (on himself, I guess) in? Is Kurt Russell actually Eco-sport, the Living Planet!?
I guess we'll have to wait for Guardians of the Galaxy Vol. 2: Starring Some SUV Too I Guess to hit theaters May 5.