Sony's A3000 DLSR is cheap. Super cheap. It costs $400 paired with a 18-55mm f/3.5-5.6 kit lens. These days, that's more or less the price of an advanced point-and-shoot camera from Canon, and it's considerably cheaper than Sony's badass RX100 II point-and-shoot. So what gives? And what's up with DSLRs?
Sony is actually introducing two new cameras and some lenses today. Besides the a3000, we're also getting yet another refresh of Sony's mid-range NEX-5-series mirrorless camera. For more on the rest, see below.
The A3000 is compact, very inexpensive DSLR aimed at the shifting market of amateur photographers that prefer these cameras. DSLRs used to have more professional cachet than they do now, but the reality is that for the money, consumers who know better would more likely spring for a compact or a mirrorless camera (like the one we'll discuss below) instead of these larger cameras.
G/O Media may get a commission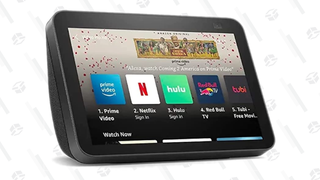 Probably the camera's most striking feature besides its price tag is that it'll naturally accept smaller E-Mount (NEX) lenses rather than the A-mount lenses Sony DSLRs usually take. The A-mount lenses will work with an approved converter accessory.
The A3000 is very small, but aside from its size, the camera's specifications aren't shocking. Like the last batch of cheap Sony DSLRs, the camera features a digital viewfinder, a 20.1-megapixel APS-C sensor, and all of the on-body controls dials you'd expect from a DSLR including the all-important P/A/S/M mode dial. Despite its compact size, the camera retains it an electronic viewfinder just like its predecessors. For video, it shoots Full HD (1920 x 1080) video at either 24 or 60 frames per second.
With and E-mount and an electronic viewfinder, you might start to wonder if the A3000 isn't just a mirrorless NEX camera in DSLR disguise. The truth is that line has been blurry for a very long time since Sony switched its DSLRs to "single-lens translucent" cameras to begin with. Can a camera with an electronic viewfinder be called a DSLR? You could argue that the company hasn't made a "true" DSLR in some time. I prefer to call this camera what it's trying oh-so-hard to be: a bulkier shooter for people who equate the bulk and form factor of the past with quality. (I look forward to debating this point in the Kinja below...)
The bottom line is that at $400, you're looking at a price tag that the competition from cameras like the $650 Canon SL1 just can't touch.
---
Sony NEX-5T
It seems like yesterday, we were hearing about a new NEX-5-series camera, but Sony is updating its line to add a couple of improvements to the shooter including NFC-aided Wi-Fi features and a new compact kit lens that'll make the camera more attractive to people who need their cameras tiny.
The NEX-5T will cost $700 with a slim 16-50mm power-zoom lens, or $550 alone. The lens isn't really new—we've seen it bundled with the NEX-6 before. We're honestly more excited about the connectivity improvement. The NFC-connect Wi-Fi feature allows you to bump and connect the camera to a compatible NFC device. This is long overdue—connecting to the Wi-Fi features has been entirely too complicated until now—and from our brief time trying out the NEX-5T, it seems like NFC could be at least part of the solution down the line.
Besides these slight changes, the camera strongly resembles the NEX-5R. It stocks the same—or very similar—16-megapixel, APS-C guts. The overhauled, hybrid autofocus introduced last year. It's got a three-inch touch LCD panel on the back that flips 180-degrees to make taking selfies a breeze. It still shoots 1920 x 1080 video at a variety of frame rates, but not at 60 fps.
The key difference between the NEX-5 camera and the latest teeny tiny NEX-3 shooter is the Wi-FI connectivity and the touchpanel. The Wi-Fi just got a lot better on the NEX-5T, but given the great Amazon deals on the recent NEX-3N and last year's NEX-5R, you better think long and hard about whether that NFC is worth it to you.
---
New E-Mount Lenses
In addition to expanding its E-mount into new territory with the A3000, Sony is expanding its line of lenses to make the system more accessible to people who are used to—or expect the massive lens ecosystems offered by Sony's competitors.
Carl Zeiss Vario-Tessar T* 16-70mm F4 ZA OSS Zoom Lens ($1000)
A fancy wide-angle to medium zoom lens.
---
E PZ 18-105mm F4 G OSS Power Zoom Lens ($600)
A wide angle to telephoto zoom that's relatively affordable given its huge range and compact size.
---
50mm F1.8 Portrait
A well-priced, wide-aperture, fixed-focal-length lens great for street photography—don't stand right on top of your subject because you won't be able to focus.
---