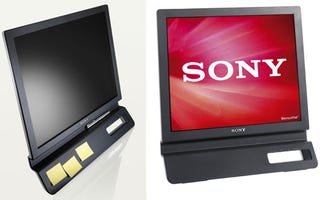 Sony's E Series LCDs have a blank space at the bottom that the company suggests you fill with Post-it notes. And just below the display is a groove for pens and pencils. The 1280x1024 displays have 17" (SDM-E76D) and 19" (SDM-E96D) screens, can be connected with both DVI and D-sub inputs, and actually have a pretty swank-looking design.
So let's get this straight: we've spent the past 20 years trying to get away from paper, with lots of talk about the paperless office and so forth, but now Sony breaks down and admits it—paper's here to stay. Post-it notes rule. Use pencils and pens, and put them in this slot right here. We might as well face it. The paperless office isn't happening anytime soon.
No pricing was announced, but the Sony E Series LCDs ship June 19.
Press Release [Sony Europe]