Sony reminds us that they do much more than make game consoles that nobody really cares about (PS3, PSP)—they make next-generation DVD formats that nobody cares about! Hoho!
First up is the STR-DG1000, dual HDMI, 7.1 channel, Blu-Ray enhancing receiver that "automatically detects and receives the best possible video and audio signals from connected devices." It also has "multi-channel surround sound set-up for a perfectly balanced home theater experience with Sony's Digital Cinema Auto Calibration (DCAC) technology." Available in August for $800.
After the jump, find out about the TVs.

Next, seven new flat panel LCD TVs in the BRAVIA line. They're buzzing past at 32", 40" and 46" Models. Notable features in the higher end TVs (KDL-46XBR3 and KDL-40XBR3) are 1080p and three HDMI inputs. These are available in September for $5,300 and $4,300.
G/O Media may get a commission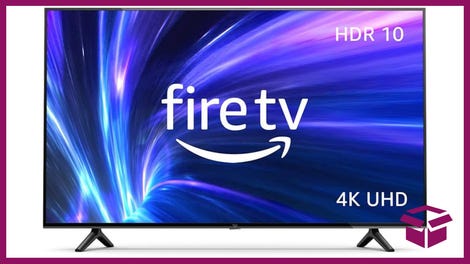 42% Off
Amazon Fire TV 50" 4K Smart TV
The XBR2 Models, KDL-46XBR2 and KDL-40XBR2 also have 1080p, component and HDMI inputs and ATSC tuner built in. They also have a silver bezel that can be swapped out for one of 5 different color bezels, to match your surrounding furniture. These are also available in September for $5,000 and $4,000.
The lower end XBR2 model is the 32" KDL-V32XBR2 with 1366x768 resolution. This will retail for $2,500 in September.
The V2500 series has one 46" and one 40" TV (KDL-46V2500 and KDL-40V2500) that have two HDMI inputs and 1080p resolution. Two HDMI, two composite, two component and two S-Video inputs round out the rear holes.
Finally, in the high end WEGA lines, all with 1080p. They are the 70" KDS-R70XBR2 ($7,800) , the 60" KDS-R60XBR2 ($5,300), 60" KDS-60A2000 ($4,500), 55" KDS-55A200 ($4,000), and the 50" KDS-50A2000 ($3,500). The XBR2 line will be available in fall, and the A2000 line ships in summer.
Receiver Press Release [Sony]
WEGA Press Release [Sony]
BRAVIA Press Release [Sony]