Sony finally got one mostly right when it came to tablets last year, but the Japanese company has struggled more with phones. The Xperia Z is the closest thing it's had to a success, and ultimately, it left us wanting more. So, we were excited when we first saw the Xperia Z1S, which on paper looked like a champion. A 20.7MP camera without a bulbous backside? Tell us more...
What Is It?
It's an Android phone with a 5-inch 1080p screen, a 20.7MP camera, a 2.2GHz quad-core Snapdragon 800 processor, and it's waterproof to 4.5 feet for up to half an hour. In the U.S. it's a T-Mobile exclusive (though you can get the Xperia Z1 unlocked and unsubsidized straight from Sony, and it's basically the same phone).
Why Does It Matter?
It's the most exciting phone of 2014, though, to be fair, we're only two weeks into 2014. It matters because we're all waiting for Sony to finally get a phone really, really right. It matters because it's waterproof, and all gadgets should be waterproof. It matters because we really want that camera to be good, and not just meaningless megapixels.
G/O Media may get a commission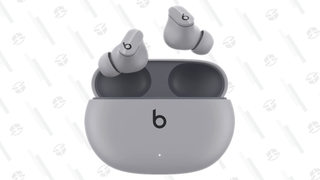 Design
This sure doesn't look like a waterproof gadget. It's very thin and aerodynamic. Its shape is a straight-forward rectangle with just slightly rounded corners. Powered-down, it looks kinda like the monolith from 2001: A Space Odyssey. Sony has followed Google to the land of onscreen navigation buttons, and there are no more capacitive buttons up front, which is a good thing. That said, there is still so much (wasted) blank space at the top and bottom of the screen that it makes the display look smaller than its 5-inches.
On the right side of the phone is Sony's (now Xperia-standard) round, metal power button. Below that is the volume rocker, which is not quiiiite prominent enough, and below that is the physical camera button (which definitely isn't prominent enough). I am a staunch believer that all phones should have physical camera buttons, but it makes double sense for this one: Touch-screens don't work underwater. If you're going to take a fish-shot, you're going to need that button.
On the other side is one smooth, glassy, black panel, with the camera tucked into the upper left corner. When we say it's smooth, we really mean it's "too smooth." Yes, it looks polished and high-end, but it also slides off your leg if you put it there and so much as think about exhaling. It's form over function, and while we appreciate the aesthetic of it, we'd rather something grippier. At just 0.34 inches thick it's definitely thin for something that can go swimming.
Using It
Sony's problems with phones have primarily centered around software, and unfortunately that's still pretty much the case. The skin Sony has slapped on there is very heavy indeed. It certainly adds options for customization, but without a clear route through it all, it ends up being cumbersome. It's all just very unintuitive. In stock Android (and in most skins) you can adjust the screen brightness from anywhere by accessing a widget within a notification panel. Done. With the Xperia Z1S you have to leave whatever you're doing and go into Settings, then Display, then Brightness, before you can finally adjust it, then find your way back. Subjectively, the skin also just doesn't look very good. It skews toward dark grays instead of blacks, which makes the display look like it has a worse contrast-ratio than it does.
If we set aside how long it takes you to get from one thing to another due to the UI, the phone is super fast. The Snapdragon 800 processor is a beast and it's very hard to slow it down. Apps open quickly, navigation is snappy, and the camera is fast, too. For most things it was neck-and-neck with the Nexus 5, which says a lot. That said, the Nexus 5 is just vastly easier and more satisfying to use.
Then there's the camera. Sony has been blaring trumpets for the 20.7MP camera that has a specially designed "G Lens" with f/2.0 and a 1/2.3-inch sensor. We were really excited to try it—hoping it would be Android's answer to the Lumia 1020—and it's good, but it yields inconsistent results. For starters, colors are extremely washed-out. The orange on the flower you see above doesn't come anywhere near how bright it actually looked. The same was true of greens on leaves. Highlights are frequently blown out due to the camera's proclivity for overexposure, and lighter objects can blend together. We mostly tested in Superior Auto mode, because it's the default, it's the easiest to use, and it's likely what most consumers will just stick with. Like the Lumia 1020, the Z1S downsamples, meaning it take 20.7MP shots, but the shot you end up with it just 8MP, though much of the detail is retained. Sony claims this means you can zoom in 3x and not see any loss of image quality, but we didn't find that to be 100-percent true (pretty close, though).
Despite our color/exposure complaints, the camera has some chops, especially as far as sharpness goes. If you're camera-savvy, flip it into Manual mode. There you'll be greeted by more options than you probably want, but that's where you'll be able to take shots that leverage the full 20.7MP sensor. It was certainly an improvement over Superior Auto, though you'll likely have to do your own tweaking to get the image right, and some moments are just too fleeting. Video was pretty successful, with the digital image stabilization making hand-held phone videos smoother, though it does introduce some jelly-like effects if you move too quickly. It can shoot HDR video, too, and while things that were lost in the shadows before suddenly became visible, there was a noticeable loss of sharpness, so it's probably not worth it in most cases. In low-light situations there's definitely less noise than we're used to seeing from an Android camera.
The camera's app is modular, meaning you can download various camera apps and then use them from right within the main camera app (which pops open with the press of the camera button). There are already a handful of these apps available in the Play Store with more coming soon, and some of them are pretty cool. Timeshift Burst shoots 60 still photos in two seconds, one second before you push (using a cache) and one second after. Then you choose the best picture and delete the rest. It's a very nice UI. There's also Background Defocus, which takes two shots, and then allows you to dial the level of background blur (behind your in-focus subject) up or down. Or you can use the AR Effects app to put dinosaurs (or gnomes, or fish, or fireworks) into your photos. It's dumb, but fun. You can see plenty of sample-shots here.
For most day-to-day stuff, the phone is really pretty good. Battery life is excellent, and I almost always made it past midnight on a charge. The horsepower under the hood keeps things from getting to slow and annoying. The first thing you'll want to do, though, is replace the keyboard. The auto-correct on Sony's keyboard is still the worst I've ever used. You should switch do the stock Android keyboard or, better yet, pop for SwiftKey. It'll make a world of difference. Also, the touchscreen actually seems to be overly-sensitive, but not entirely accurate. It would often start scrolling when I was just trying to click, or zoom when I was just trying to scroll. And despite the fact that all of the audio comes out of the grill on the bottom of the phone, it actually sounds pretty good, and distortion was relatively low.
Like
The screen is really lovely, particularly in the way it handles colors. The blacks aren't as dark as on an AMOLED screen, but holy crap it can get bright. Seeing the screen when outside was never a problem. Any water-proofiness is good, but water-proofiness to 4.5 feet for up to half an hour is killer. You will have no problem running the biggest baddest games. It's thin, it looks good, and the sound is pretty sharp and clear. Battery life is excellent.
The camera hardware is very good, with some of the best sharpness we've seen from an Android phone, though overall photo quality seems to be held back by the software. The idea for other camera apps existing within the main camera app is a great one.
No Like
Not only does the software not look particularly polished, but it's buggy. At one point the camera just stopped working and wouldn't come back until I reset the phone. The camera app, while a cool idea, is overly complicated, and it still takes too much work to get a shot that looks good (except for when it doesn't, magically). The phone is simply bigger than it needs to be. Next to the Nexus 5 (which has the same sized screen), there's just so much wasted real estate up front, which makes the device feel clunkier and actually makes the screen look smaller.
While the open headphone jack can handle water just fine, the SD/SIM card slot and (much more importantly) the micro USB slot are both covered by little plastic doors to keep the water out. For charging, this is a huge pain in the ass. Fumbling around in the dark, trying to get your fingernail under the door and then get the micro USB in is no fun at all. Of all the phones in the world, this phone begs to support wireless charging the most, but no. Also, the volume and camera buttons are hard to find, and again, the back is just too damn slippery.
Ultimately, it's just not nearly as fast, fluid, or pleasant of an experience compared with the Nexus 5 or the Moto X, and that makes all the difference in the world. Everything is just a little bit more frustrating. Just a little harder to find and negotiate. After a month or two, that's enough to be the difference between loving your phone and wanting to throw it at a wall.
Should You Buy It?
I think we're going to have to say "probably not" for almost everyone. The phone is exclusive to T-Mobile, and there are just some much, much better phones on that network: The Nexus 5 and the Moto X being our top two. Unless you find yourself constantly getting your phone wet, there's just not a whole lot of reason to consider this one.
You can't help but feel the potential here, especially with the camera. It just feels like the camera software division wasn't able to get the good stuff out of the camera hardware. If you're down for plenty of tweaking in manual mode, you can make it work, but most of the time you just want to whip your phone out and have a take a good shot fast. The Xperia Z1S does that sometimes, but it's unreliable. Again, this feels like an Android phone where the manufacturer spent too much time on bells and whistles consumers don't want or need, and not enough time on getting the important stuff right.
Sony Xperia Z1S Specs
Network: T-Mobile
• OS: Android 4.3 (Jelly Bean)
• CPU: 2.3 GHz quad-core Snapdragon 800
• Screen: 5-inch 1920x1080 TFT-LCD Triluminos display (441 PPI)
• RAM: 2GB
• Storage: 32GB + Micro SD up to 64GB
• Camera: 20.7MP rear / 2MP front
• Battery: 3000 mAh Li-Po
• Dimensions: 5.74 x 2.91 x 0.34 inches
• Weight: 5.71 ounces
• Price: $0 down, with 24 equal monthly device payments of $22