At long last, the Xperia Z is coming to the states. It was the most appealing phone at CES back in January, with its good looks and waterproofiness. But that was half a year ago, and since then the HTC One and Samsung Galaxy S4 have made quite an impression. The Z is still pretty and quirky, but it ultimately breaks your heart.
What Is It?
The Xperia Z is one of Sony's two flagship smartphones (the other being the unfortunate Xperia ZL, which we reviewed last month). It has a 5-inch 1080p screen, a 1.5GHz quad-core Snapdragon S4 Pro processor, two gigs of ram, expandable storage, a 13MP camera, NFC, and LTE. It runs Android 4.1 (Jelly Bean) with Sony's "Experience Flow UI" (coughskincough) on top. The biggest selling-point? It's waterproof to three feet for up to half an hour.
G/O Media may get a commission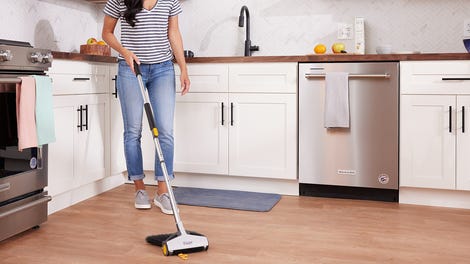 BOGO 50% Off
Flippr - BOGO 50% Off
Who's It For?
People who want a thin, good-looking smartphone. People who like Sony. People who are constantly dropping their phones into toilets.
Design
When it's off it essentially looks like a thin, black rectangle. It's actually very slick-looking. The back is glass as well, so the front and back look pretty similar. They are both, as you might suspect, fingerprint magnets. Sony has eschewed capacitive navigation buttons for on-screen buttons, which we generally prefer. On the edge of the device there are four separate panels that open up and seal closed (so water can't get in). At 0.31 inches thick, it's just as thin as the Galaxy S4.
It will take micro SD cards for expanding your storage. Like the Xperia ZL, the battery isn't user-replaceable. Unlike the Xperia ZL, there is no dedicated physical camera button or IR blaster for controlling your TV. Bummer on both counts.
Using It
The way the Xperia Z functions is actually pretty similar to stock Android in most ways—you get into Google Now by swiping up from the home button, for instance. However, the software's similarities to stock are obscured somewhat by animations and little flourishes (e.g. when you remove an item from your desktop the trashcan's lid opens and closes) that only serve to slow things down. Other additions are genuinely useful, for example shortcuts to mini-apps (notepad, timer, calculator) in the task switcher, and Sony's robust power management solution.
The auto-correct in Sony's built-in keyboard is truly atrocious, replace it with SwiftKey or the stock Android Keyboard for a much, much better experience. If you're on a Wi-Fi network you can make calls over Wi-Fi, however we found that unless you were pretty close to the router, call quality would be really bad. We like the interface on Sony's camera app a lot.
The Best Part
It's waterproof. All gadgets (especially phones) should be waterproof. The phone rings while you're in the shower? Just answer it. Want to watch a video while you take a bath or enjoy a hot tub? Knock yourself out. You could even shoot a little shallow underwater video in a pool if you wanted. It's definitely the phone's standout feature.
Tragic Flaw
The overall user experience just isn't very good. While it certainly isn't "slow," there is definitely more stutter and lag than on the HTC One or Galaxy S4. This is partially due to the slightly older processor in it, and partially due to Sony's skin. There are also tons of bugs. One day I was unable to mute alerts on the phone until I rebooted the whole thing. Another day, the screen would only display at full brightness. Plus, the touchscreen seems to be less accurate than it is on other high-end phones, and pressing the wrong button/key/menu option as a result is a common occurrence. And, really, it's the worst auto-correct of any keyboard we've used in recent years. All of these things add up.
This Is Weird...
The phone is waterproof because of these little plastic doors that press in over all of the ports (four in total). The micro USB port is especially tricky to A) locate, and B) pry open with your fingernail. Now, add darkness to the equation, and fumbling around with your phone to plug it in at night (every night) without waking up your significant other is kind of a pain in the ass. You can buy a dock cradle that will charge it more easily (for about $30, which is probably worth it if you buy the phone), but if ever a phone begged for built-in wireless charging, this is it.
Test Notes
Sony's Stamina Mode does a terrific job of boosting standby time. It does this by disabling wireless data for all apps you haven't white-listed (like Gmail, for example). That said, it only helps when the screen is off and when you're not using it. When I was only lightly using the phone I got two full days on a single charge, which is incredible. With heavier usage (lots of reading, web browsing, emailing, and some gaming) I still made it past 10pm almost every day. Very impressive.
T-Mobile's LTE network has at last begun rolling out in NYC. We averaged around 10Mbps downloads and 8Mbps uploads. That's plenty fast, though it's by no means revolutionary. UPDATE: It just rolled out in a major way, and while this doesn't represent while the network will look like once it's more congested, we're getting peaks of 58Mbps download, which we've never seen on a mobile device. So, yeah, that's fast enough.
The camera is a bit of a disappointment. We expected the Exmor RS sensor to really shine in low-light, but it produces incredibly noisey images. In daylight reds very much bleed together and images just aren't quite as sharp as you'd want them to be (though they're not bad). HDR mode tends to just make everything gray, and while HDR video is a cool concept, it doesn't do much in practice. To be clear, the camera is by no means bad (except in low light), it's just not what we'd hoped. You can see photo and video samples here.
The screen is plenty sharp and colors are very accurate, but compared to the Galaxy S4 or the HTC One, it looks hazy somehow. The blacks, specifically, aren't particularly deep, which makes everything look just a little more bland than it should.
The Z's slick back means it'll slide off surfaces more easily if you're not careful.
Audio quality from the phone's external speaker is tinny and unappealing. This is probably because there's a rubber barrier over it to keep it from flooding when submerged. Up to you if it's worth the trade-off.
Should I Buy I?
While we certainly like it more than the Xperia ZL, we'd definitely never recommend it over the HTC One or Galaxy S4. Maybe if you constantly find yourself the victim of dunk tanks, but if that's the case, Which phone should I buy? is hardly your biggest problem. It looks great, but it underperforms, and unlike with the Xperia Tablet Z (which we really liked) that under-performance is likely to become a more serious nuisance.
You'll be able to walk into a Sony store as of today and buy the Xperia Z for $0 down and $25 a month for 24 months, or you can just pay $580 for it up front. T-Mobile customers will have to wait another week. They will be able to pre-order the phone on July 16th for $100 upfront followed by $20 a month for 24 months. It'll hit T-Mobile retail stores and begin shipping the next day.
The Xperia Z definitely isn't bad, it just isn't awesome, either. And these days, awesome is what it takes.
• Network: T-Mobile
• OS: Android 4.1 with Experience Flow UI
• CPU: 1.5 GHz quad-core Snapdragon S4 Pro
• Screen: 5-inch 1920x1080 Bravia Mobile Engine 2 (441PPI)
• RAM: 2GB
• Storage: 16 micro SD up to 32GB
• Camera: 13MP rear / 2MP front
• Battery: 2330mAh Li-Ion
• Dimensions: 5.47 x 2.80 x 0.31 inches
• Weight: 5.15 ounces
• Price: $100 down + 24 payments of $20, or $580