In a time when tablets are becoming increasing similar, it's rare that you pick up a device and have one of those, "Whoa!" moments. You relish them when they come, because it means that creativity and innovation still exist in a world of look-alikes. After years of trying and failing with Android tablets, Sony has finally delivered one of those moments.
What Is It?
It's Sony's latest (and definitely greatest) attempt at making a tablet. The company has had some near-hits, like the Xperia Tablet S, and some colossal, bone-breaking failures, like the Sony Tablet P. But finally, at long last, Sony got it together and built itself one excellent piece of hardware. It's of the 10-inch, Android Jelly Bean (4.1, not 4.2) variety. It's got a 1080p screen, Qualcomm's quad-core 1.5 GHz Snapdragon S4 Pro processor, 2GB of RAM, a micro SD card slot, an IR blaster, and oh yeah, it's freaking waterproof! It can stay in up to three feet of water for up to half an hour. Movie time and bath time, together at last.


G/O Media may get a commission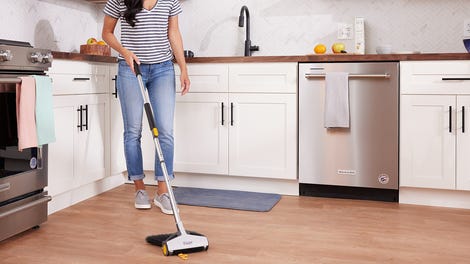 BOGO 50% Off
Flippr - BOGO 50% Off
Design
Oh, hello, gorgeous. Simply put, when you first pick up Xperia Tablet Z, you'll think, "There's no way this thing actually turns on or does anything." It just feels impossibly thin and light. At 0.27 inches (6.9 millimeters), it is the thinnest tablet in the world (the iPad Mini is 7.2 millimeters, for comparison). At 17.46 ounces (495 grams), it's the lightest full-sized tablet we've seen (the current generation iPad is 23.35 ounces). Not only that, it's perfectly balanced. You can comfortably hold it one-handed in landscape mode. It's even thinner than the Samsung Galaxy S4 (see above), which is one of the thinnest phones out there.


The tablet is almost a perfect rectangle, with just barely rounded corners. The back is a matte, brushed plastic, that has an excellent grip to it. It's not going to accidentally slide off your lap on the subway. Sony also did something pretty ingenius with the speakers, too. A lot of tablets stick the speaker holes on the bottom-edge of the tablet, where your lap will muffle them if it's resting on your legs, or they stick the holes on the sides, where your hands will muffle them if you're holding it. Sony put the speakers on the two bottom corners (when holding it landscape), but it put the holes for the speakers on the bottom and the sides, so even if you're covering two of the holes the sound can come out through the other two. Smart, though we still definitely prefer the front-facing speakers on Google's Nexus 10.
On the side, it shares the same nubby buttons as the Xperia ZL phone, but while they were kind of ugly on the phone, they're perfectly pleasant on the tablet. They're easy to find, and easy to press. Down on the bottom there are two panels behind sealed doors. One is for the micro SD card slot, and the other is for the micro USB / micro HDMI port, which you can use to change your tablet and/or stream HD video to your TV. There's also an 8MP rear facing camera, which we would encourage you to ignore.
Using It
The Xperia Tablet Z is running Sony's custom skin on top of Android. On the plus side, the tablet version of this skin is extremely intuitive to use. Dedicated buttons for Google Now, Voice Search, adding apps/widgets, and the remote control are all very easy to understand. Sony also put in some power management tools that gives you standby times to the tune of many days. Essentially, it turns off your data connection when the screen is off, but you can whitelist apps (like Gmail, for example) so you get important notifications. It's very nicely done.
Sony did, however, put more than a dozen of its own apps on the tablet, many of which are either inferior replacements of the standard Android apps (Sony's Album < Android's Gallery), or services you really don't need (Wi-Fi Checker? Consumers were clamoring for that?). It managed to build a remote control app that works better than any we've used, but it failed to integrate a guide to what's on, like HTC and Samsung did. Sony has an app for that, but it's only compatible with networked devices. Not very helpful.
Correction: The TV SideView for Tablets app does integrate the IR blaster features. The problem was that there's just a regular TV SideView app in the app store as well, which was the number one result, so we didn't realize there was a tablet specific version. (Sony: If you're going to pre-load the tablet with apps, why not put that one on there?) Anyway, the good news is that it's intutive and it works extremely well, so nicely done there.
In terms of day to day usage, we generally threw it in a backpack (usually with no protection) and it was light and thin enough that we literally forgot it was there multiple times and tossed our bag around more roughly than we would have. After a week of such abuse the tablet doesn't have a scratch on it, though we'd definitely still recommend getting a case. We also verified the waterproof claims, taking it into the shower with us and then leaving it submerged in a bath while a video played. One of the Tablet Z's slick tricks is that the touchscreen will actually work reasonably well when wet. You couldn't game with it like that, but it was good enough for controlling basic functions.
Like
On the hardware side of things, it's really almost all like. The lightness and thinness really are killer features, and the thing just feels amazing to hold. The 1080p screen with Sony's Mobile Bravia Engine 2 produces some of the most vibrant, and yet most accurate colors we've ever seen on a tablet, especially for things like flowers and landscapes. Battery life was fantastic with Stamina Mode enabled. HD games (such as Dead Trigger) played extremely well, without so much as a hitch.
We absolutely love the waterproof element. It's not a gimmick. It actually makes us feel safe using it pretty much anywhere, in virtually any condition. Because it's dust-proof, too, this is the only tablet we'd want to take with us to the beach, a construction site, or, y'know, Burning Man. A micro HDMI port and an IR blaster are features all tablets should have, and what's not to like about a micro SD card slot?
No Like
While Sony's skin looks very good, it really slows things down. There is noticeable jutter when swiping through home screens, and apps are simply slower to launch than they should be. This is clearly bad optimization, because when we installed Nova Launcher everything got silky smooth. The Snapdragon S4 Pro is an excellent processor (though not as good as the more recent Snapdragon 600 and the upcoming 800), and it should tear through your homescreens with no problems at all, especially since the introduction of Project Butter in stock Jelly Bean (Android 4.1). Speaking of Android 4.1, why is this tablet launching with a version of Android that's a year old? 4.2 has been out since November. Totally unacceptable, and Sony doesn't have the best track record with speedy updates, either.
While we liked the colors on the screen, the blacks are more like grays, and the whites can skew a bit orange. It's also not as bright as other high-end Android tablets (though it was good enough for a bright day), and it's not as high-resolution as the Nexus 10 or the latest iPad, though it's by no means bad. While we praised the implementation of the speakers, the sound is really tinny and just generally crappy. Sony should just buy speaker components from a company that knows how to make good speakers. Y'know, like Sony. Oh... that's weird.
Should I Buy It?
Gripes aside, this is our favorite tablet we've used in a long time. The $500 price point, gives us a bit of pause, though. It's more expensive than the Nexus 10, but it has better guts and performs better (once you get away from the home screen). It's the same price as the latest iPad, though, and while it doesn't have quite as many tablet optimized apps, that gap is a lot smaller now, and the Xperia Tablet Z's form factor is more impressive than any other tablet out there. Hands down.
While we've really come to value smaller tablets like the Nexus 7 for their portability, watching movies and reading websites is certainly a more pleasurable experience on a 10-inch tablet, and the waterproof/dustproof specs are very tempting. We wish the guts and the software were a little more current, but for the majority of consumers, this is an excellent tablet, and if you've got 500 bucks to spend, there are certainly worse ways to spend it. [Sony]
Sony Xperia Tablet Z Specs
• Network: Wi-Fi
• OS: Android 4.1 with Sony's UI
• CPU: 1.5 GHz quad-core Snapdragon S4 Pro
• Screen: 10.1-inch 1920x1200 TFT LCD (224PPI)
• RAM: 2GB
• Storage: 16GB or 32GB + micro SD up to 64GB
• Camera: 8MP rear / 2MP front
• Battery: 6000 mAh
• Dimensions: 10.47 x 6.77 x 0.27 inches
• Weight: 17.46 ounces
• Price: $500 for 16GB version / $600 for 32GB