Wouldn't it be great if your full-sized tablet could fit in your pocket? It would! You'd have that big-screened wonder with you everywhere. Cool, so to accomplish that, we're going to cut that tablet in half and leave a fat bezel in the middle. Wait, what?
Why It Matters
The Tablet P is Sony's first stab at making full-sized tablets more portable. Or rather, more pocketable. It's PlayStation Certified and it works with Sony Music Unlimited, Video Unlimited, and the rest of the Sony ecosystem.
Using It
The Tablet P has a clamshell design. Instead of one big screen, like you find on most tablets, you get two 5.5-inch screens, each with a resolution of 1024 x 480. The two halves are stuck together with two big hinges that feel quite solid. Between the two screens is a 3/8-inch no-man's-land bezel where nothing can be displayed. It's just a big, black line in the middle of your screen. Including the bezel, the screen's measurements would be 5.125 inches tall, and 4.94 inches wide. In other words, it's almost perfectly square. Y'know, for all those square movies you don't watch. When folded, the Tablet P forms a long, drawn-out oval (like a smushed cylinder), with hard edges and creaky plastic.
G/O Media may get a commission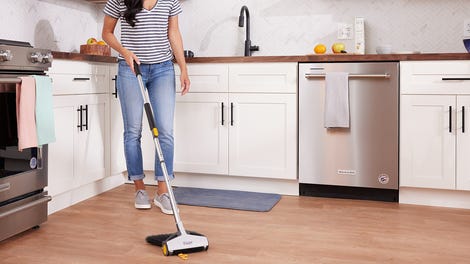 BOGO 50% Off
Flippr - BOGO 50% Off
There are some optimized apps that take advantage of the two screens, with varying levels of success. Some simply stretch, treating the two-screen combo as one big screen (with, you know, a black bar through the middle). Others segment an app's functionality. On some PlayStation games—Crash Bandicoot, say—the lower screen displays your controls, while the upper shows off the game itself. The native Reader app treats the divide like the binding of a book; if you hold the Tablet P vertically text flows down one vertical screen, then picks up on the next. Most of Sony's 36 pre-installed apps come optimized for the Tablet P, as are about 40 apps you can download (listed in the included "Select App" app). Non-optimized apps either stretch to use both screens or, more often, just use one screen and leave the other blank. When they are stretched the edges are cut off, due to the combined screen's squareness. And again: big black bar in the middle.
The Tablet P works off of AT&T's kinda-not-really 4G (HSPA+) network, and gives you theoretical top download speeds of 21Mbps (actual use will be significantly slower). The tablet runs a skinned version of Android 3.2 (Honeycomb), which can be cumbersome. People, can't we leave Honeycomb alone, even on freak tablets?
Like
It fits in your pocket! Probably not your pants pocket (at least, not comfortably) but in most jacket pockets. It only weighs 13 ounces. You can access Sony's Music Unlimited or Videos Unlimited catalogues, which it cool if you've already bought into that ecosystem. Apps like Messaging and Gmail put the keyboard on the bottom screen, so that's handy? Err, the battery is replaceable and the calendar app is pretty good.
And, umm, it sort of looks like a taco if you angle it right? Mmm, tacos. (Can you tell I'm struggling with this section?)
No Like
Oh man, where to begin? The Tablet P's most glaring flaw is its main point of differentiation: that double screen. It's just a deeply unsatisfying experience, like sex with an ice cube tray. Even setting aside that its puzzling square(s) shape, that big black bezel in the middle is just can't be ignored. It's terrible even the few places you think it might not be. Putting a video app's controls on one screen and the picture on the other sounds convenient, right? Wrong, it's a mess. The persistent controls pull an equal amount of focus as the video itself. So bad. It's actually more enjoyable to watch a video on a phone with a big screen, because you get almost the same size and you're not holding a ton of extra hardware, and on-screen controls fade after a few seconds anyway. Additionally, the Tablet P's screens are dim and the viewing angles aren't good—virtually unreadable in sunlight. Oh, and no, you can't run one app on one screen and another app on the other screen. What a waste.
I had high hopes for the Tablet P as a little gaming tablet, but here, too, it fell flat. Only a small handful of games have been optimized for the dual-screens. It's kiiiinda handy to have the controls out of the way during some games (like Tank Hero), but this is one of the least accurate touch-screens I've ever tested, making gaming extremely frustrating. Plus, a big part of the joy of tablet gaming is that you've got a big, immersive screen. Five and a half inches doesn't cut it. The graphics on old PlayStations games don't hold up and the controls are spotty, which might be forgivable of and PS games weren't $6 a pop. That's crazy considering the higher-quality HD games that are out there for less. Awesome games like Samurai Revenge and Shadowgun weren't nearly as fun as they are on a bigger screen, and they look terrible when stretched and chopped. The built-in speaker is quiet, tinny, and terrible.
Performance was also disappointing. The Tablet P is powered by the standard-for-2011-tablets 1GHz dual-core Tegra 2, but this usually capable processor seems to struggle here, likely because it has to drive two separate screens, or maybe because of Sony's 3rd party UI. The result is more stuttering and lag than we're used to seeing from Android tablets. Also, this review is a couple days later than I wanted it to be because the tablet kept. Freaking. Dying. Actual use it didn't drain it so badly, but this thing drains itself out like crazy in stand-by mode. After a bit of light gaming, it couldn't last 24 hours without a plug, and that was with only Gmail and calendar syncing (no Facebook, Twitter, RSS, or anything like that). Weird!
Also, the Wi-Fi radio really struggled with keeping a connection, and it only comes with a measly 4GB of built-in storage and a 2GB microSD card (though you can swap that out for a larger one if you want). So... yeah.
Should I Buy It?
No. Absolutely not. If it only cost $150 I would still say no, but that's not the case. It's $400 with a two-year AT&T data contract (which isn't cheap) or a completely insane $550 off-contract. I really like that Sony was trying to do something different with the tablet form factor, but instead of getting best of both worlds, they got worst of both. The screen isn't much bigger than a phone's but it's vastly less portable and it can't make phone calls. If you want something easy to carry around with you, just get a thin, 7-inch tablet (which will still fit in a lot of jacket pockets). We may live to see the day when this folding design works, but it won't be until flexible screens are commonplace so we still get our one big screen. Until then, walk away and don't look back.
Sony Tablet P Specs
OS: Android 3.2.1
Screen: dual 5.5-inch TFT LCD
Processor and RAM: 1GHz dual-core Tegra 2 / 1GB RAM
Storage: 4GB+2GB (expandable via microSD)
Camera: Back: 5MP, Front: 0.3MP
Weight: 0.82 pounds
Battery: Li-Ion 3080 mAh
Price: $400 w/ 2yr contract, $550 w/o
Giz Rank: 1.5 Stars


Featured music: "Slumber" by Sycamore Drive