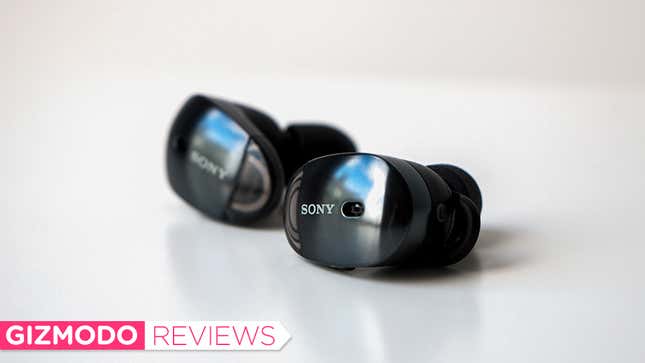 When I first heard the pitch for the Sony WF-1000X, I thought I was hearing it wrong. Sony made a new set of wireless earbuds that aren't just completely wireless—they also employ active noise-cancelling tech. This is a first for the wireless earbud industry, and let me be the first to tell you: It's kind of awesome.
Meet Microsoft's New Surface Laptops
I'm not saying "kind of" just to be casual. The fact of that matter is that cramming extra features into an already tiny device comes with drawbacks (mainly battery life). The noise-cancelling capabilities on the Sony WF-1000X earbuds are limited. It's not like you pop them in and immediately enjoy complete silence. Nevertheless, your mind will be blown by everything you can do with these two tiny earbuds.
Perhaps more so than other new entrants in the truly wireless earbud category, Sony is trying to take on Apple's AirPods. Like the AirPods, the 1000X-series earbuds come in a charging case and connect to your device as soon as you take them out. And as with Apple's white slivers of metal and plastic, the Sony earbuds are designed for bopping around town rather than sweaty exercise. That means they're not waterproof, and they fit a little looser than, say, the Bose SoundSport Free earbuds. They're also $200.
Each of the 1000X-series earbuds features a sleek and recognizably Sony design. Both the black and gold colorways feature a slightly glossy, metallic finish that contrasts nicely with the study plastic body. Sony gives you both silicone and foam tips, each of which offers advantages and disadvantages. The silicone create a better seal, while the firm foam tips stay in place if you start to sweat. On the front end of the earbud there's an antenna that visible, through a clear piece of plastic. On the bottom of each earbud is a button—power and noise cancellation on the left, multifunction on the right. The button is easy to press but not so easy that you do it by accident.
The really delightful thing about these new wireless Sony earbuds is the connection process. There isn't one. When you take them out of the case, the left bud will find the last thing it connected to (probably your phone) and connect right away, letting you know in a female-sounding robot voice. Sometimes audio will start out only on the left, but you can just press the multifunction button on the right to sync the two up.
I did find that the connection between the two buds would sometimes drop, especially in congested areas like New York City's Union Square. It always recovered in a split second. This is a common problem with these types of earbuds, though the Sony's perform slightly better than other models I've tested.
Good fit and strong connectivity are only part of the equation when it comes to wireless earbuds. Sound quality is obviously an important consideration, and Sony delivers on this order as well, albeit with some limitations. The 1000X-series serves up clear, well-tuned audio, especially in the mid- and high-ranges. There's not much bass to speak of, however. "Somewhere in Paradise" by Chance the Rapper lacks its thump early on, but the track sounds great, when the horns and choir come at the end.
Weak bass isn't necessarily a bad thing. A side-by-side comparison with the also awesome Sony WH-1000XM2 (the wireless earbuds' big brother) showed that the more focused sound of the WF-1000X offers a little bit more fidelity than the bass-heavy WH-1000XM2. For instance, the synthesizers on "Africa" by Toto sounded almost brassy and the marimbas were just crusty enough on the earbuds. The song sounded big and great on the WH-1000XM2 ear muffs, though the details suffered. I'd also add that, despite the noise cancellation, these little buds don't get super loud, which is something you'll notice in noisy places like the subway.
Now let's talk about a bad thing: the battery life on this fancy little puppies. It sucks. It sucks more than other truly wireless earbuds and not by a small amount. Sony promises three hours of playback on a full charge, while Bose and Apple say five hours.
So that's like half the battery life of competitors. You'll notice it, too. If you plan on using these while cranking out emails at your desk during the work day, you'd better be prepared to take a few breaks to pop them back in the charging case. That was my experience. It's not as bad if you're using them for short spurts of time and can charge in between uses. Turning off noise cancellation usually gives you a little more juice, but for whatever reason, Sony says you'll still get just three hours of listening with noise-cancelling off.
Despite the shortcomings, I really like the Sony WF-1000X. They feel good in my ears. They sound good when I play my favorite songs. They even work well for phone calls. Sure, it would be better if the battery lasted twice as long. It would be sweet if the two earbuds never lost touch with each other. It would be incredible if the noise cancellation was as extreme in these tiny buds as it is in Sony's big cans.
But I still really like these truly wireless earbuds. They feel futuristic—like this is what we were promised in the movie Her and countless other sci-fi movies involving wireless earbuds. They feel futuristic because they're small and slick, and they work like magic sometimes. Sony has a little bit of work to do in terms of battery life and connectivity. Then again, so does everybody.
README
Super compact, comfortable, and good-looking all at the same time
Fantastic sound quality, though slightly lacking in bass and volume
At $200, more expensive than AirPods but cheaper than truly wireless Bose earbuds
Crappy battery life, though that may not matter depending on your lifestyle