Set decades before the events of the Harry Potter books, you'd think it'd be hard for Fantastic Beasts to have many links to its parent series beyond references to the wider Wizarding Wold. However, it seems at least one Harry Potter character will be makeing an appearance in the movie.

Speaking at yesterday's global fan event for Fantastic Beasts, J.K Rowling and director David Yates discussed the film's connections to Harry Potter. Rowling first mentioned that the film does discuss events going on in Europe at the time of Fantastic Beasts, delving into the relationship between Albus Dumbledore and Gellert Grindelwald first covered in Harry Potter and the Deathly Hallows. In the novels, Grindelwald, a powerful dark wizard, and Dumbledore were close friends—and even planned to lead a revolution that would've exposed Wizards and Witches to the Muggle world—until a duel between Grindelwald, Dumbledore, and Dumbledore's brother Aberforth saw their friendship fall apart.
However, Yates went one step further than Rowling did, and actually said both Gindelwald and Dumbledore actually appear in a scene in the film—and that Grindelwald will have a prominent role to play in the future films that will follow Fantastic Beasts in the Potterverse prequel pentalogy:
We can't tell you too because we'd have to kill you all, but we do mention Dumbledore, and he features in a wonderful scene between Colin [Farrell] and Eddie [Redmayne]. Grindelwald does feature in the background and is going to become a much more prominent feature moving forward.
G/O Media may get a commission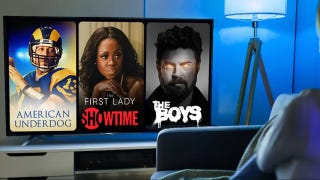 UNDER $1
99¢ Prime Video Channels
A featurette released at the event yesterday does include a scene where Farrell's character, Percival Graves, interrogates Newt Scamander while mentioning Dumbledore and the "attacks in Europe," which correlates with what Rowling mentioned. Now it seems Dumbledore's involvement goes further than just a mention.
We won't have to wait long to see if Dumbledore appears or not, as Fantastic Beasts and Where to Find Them hits theaters November 18.
[/Film]