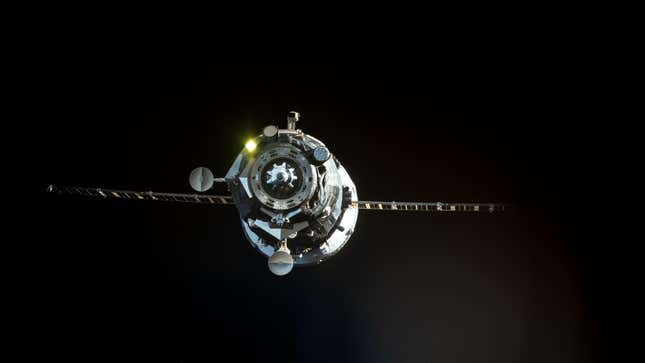 For the second time in two months, a docked Russian spacecraft at the International Space Station has sprung a coolant leak. Investigators don't yet know the cause of the latest leak, prompting Russia's space agency to delay the launch of a 'lifeboat' that's meant to secure the safety of two cosmonauts on board.

The MS-23 Soyuz spacecraft—the uncrewed replacement vehicle—was scheduled to launch on Sunday, February 20, but Roscosmos has now bumped the mission to an unspecified date in early March. The Soyuz spacecraft it's meant to replace, MS-22, sprung a coolant leak in mid-December, rendering it unsafe for a crewed journey back home.
On Saturday, Russia's Progress 82 freighter, which arrived at the station this past October, experienced a near-identical issue, in which its external radiator unexpectedly and rapidly lost all of its coolant. It's not yet clear whether the two incidents are related, as Russian investigators attributed the first leak to a micrometeorite strike.

"The launch of the Soyuz MS-23 spacecraft in crewless mode has been postponed until not later than the first ten-day period of March so that we can make certain and find the place of the possible breakdown [of the Progress 82 cargo ship]," Roscosmos chief Yury Borisov explained on Monday, Russian state media TASS reported.
TASS says the Progress 82 vehicle is "isolated from the orbital outpost" while the cause of the anomaly is being investigated. This runs contrary to a NASA statement from Saturday, which claimed that the "hatches between the Progress 82 and the station are open." NASA, aside from this brief statement, has been quiet on the matter.
Dmitry Strugovets, a former Roscosmos spokesman, said during an emergency meeting at spacecraft manufacturer RKK Energia the leak began at around 4:40 a.m. ET on February 11, RussianSpaceWeb reported. The Progress 82 radiator is largely out of sight, requiring the space station crew to inspect the damage using a camera mounted to the Canadarm robotic arm. It's not clear if this is going to work, given the suboptimal vantage points available. It's also not clear if Progress 82 will depart the station on February 18 as previously planned.
Back in January, investigators concluded that MS-22 was struck by a tiny meteorite, a decision gleaned from imagery analysis and hypervelocity ground tests. That a second micrometeorite struck a second radiator seems grossly improbable, leading investigators to contemplate a possible common glitch, whether mechanical or procedural. In his recent comments, however, Borisov hinted at a possible coincidence. "An emergency commission has been set up, which is examining all the [possibilities] systemically and thoroughly," TASS quoted him as saying. "The result of both anomalies is the same but their causes can be different."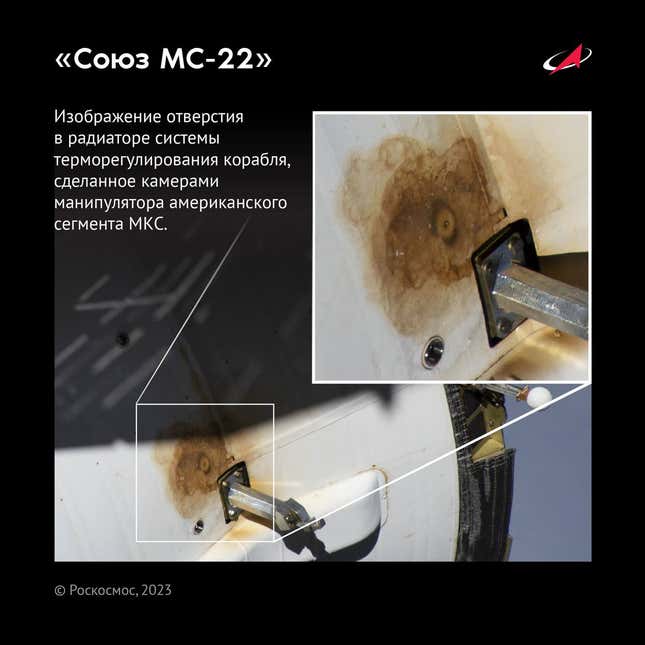 As if to put a finer point on this argument, Roscosmos released new close-up images on Telegram of the damage to the Soyuz MS-22 spacecraft, which the Russian space agency insists was caused by a micrometeorite, not space debris or a manufacturing defect.

It's not ideal that the expedited MS-23 mission has been delayed, as cosmonauts Sergey Prokopyev and Dmitry Petelin are currently without a lifeboat should a serious emergency occur on the station. NASA astronaut Frank Rubio, who also arrived via MS-22, could seek shelter inside the docked SpaceX Endurance Crew Dragon, which was recently refitted to accommodate an extra passenger.
As all of this is happening, NASA and SpaceX are preparing to launch the Crew-6 mission to the ISS, currently scheduled for February 26. Onboard will be NASA astronauts Stephen Bowen and Woody Hoburg, Roscosmos cosmonaut Andrey Fedyaev, and UAE astronaut Sultan Alneyadi. Several days later, NASA astronauts Nicole Mann and Josh Cassada, JAXA's Koichi Wakata, and Roscosmos cosmonaut Anna Kikina will return home aboard Endurance.
It's possible that the arrival of Crew-6 and departure of Crew-5 will happen before MS-23 gets off the ground. Should that happen, Rubio will once again be without a reliable emergency vehicle. Temperature and humidity control inside the Soyuz MS-22 crew cabin is not possible owing to its damaged radiator. The current plan is for Rubio, along with Prokopyev and Petelin, to return home in September. As for the original crew of MS-23, they'll have to wait for the MS-24 mission, currently scheduled for later this year.
More: Upcoming Axiom Space Mission to Include Woman Commander and Two Saudi Astronauts