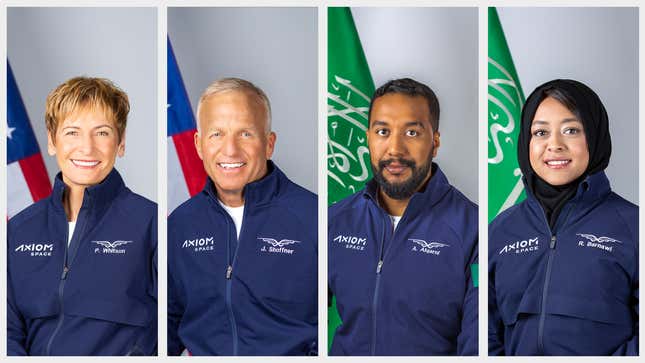 Axiom Space's second mission to the International Space Station officially has a crew. Four astronauts will head to the ISS during a launch planned for this spring, and the newly sanctioned crew will feature a woman commander and two Saudi mission specialists

Better Mobility & Cameras: NASA & Axiom's New Spacesuits | Techmodo
This crew will be apart of Axiom Mission 2, or Ax-2, which is the private space company's second mission to the International Space Station. Peggy Whitson, who is Axiom Space's Director of Human Spaceflight and a former NASA astronaut, will serve as the Ax-2 commander. Ali Algarni and Rayyanah Barnawi, two Saudi astronauts, will serve as mission specialists and will be joining the mission via an arrangement between Axiom Space and Saudi Arabia. The team is rounded out by pilot John Shoffner, who purchased a ticket to space through the company in 2021.
"I'm honored to be heading back to the station for the fourth time, leading this talented Ax-2 crew on their first mission," said Whitson in a statement. "This is a strong and cohesive team determined to conduct meaningful scientific research in space and inspire a new generation about the benefits of microgravity. It's a testament to the power of science and discovery to unify and build international collaboration."
The team will ride aboard a SpaceX Dragon to the ISS on a launch scheduled for spring 2023 from Kennedy Space Center. The team plans to spend 10 days on board the space station to conduct various science, outreach, and commercial efforts, and NASA says this mission will be the first private space mission to be commanded by a woman. Algarni and Barnawi secured their spots when the Saudi Space Commission and Axiom Space reached a deal in September to fly astronauts to space via the country's first astronaut program.
Axiom Space previously sent an all-private crew to the ISS last spring, but complications from a jam packed schedule and a lack of experience from the all-private crew meant that experiments on board took longer than expected. Shortly thereafter, NASA announced that it would be updating the requirements for astronauts accompanying private space missions—including a stipulation that private missions must now be led by a former NASA astronaut.

Axiom Space's foray to the International Space Station precedes the company's efforts to construct its own space station, called Axiom Station. Axiom Space plans to connect its modules to the ISS after a 2025 launch, and prior to retirement of the legacy space station, the company will detach those modules and begin construction and orbit of Axiom Station.
More: Jeff Bezos' Girlfriend is Leading an All-Women Blue Origin Spaceflight