SpaceX's military rideshare launch, designated USSF-67, appears ready to rock, with a static fire test successfully completed earlier in the week and pleasant weather conditions forecasted for Saturday. Here's what you need to know about the private company's second national security launch and the fifth flight of its powerful Falcon Heavy rocket.
The Falcon Heavy is unofficially scheduled to blast off on Saturday, January 14, at 5:51 p.m. ET from Launch Complex 39A at Kennedy Space Center in Florida. The rocket will attempt to deliver a communications satellite for the U.S. Space Force, along with a batch of unspecified payloads hitching a ride to geosynchronous Earth orbit (GEO). Weather is currently predicted as being 80% favorable for launch.
Should all go as planned, this will mark the fourth launch for SpaceX in 2023, the fifth of its Falcon Heavy overall, and its second national security mission for the U.S. Space Force. USSF-44—SpaceX's first national security launch—occurred on November 1, 2022, in which a Falcon Heavy performed a similar mission.
The 230-foot-tall (70-meter) Falcon Heavy is built from three Falcon 9 engine cores. Combined, its 27 Merlin engines produce over 5 million pounds of thrust, making it the most powerful commercial rocket currently in use. It can lift nearly 64 metric tons to low Earth orbit and 26.7 metric tons directly to geosynchronous orbit. The rocket lies horizontally to arrive the launch pad and is then raised to a vertical position using a transporter-erector known as the strongback.
The Falcon Heavy debuted in 2018 but fell into infrequent use owing to payload delivery delays. The situation appears to be changing, however, as the rocket is expected to fly as many as five times in 2023, including the third and fourth Space Force missions and the launch of Viasat's first broadband satellite and NASA's Psyche probe.
G/O Media may get a commission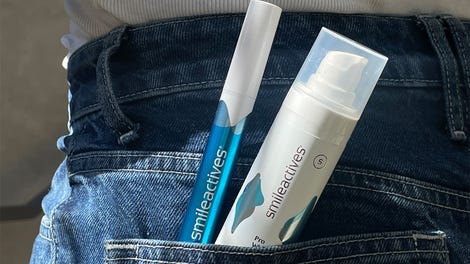 58% off
Whitening Powerhouse Pen & Gel Duo
SpaceX performed a static fire test of the rocket on Tuesday, in which all 27 Merlin engines fired for eight seconds. As payloads are not included during static fire tests, the rocket was subsequently carted back to SpaceX's Kennedy hangar, where teams will install the payload fairing in preparation for Saturday's scheduled launch, Teslarati reports.
Shortly after launching on Saturday, the rocket's two side boosters will attempt vertical landings at Kennedy's Landing Zone 1 and 2. The central core will not be recovered.
Details about the USSF-67 payloads are scarce, owing to the classified nature of the mission. The primary payload is CBAS 2, a "military communications and relay satellite designed to ensure communication between commanders and senior government leaders," as Everyday Astronaut describes it. Also on board is the Long Duration Propulsive ESPA 3A, or LDPE 3A, a Northrop Grumman-built payload adapter that will attempt to deliver "multiple experimental payloads," according to Kennedy Space Center's USSF-67 launch page. The payloads will be taken to a geosynchronous orbit some 22,250 miles (35,800 kilometers) above the surface, but the exact orbital parameters have not been disclosed.
The year ahead for SpaceX is quickly taking shape. The company is working towards Elon Musk's stated goal of performing 100 orbital launches in 2023, a feat that would smash the company's record of 61, set in 2022.
More: SpaceX Begins Ambitious 2023 With a Hefty Orbital Delivery