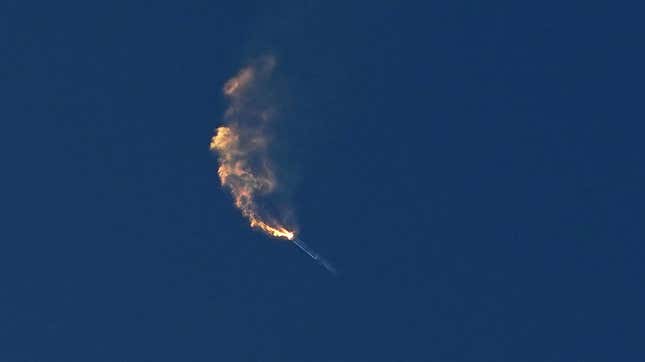 During its inaugural flight, SpaceX's wayward rocket did not immediately respond to an automated self-destruct command as it began spiraling in the skies. That's problematic, as launch providers need to demonstrate the ability to quickly destroy their rockets during launch to protect populated areas.
Astronomers Could Soon Get Warnings When SpaceX Satellites Threaten Their View
SpaceX CEO Elon Musk recently revealed new details about Starship's less-than-perfect orbital test flight, which he still deemed as a success. During a Twitter audio chat on Saturday night, Musk said that 40 seconds had passed before the self-destruct command actually worked, causing the rocket to blow up above the Gulf of Mexico, The New York Times reported.
The largest rocket ever built blasted off on April 20 from Boca Chica, Texas for its first test flight. After clearing the launch pad, Starship began showing erratic flight behavior, fumbling around in an uncontrolled manner after a few of its engines failed before finally exploding with a fiery flame. "Obviously not a complete success," Musk said during the Twitter audio chat, according to The New York Times. "But still nonetheless successful."
With all things considered, even a slight 40 second delay to a self-destruct command is a big deal when dealing with a new megarocket on an experimental flight. The 394-foot-tall rocket was nearly 40 miles (64 kilometers) above the Gulf of Mexico when it exploded, having departed from the Boca Chica launch facility some four minutes earlier.
Had the self-destruct sequence not worked at all, the rocket would've likely fallen into the ocean. But what would have happened had the rocket, in the seconds following launch, veered toward nearby populated areas? It's scary to think about, and something the Federal Aviation Administration will want to look into.
In true SpaceX fashion, the company is ready to see its massive rocket take to the skies once more. "Hopefully, we'll be ready to fly again in a couple months," Musk said during Saturday's chat, SpaceNews reported. That timeline was reiterated by NASA Administrator Bill Nelson, who seemed confident in SpaceX's ambitious timeline during a recent hearing before the House Science, Space, and Technology Committee. Despite NASA's vote of confidence, SpaceX still needs the green light from the FAA, which has grounded Starship pending an ongoing investigation into its botched flight.
Musk downplayed concerns regarding Starship's ability to fly again soon. "Overall, I actually feel like that was a great flight," Musk said, according to SpaceNews. "The outcome was roughly sort of what I expected and maybe slightly exceeded my expectations." He added that three of the rocket's 33 Raptor engines failed because "the system didn't think they were healthy enough to bring them to full thrust."
The SpaceX CEO is hopeful that Starship will reach orbit in 2023, and expects that the company will spend around $2 billion on its megarocket this year without the need to raise additional funding, Business Insider reported based on the Twitter audio chat.
SpaceX is anxious to get Starship operational; the company is under a $2.89 billion contract to use the megarocket in landing humans on the Moon by late 2025 as part of NASA's Artemis 3 mission, and then again for Artemis 4 in 2028, under a separate $1.15 billion contract signed last year. The company is also banking on Starship delivering its upgraded next-generation Starlink satellites to orbit to meet growing demand for its broadband network.
Starship's first test flight may not have been without its flaws, but it did prove the rocket's ability to liftoff and fly for four minutes, which was more than what SpaceX had hoped for. Before the company decides to launch its megarocket for a second time, however, SpaceX will need to remedy the rocket and construct the required protective infrastructure at the launch mount. During the inaugural launch, Starship's engines kicked up a horrendous amount of dust and debris, which rained down on surrounding areas.
Want to know more about Elon Musk's space venture? Check out our full coverage of SpaceX's Starship megarocket and the SpaceX Starlink internet satellite megaconstellation. And for more spaceflight in your life, follow us on Twitter and bookmark Gizmodo's dedicated Spaceflight page.