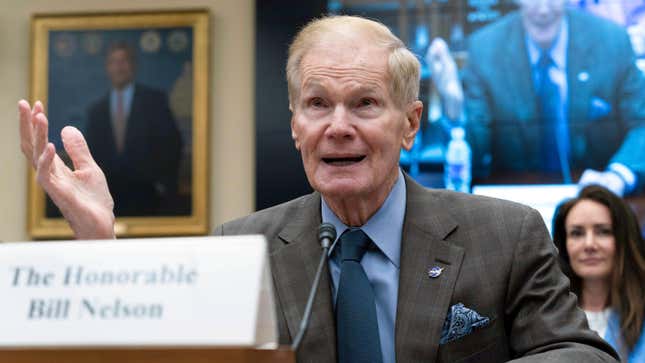 NASA Administrator Bill Nelson downplayed concerns regarding Starship's ability to deliver astronauts to the surface of the Moon in two years in light of the SpaceX launch vehicle exploding minutes into its first test flight.
Astronomers Could Soon Get Warnings When SpaceX Satellites Threaten Their View
During his testimony before the House Science, Space, and Technology Committee regarding NASA's 2024 budget request, Nelson said that Starship's explosion was "not a big downer in the way that SpaceX does things," SpacePolicyOnline reported. "They are hardware rich meaning they've got a lot of those rockets ready to go," he continued. "They launch. If something goes wrong, they figure out what it is, they go back and they launch it again."

SpaceX's Starship megarocket finally blasted off on April 20 for a less-than-perfect orbital test flight. About four minutes after the rocket launched from Boca Chica, Texas, Starship exploded in the skies above the Gulf of Mexico. A few of the rocket's engines failed in flight and, after falling into a catastrophic tumble, the two-stage heavy-lift launch vehicle was forced to self-destruct. It wasn't exactly a failure though, as the test showed that Starship can get off the ground and endure intense aerodynamic stresses. The test also resulted in critically important feedback for SpaceX to apply to its next Starship improvements.
Despite its untimely explosion, Nelson reiterated SpaceX's timeline of repairing Starship's launchpad and preparing another Starship vehicle for flight in at least two months. The ambitious timeline may not be entirely up to Elon Musk's private space venture, however, since the Federal Aviation Administration has grounded Starship pending an ongoing investigation into its blowup.
The reason why NASA is invested in Starship's ability to fly is because SpaceX is under a $2.89 billion contract to use the megarocket in landing humans on the Moon by late 2025 as part of the space agency's Artemis 3 mission, and then again for Artemis 4 in 2028, under a separate $1.15 billion contract signed last year.
U.S. lawmakers really don't want NASA, and by extension SpaceX, to fall behind on its timeline to land on the Moon, fearing that China may take the lead instead. China recently announced that it plans to land its astronauts on the Moon in 2030. "I want to be clear that I will do everything within my power to ensure that the next astronauts on the Moon are Americans." House Representative Frank Lucas said during Thursday's hearing, according to SpacePolicyOnline.
At the same time, the House is anticipating budget cuts that could possibly affect NASA's Artemis timeline. This week, the House passed legislation for deficit reduction measures meant to lower discretionary spending. If the bill were to go into effect, it could potentially place constraints on NASA's budget. "It would be a disaster. We would be delayed," Nelson said in response to potential budget cuts, according to SpaceNews.
NASA is already having a hard time managing its budget, with the space agency dedicating most of its funding towards its Artemis program and the Mars Sample Return mission. The Mars mission, scheduled for launch in 2028, received $822.3 million in the 2023 spending bill, and NASA requested another $949.3 million out of a total of $8.26 billion for science spending in its budget proposal for 2024. Other missions have suffered as a result of budgeting concerns, namely NASA's VERITAS mission to Venus.
The U.S. government will likely prioritize taking the lead in the new space race to the Moon over planetary missions. It needs to be said, however, that NASA's commercial partnerships are sometimes beyond the control of lawmakers, and it's now up to companies like SpaceX to get its megarocket off the ground once again. As to whether the Elon Musk-owned company can deliver Starship on time, well, let's just say we're having a hard time getting that explosion out of our heads.
For more spaceflight in your life, follow us on Twitter and bookmark Gizmodo's dedicated Spaceflight page.