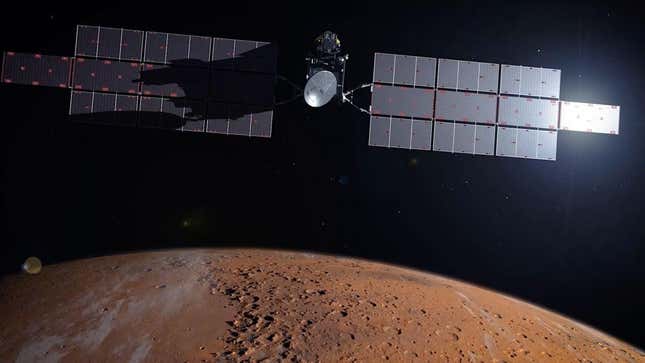 NASA's quest to return rocky samples from the surface of Mars to Earth in 2033 is already running up the bill, with the project needing a lot more money than what was allocated to the mission for 2023.
Better Mobility & Cameras: NASA & Axiom's New Spacesuits | Techmodo
During a recent hearing of the Senate Appropriations Committee's Commerce, Justice and Science subcommittee, NASA Administrator Bill Nelson revealed that the Mars Sample Return mission needs an additional $250 million in the current fiscal year, plus another $250 million in 2024, in order to stay on track for launch in 2028, SpacePolicyOnline reported.
Mars Sample Return is one of the most complex missions the space agency has ever attempted. The mission is a joint effort between NASA and the European Space Agency, and it entails collecting rock samples that have been stowed away by the Perseverance rover on the Martian surface and returning them to Earth. In order to do that, a fleet of spacecraft, including an orbiter, lander, two helicopters, and a rocket, will be assembled and sent to the Red Planet.
The mission received $822.3 million in the 2023 spending bill and NASA requested $949.3 million for Mars Sample Return in its budget proposal for 2024. The Mars Sample Return mission is getting a portion of the total funding for science, which adds up to $8.26 billion in the 2024 budget. In 2020, NASA and ESA estimated that the mission would require at least $7 billion in total. There are concerns, however, that the actual cost of the mission will surpass that early estimate.
NASA is setting up a second independent review board to oversee Mars Sample Return in an effort to keep the mission on time and on budget. If the mission does require more funding during the current fiscal year, that would force NASA to pull money from elsewhere in the budget. The space agency has recently struggled with budgeting, indefinitely delaying the VERITAS mission to Venus in order to resuscitate the Psyche mission to a metal-rich asteroid.
The other solution would be to delay the sample return mission, which the space agency may be considering. "Some of those costs are not going to be avoided, and we're going to have to make choices," said Nelson during the subcommittee meeting, as quoted in SpaceNews. "You can get it done, but it may not be done right on the time we're hoping it would be done. If you stretch it out over a longer period of time, you can get the problem done."
For more spaceflight in your life, follow us on Twitter and bookmark Gizmodo's dedicated Spaceflight page.