Late last weekend, semi-pro photographer Timothy Joseph Elzinga woke up in the early hours of the morning to attend to his crying two-year-old son. When he looked out the window, he was greeted with a rare and spectacular sight known as light pillars. Smartly, he picked up his camera and captured some of the most incredible images of this natural phenomenon we've ever seen.
These vertical beams of multi-colored light looks like auroras, but they appear when either natural or artificial light bounces off ice crystals floating close to the ground.
Here, the northern Ontario air was so cold that the ice crystals were forming in high up, reflecting the city's streets and business lights. Elzinga, who lives in North Bay, observed this majestic light display for about 45 minutes starting at 1:30 am local time. He even managed to capture some video of the rare event (Elzinga has his own YouTube channel.)
"I was able to capture these images both because the lights were so bright and pronounced, and because I used the manual settings on my phone to adjust the aperture time to eight seconds," Elzinga told Gizmodo. "I also opened the window and removed the screen so I could get an unobstructed view. Then I used the ridges in my bathroom window's track as a makeshift tripod to avoid motion blur."
G/O Media may get a commission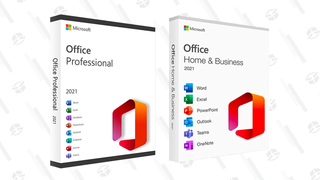 89% off
Microsoft Office Professional 2021 Lifetime License
Elzinga ran outside to see if he could snap some more images, and even went for a drive. But the light pillars seemed to look best from his original vantage point, as a large forested hill behind his house provides protection from light pollution. At the time, he wasn't aware of what he was looking at, and only discovered the name of the phenomenon after doing a bit of homework.

"It was almost supernatural and although the images are pretty amazing I'd say it was even cooler in real life," said Elzinga.