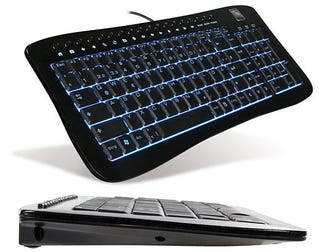 Speed Link has rolled out a another of its super-thin aluminum USB keyboards, and this one is jet black with LED-illuminated keys. Those flat keys resemble those on a laptop, and as you can see in that pic above, the thing's cross section is improbably thin. Looks neat. But looks aren't everything.

Although this is one fine-looking keyboard, we're a bit wary of what the company calls the "compact" arrangement of the keys, a seemingly unnecessary characteristic for a keyboard that probably won't be taken on the road. And what's with that tiny spacebar, not quite as small as the one we saw on that Onkyo aluminum keyboard last week, but still not big enough?
There's a row of hotkeys across the top, but unfortunately there is no calculator button which seems to be one of the more useful hotkeys in our office. And then there's the exorbitant price, clipping you for $97 for being so style conscious. As if aluminum is a precious metal. Don't they make soda cans out of it?
Product Page (German) [Speed Link, via Randomly Accessed]