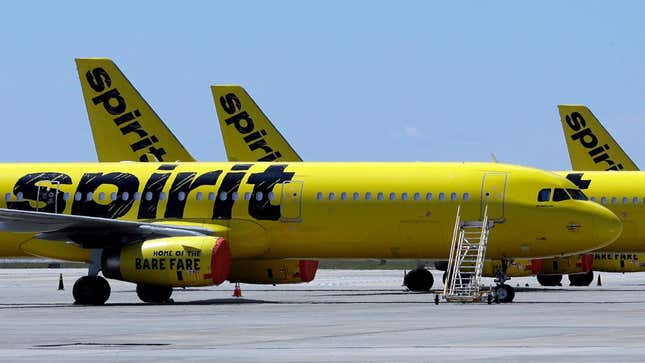 A Spirit Airlines flight was forced to make an emergency stop along its route Wednesday after a battery device caught fire inside an overhead luggage bin. Local reports said the plane quickly filled with smoke as flight attendants worked to put out the flames. A retired firefighter on the plane told local reporters that the device that caught fire was a battery-powered vape connected to a charging pack.
So if you're still wondering why flight crews ask passengers if they have any items with a lithium-ion battery, this story is just another reminder to find out what kind of battery you're packing. But seriously, just turn them and take out the battery before you board.
Spirit flight 259 took off out of Dallas/Fort Worth International Airport heading to Orlando Wednesday afternoon, but it was forced to touch down at around 4 p.m. ET. According to the Jacksonville NBC affiliate WTLV, the plane made an emergency landing at the Jacksonville International Airport where emergency responders sent one person directly to the hospital from the airport. Video from one of the passengers on the plane posted to Twitter showed firefighters entering after the flight made its emergency landing.
Local Jacksonville fire rescue department Captain Eric Proswimmer told local outlets that more people, including crewmembers, started feeling worse around 6 p.m. By the end of the day, a total of 10 people were sent for medical treatment after reportedly feeling ill. Spirit Airlines confirmed in a statement to multiple outlets that the fire was from "what's believed to be a battery fire from a guest item in an overhead bin."
Local station WJXT quoted Rocco Chierichella, a retired New York City firefighter, who said he tried to help put out the flames. He claimed the device that caught fire was a "battery-powered vape tied to a battery charging inside the compartment." He claimed the battery then caught some surrounding luggage on fire. Chierichella told Action News Jax that he received blisters on his hands while trying to put out the fire.
The Transportation Security Administration notes that passengers can take lithium-ion batteries in their carry-on as long as they are 100 Wh or less. Loose lithium-ion batteries are prohibited in checked bags.
Gizmodo was unable to independently verify that it was a vaping device which caused the fire, but any sort of connected battery device is a bad idea aboard a flight. Spirit, which is currently planning to be acquired by rival JetBlue, has previously issued a lifetime ban to one passenger for allegedly using a vape aboard a flight. But beyond that, rechargeable lithium-ion batteries run the risk of temperatures going out of control, whether through short circuits or excessive ambient temperatures. All that extra stored energy then gets released and sometimes results in combustion.
Though it's still extremely rare, other devices with lithium-ion batteries have caught fire while on board planes, such as an iPhone 6 which burst into flames aboard a Boeing 787 back in 2016. There's also the infamous case of the Galaxy Note 7 "explosion" back in 2017. After the International Civil Aviation Organization prohibited cargo shipments of lithium-ion batteries, the Federal Aviation Administration also implemented a ban on the transport of lithium ion batteries as cargo on passenger planes.
Update 03/03/23 at 7 a.m. ET: This post was updated to include additional information from the TSA.