Tron Legacy releases another picture, Iron Man 2 leaks tie-in book covers, and Transformers 3 redesigns Bumblebee. V's Anna has some alarming reveals, and Warehouse 13's Claudia gets a suitor. Plus Captain America, Doctor Who, Fringe, FlashForward and Lost spoilers.

Captain America:
This 1940s superhero film is looking for extras in London, but is also doing casting in both L.A. and London. We already knew the film was doing most of its filming in London, so this is just a wee update. Filming begins June 28. [On Location Vacations]
Tron Legacy:
The studio released a second image, in the countdown to Friday's trailer release. It's another image of young Flynn (Garrett Hedlund) on his motorcycle outside Flynn's Arcade. [Cinemablend]


G/O Media may get a commission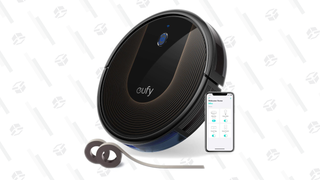 48% Off
Eufy BoostIQ RoboVac
Tony Blair himself, Michael Sheen, hints that his singing, dancing nightclub-manager character is similar to the White Rabbit in some way, and will turn out to be something other than what he appears to be:
I play a character who runs a nightclub - an entertainer, showman... again sort of an ambiguous character. Without giving too much away he's a bit like an Alice In Wonderland character where you don't really know what's going on there and you think he's one thing and he turns out to be something else. It should be fun.
Iron Man 2:
Some newly discovered covers of tie-in books for kids, which reinforce the sense that Iron Man and War Machine will be at odds. More pics at the link. [Comic Book Movie]


Transformers 3:
A pretty minor spoiler, but apparently Bumblebee and Optimus Prime will be redesigned for this film. "Bumblebee's matured a little bit, so I would just say look for subtle changes to his physique that have him look more mature," says animation designer Scott Benza. And Optimus Prime will have very subtle changes that only fanboys will notice, but they'll make him more heroic, and maybe easier to render. And yes, there'll be new robots in this movie. [Sci Fi Wire]
Toy Story 3:
Another new toy is unveiled:
Meet Twitch, the insectaloid warrior, where MAN + INSECT = AWESOME! This sturdy action figure stands over five inches tall, with more than 15 points of articulation, including ferocious chomping mandibles. Use his powerful wings and impenetrable exoskeleton to evade capture! Twitch is meticulously detailed and includes his signature magical battle staff and removable chest armor. For children ages 4 and up. Other insectaloid figures sold separately.
Death Race 2:
Supernatural's Lauren Cohan just joined the cast of this direct-to-DVD prequel, which just started filming in South Africa. And in case you missed it, here's the synopsis:
Death Race 2 takes place in the very near future, as the United States economy begins to decline and violent crime starts to spiral out of control. To contain the growing criminal population, a vast network of for-profit, private prisons springs up, creating a lawless subculture ruled by gangs, cold-blooded killers and sociopaths. The worst of these prisons is Terminal Island. Convicted cop-killer Carl Lucas arrives on the Island to serve his life sentence just as ruthlessly ambitious television personality September Jones launches the ultimate reality show, Death Race. A brutal prison yard demolition derby that pits prisoners against each other in steel reinforced, heavily armed vehicles, Death Race offers the winner the ultimate prize: freedom - if he can survive to enjoy it. When Lucas signs up to be a driver, the stage is set for the birth of a legendary racer.
[ShockTillYouDrop and Cinematical]
Doctor Who:
Comedian/actor James Corden confirmed he'll be in this show, and he's just starting filming. So is he in the "scary old people" episode? Or the finale? Or the Christmas episode? Your theories are as good as mine. [BlogtorWho]
V:
Here's the first promo photo for episode five. [SpoilerTV]


Also, we'll see more parts of the interior of the Visitors' ship in upcoming episodes, and we'll see the engine room in the season finale. Also, we'll see more of what they look like under their fake human skin — which will be gooier than it was in the 1980s version. There will be some surprising reveals about what Anna looks like without her human skin, and possibly other aspects of her being as well. [Sci Fi Wire]
Fringe:
J.J. Abrams says the second season finale will be just as "impactful" as the first-season finale was, but richer, deeper and better as well. And it may wrap up some storylines, but he's not saying exactly. Also, the upcoming April Fools episode is "retro and weird," and may spoof old science fiction shows as well as showing our heroes using retro technology. [Sci Fi Wire]
Warehouse 13:
Nolan Funk will have a four-episode arc in which he plays Todd, a tech-savvy local who takes a romantic interest in Claudia (Allison Scagliotti). [Digital Spy]
FlashForward:
A few new promos for this show, which returns March 18.

Lost:
Episode 15, the episode currently being filmed, is a crazy episode, says Michael Emerson:
It pushes the envelope, this one. It's set in a time and a place that you will never have seen on a network series before, I would venture to say. When was the last time you saw a network drama episode where none of the series regulars were in the episode? That's how kooky it is.
And don't assume that Ben is dying any time soon. Also, Damon Lindelof hints Ben might find a way to worm his way back onto the "Candidates" list. Meanwhile, Charlotte is coming back soon — and may have a major connection with one of the Losties in the L.A.-verse. In episode nine, the Richard Alpert episode, Jacob explains what the island is — and that four-letter word has an "O" in it. We also find out why Alpert doesn't age, and it has to do with a request. [E! Online]
Additional reporting by Josh C. Snyder.