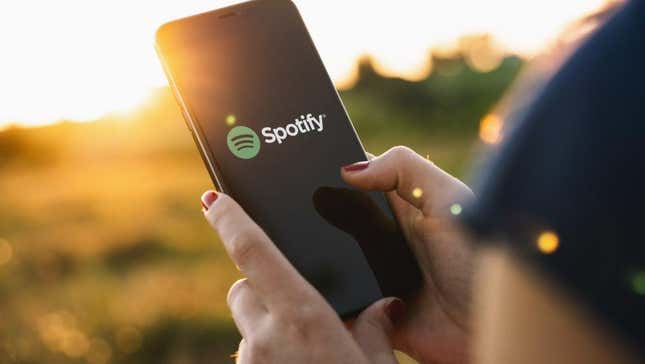 Spotify will offer subscribers a free audiobook trial for a limited time as part of its efforts to break into the market, according to people familiar with the matter, the Wall Street Journal reported. Subscribers will reportedly have access to up to 20 hours of listening time per month without having to pay an additional fee. The trial is expected "in the coming months."
Why Banning TikTok Won't Protect Our Privacy
The company added roughly 300,000 book titles to its repertoire last year after its $123 million purchase of the audiobook platform, Findaway in 2022. But those offerings have been limited to pay-per-download pricing plan. Now, Spotify is reportedly using the free trial to gauge customers' interest in listening to audiobooks.
Spotify's push into the audiobook sector comes a year after its continued altercation with Apple, resulting in the company removing the audiobook option from the iOS app store. Instead, Spotify allowed subscribers to purchase audiobooks directly on its site to circumvent Apple's 15% and 30% commission fees for in-app purchases.
"With our Audiobooks launch, Apple has once again proven just how brazen it is willing to be with its App Store rules, constantly shifting the goalposts to disadvantage their competitors," Spotify said in a blog post last October.
The news comes as Spotify works to knock Amazon's Audible out of the top spot with its estimated 63% of the audiobook market, according to tracking by Wordsrated. Spotify tried to appeal to independent authors in May, luring them to their platform with reduced fees, in an attempt to break the hold Audible has on the market.
After acquiring Findaway, Spotify changed the model from taking a 50% cut while the Findaway platform received 20% on royalties, but the company altered the pricing to remove Findaway's distribution fee when someone purchases an audiobook through Spotify. In other words, Spotify's cut was basically 70% and was reduced to 50%. Meanwhile, Audible takes a 75% cut of retail revenue and 60% if the author signs an exclusivity contract, Audible's site says.
"We believe that audiobooks, in their many different forms, will be a massive opportunity," Spotify CEO Daniel Ek said in a news release last year. "And just as we've done in podcasting, expect us to play to win."
Spotify did not immediately respond to Gizmodo's request for comment on when the free trial is expected to roll out, and it remains unclear if the audiobook trial will be offered directly through the app or if listeners will still have to subscribe on Spotify's site.
The extent of Spotify's audiobook database is reportedly still being finalized, according to The Journal, and is expected to slowly roll out across the U.S., Canada, Australia, and the UK.