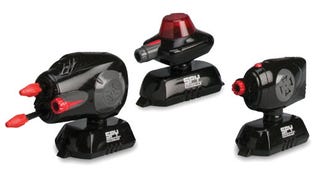 Wild Planet's Intruder Trap System is made up of three wireless motion sensors connected by radio frequency. I suppose the "keep out" sign just isn't enough in this day and age. Why three? They all work together. The first one is touch sensitive...

...which means you can put it on top of your iPod and it will flash a red light and start whistling if anyone tried to nab it. (The unit shown in the picture below is a prototype, the real thing won't have that big black wire with an ugly box hanging off of the end.)

The second sensor is a motion detector. But this alarm is only armed after the touch sensor has been triggered. So now the burglar is running but they head smack into alarm number three, which is a motion sensor loaded with two darts—thwap! Hahaha. Busted. Okay, now back to work.
This will be available next fall for between $29.99 and $49.99.