You might think that George Lucas' epic space fantasy has little to do with Hasbro's line of warring robots that can turn into vehicles, cities and scary sorority girls... but you'd be very wrong indeed, it seems.
Business Week profiles Hasbro's efforts to keep the Transformersbrand hot, and notes that Hasbro isn't above recycling old Star Wars toys to serve as new Transformers product:
Hasbro has borrowed heavily from its Star Wars experience in creating Transformers toys. There are $300 limited-edition robot sets for adult collectors, $22 action figures with lights and sound for younger kids, even $12 preschool robots. This year's Bumblebee Voice Mixer helmet, $40, looks suspiciously like a Darth Vadar toy Hasbro created under its Star Wars license. The $40 Plasma Cannon is a fatter version of a light saber.
The plus side of Transformers for the toy manufacturer over Star Wars? Chief executive Brian Goldner makes it clear:
I can't give you specifics [but] it is more profitable when we own the brand.
Not that that makes it all win for the company; surprisingly, they have to split profits from movie-based toys with Paramount and Michael Bay, and Japanese originator of the concept Takara Tomy gets a cut of all Transformer-based money. But, as the BW article points out, how could that be a problem when Transformers are becoming a beautiful family experience like this?:
Michael Spector, a 37-year-old Web producer in Easton, Penn., has 600 Transformers action figures in his collection, so many it took a whole day to move them. He's planning on buying a few more of this year's versions, mostly on behalf of his 8-year-old son, T.J. "It's a bonding thing," Spector explains. "Who doesn't want to see robots beating the heck out of each other?"
G/O Media may get a commission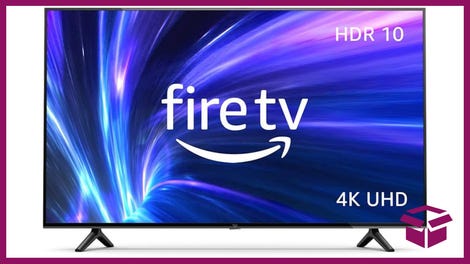 42% Off
Amazon Fire TV 50" 4K Smart TV
With Transformers, Hasbro Morphs Its Toy-Movie Model [Business Week]