Ever since popular Star Wars: The Clone Wars character Captain Rex appeared in Star Wars Rebels sporting a lush white beard, some fans have clung to one simple theory: Rex was at the Battle of Endor. Steven Melching, writer on the show, got some of us excited yesterday with a tweet that seemed to confirm the theory. But sadly, that's not the case... at least, not yet.
Specifically, fans have long suspected that Captain Rex, a Clone Trooper from the prequel era who later joins the Rebel Alliance, is a character called Nik Sant in the old Expanded Universe. Sant, named after Santa due to his fierce facial hair situation, was a minor combatant during the Battle of Endor in Return of the Jedi. But like a lot of the old lore, Sant's identity was erased after Disney took over. And once Disney then went on to introduce an old, bearded rebel who happened to be a fan favorite... well, people got to wondering.
Enter Melching, who yesterday tweeted out a tantalizing piece of concept art.
That's definitely Rex, and that's definitely a picture pointing out his obvious resemblance to ol' Sant. This was excitement enough for the fandom to get wild, prompting Melching to delete the tweet and walk it back. In a later Twitter thread, Melching clarified that the theory is still just that, a theory. He said he didn't actually notice the resemblance between Rex and Sant until fans pointed it out— and, most likely, neither did the Rebels production team.
Still, he wouldn't go so far as to say that they're not one and the same, and early reports suggest they very well could be, only that it wasn't intended and he doesn't know (or can't say) if it'll ever happen.
G/O Media may get a commission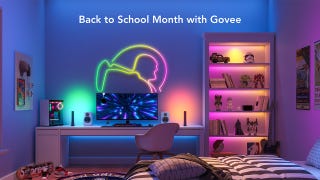 Back to School
Back to School Month with Govee Sale
It's possible that Melching revealed a bit more than he was supposed to. Or Melching might just be goofing on us. It would certainly be neat if Rebels ran with the idea. The complete absence of the clones in the Original Trilogy is a weird little incongruity introduced by the prequels, and it'd be nice to tie it up, even if retroactively. You'd think a massive army of super-soldiers would leave an impression, after all.
We might learn more when Star Wars Rebels premieres this fall with an hour-long special on September 23 on Disney XD.
[Twitter]