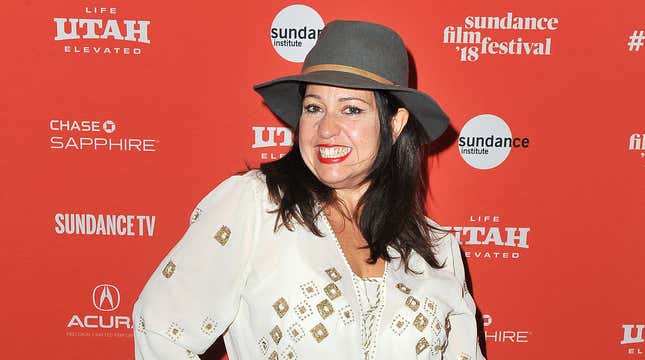 Dr. Christine Blasey Ford gave testimony today before the Senate Judiciary Committee about her alleged assault at the hands of Supreme Court Nominee Brett Kavanaugh. We can't begin to imagine what she's going through and certainly didn't think the events would intersect with io9's coverage. Sadly, we were wrong. Star Wars Resistance actor Rachel Butera, the voice of General Leia Organa, uploaded a video of herself imitating Dr. Ford's voice today.
How Ewan McGregor Helped Bring Back Obi Wan
[Ed's Note: If you are a survivor of sexual assault and need to talk, call the National Sexual Assault Hotline at 800.656.HOPE (4673) or visit RAINN. - Jill]
The media exposure surrounding Kavanaugh's nomination is hard to avoid—even more so after Dr. Ford, and others, have come forward to publicly allege sexual misconduct by the judge. For survivors of sexual assault and abuse, the rise of the #MeToo movement over the past year and the recent and very public discourse around Kavanaugh's confirmation can elicit complex reactions. It's a good thing that more people are finally feeling comfortable enough to speak about such difficult topics in the hopes things will change for the better, but it also can serve as a reminder of the pain they experienced.
Knowing the kind of backlash Dr. Ford and those around her have already received for speaking up, it seems ill-advised at best (and at worse, cruel) to add to the negativity she's been getting. But voice actor Rachel Butera—who, aside from her upcoming work as Leia for Star Wars Resistance, also does voices for The Adventures of Rocky and Bullwinkle, Family Guy, and the Howard Stern Show—released a video of herself imitating Dr. Ford's voice.
io9 has reached out to Lucasfilm and Disney and will update should we hear back.
Star Wars Resistance Actress Imitates Dr. Blasey Ford's Voice
Butera said in the video:
I don't know if anybody is listening to the Dr. Blasey Ford testimony about Brett Kavanaugh but this is how I sound. I know it's a surprise to even me that I talk this way and I'm a doctor and a grown woman. I sound like I'm still back at that high school party...um...I can't help it, I just have this kind of a voice like a baby, even though I'm a doctor. And I'm on this media circus, political stage, and I have kids myself. I don't know why I speak with vocal fry, um, but you can listen to my testimony and hear that a grown woman sounds this way. Dr. Blasey Ford, thank you.
Vocal fry is a register, mostly produced by women's glottal closure in their throats, that people tend to make fun of. The tweet and video Butera posted had the caption, "I can't believe this is my voice, can you???. Dr. Christine Blasey-Vocal Fry-Ford."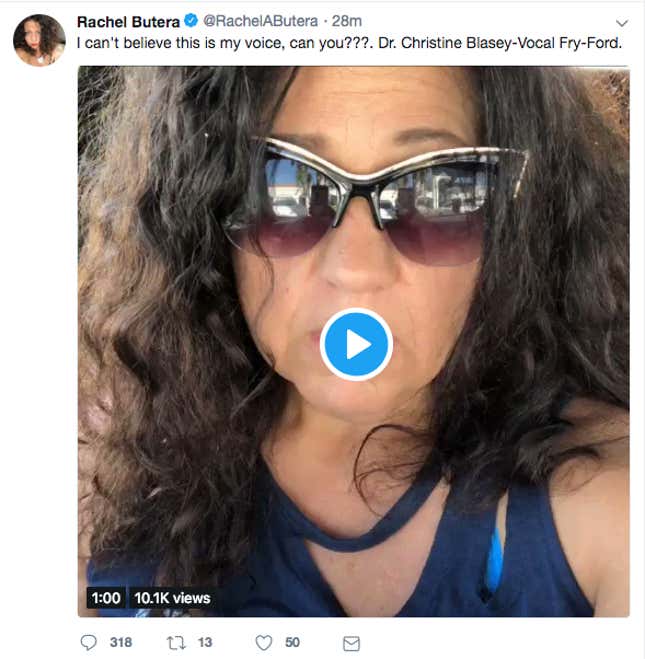 The tweet was deleted about a half hour after it was posted, and after it received a slew of backlash (from myself included). Butera then posted another tweet which read, "I was by no means mocking a rape victim I am 100% on Christine Blasy Ford's side! I am just a vocal impressionist and decided to imitate her voice but it was a mistake. I apologize and a I believe ALl women [sic]."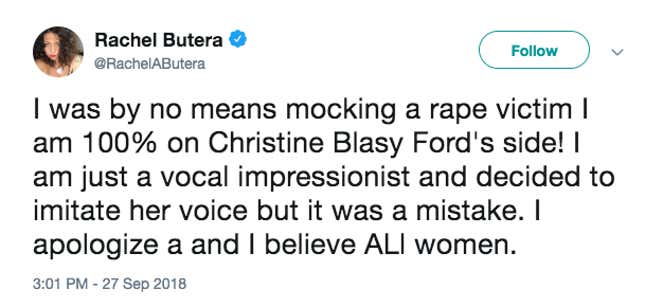 "I am seriously sorry I honestly didn't think this would offend anyone I just thought I was imitating the voice," she went on to tweet. Butera has now set her account to private.

Those of us who work on io9 love pop culture but we also care deeply about social issues. You've probably noticed that by now. We sat here while we worked today listening to Dr. Ford's testimony, feeling angry, helpless, and frustrated, wondering how we could write about those fun genre titles we enjoy while all of this is happening around us. We don't want anyone to have to fight this hard to be heard and to have their concerns taken seriously. Concerns that matter a great deal in the scheme of things. If you care, as we do, do better and ask others to do better too.