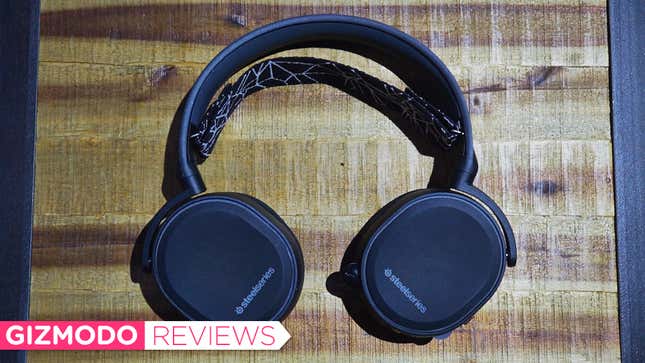 Gaming headsets have spent the last few years in a vicious race to the bottom. It seems like each new product is bigger, pricier, and flashier than the last. The companies that make these headsets have seemed more obsessed with bright lights and bizarre eye-catching shapes than they have with making genuinely good headsets that you can wear all day without looking and feeling like a toolbag. Steelseries' new line of Arctis headphones fights that trend with great sound, a top notch microphone, and looks that won't leave you feeling like a 2008 cliche of a gamer.

Vizio's Latest TVs Go All Quantum
Steelseries was originally on of the leaders in garish headphones. Headsets like its $200 Siberia 650, which are bedazzled with bright lights on the side, can practically be seen from space. The Danish peripheral company has tried to define itself by the customizability of the lights on its product—it licenses its light customization engine to a lot of laptop manufacturers with RGB LEDs in their keyboards. Yet Steelseries' real niche has been as a supplier and sponsor of e-sports teams. While those teams can get ridiculously garish too, many have sought a more...professional look.
The Arctis series of headphones are almost boring in how staid and monochromatic they are. They come in three versions—all available in either black or white. The all analog $80 Arctis 3, the $100 Arctis 5, which adds a subtle and customizable lighting motif and built in digital audio controller for instantly tweaking the balance between game audio and group chat audio, and the $150 Arctis 7, which axes the lighting but adds 2.4GHz wireless connectivity. None of the headsets have Bluetooth due to the bandwidth limitations of the protocol and the possibility of lag.

For a $100 set of headphones the audio on the Arctis 5 is damn extraordinary. It punches up the bass and the treble a little more than I'd like, downplaying the midtones that make something like classical music really pleasant. But that's because it's a headset tuned for video games—not the Polovtsian Dances from Prince Igor. So explosions rattle and voices pop, and the soundtrack of games like Witcher 3 never quite overwhelm no matter what action is happening.
Excellent audio isn't new for Steelseries, nor is it's other specialty, making very comfortable headsets. The Arctis series tosses the pleather earcups that could lead to sweaty sessions of gaming on the Siberia 650 headset, and instead uses a fabric, which while breathable, doesn't feel especially premium.
It's only on closer inspection that you can see how well made this headset is. The plastic that makes up most of the headset is surprisingly flexible, so it's unlikely to snap if you accidentally step on it. All the points of articulation have metal at their center to make the headset more durable, and the outside of the cans are soft touch plastic—which has come to be synonymous with luxury in consumer goods. 
Unfortunately the design feature Steelseries is most excited about is the one that comes across as cheapest looking: the ski-band-inspired suspension headband. Steelseries has wisely included a suspension headband in all of its better headsets and that's set it apart from other headset makers like Logitech and Razer. It's meant to keep any hard parts of the headphone from creating undue pressure on the wearer. But the adjustable headband on the Arctis series looks like the strap on the back of ski goggles circa 1994. Steelseries offers other bands online for 20 bucks a pop. They're just as hideous.
The microphone, when muted, is also quite ugly, as there's an LED in it that turns bright red when the mute button is pressed. The microphone is better than just about any other microphone available on a gaming headset. While I wouldn't recommend it for serious streamers or podcasters (a separate microphone will always be better in those instances), it recreates a fairly natural sounding voice. There was none of the tinniness, ringing, or static that often accompany gaming headsets.
The big change to the microphone is that it's now bidirectional. That means it doesn't just try to pick up sound directly in front of it, but also directly opposite it.
This allows software in the accompanying SteelSeries app to cut out extraneous audio. Unfortunately if you don't have the app or you're using the device with something like an Xbox or PS4 it can actually pick up more sound. Not a lot, but enough to keep it from being the miracle worker of sound cancellation Steelseries claims it to be.
The difference in features between the Arctis 5 on consoles versus PCs is a frustrating one, because ultimately the Arctis 5 and the other headsets in the new Arctis family, are comfortable, affordable, and have great audio. If you're a PC gamer then the Arctis 5 (or its wireless cousin, the Arctis 7) should be at the top of your list of headsets to buy. If you're a console gamer the cheaper Arctis 3 is a great choice too—even if the mic might pick up more than you want it to. If you want to stop playing video games wearing a multicolored angular monstrosity than Steelseries is the way to go. The Arctis headset chased the dork away.
README
A headset that actually looks like a nice pair of headphones
Great gaming audio—but not lacking in the midtones needed for a lot of music
Comes in three flavors: $80 analog only Arctis 3, $100 Arctis 5 with external DAC and customizable lights, and $150 wireless Arctis 7.
Suspension headband makes it comfortable, but fabric choice is ugly as sin
Bidirectional mic cancels out extraneous noise when on PC, but can still pick up extra noise on PS4 or Xbox