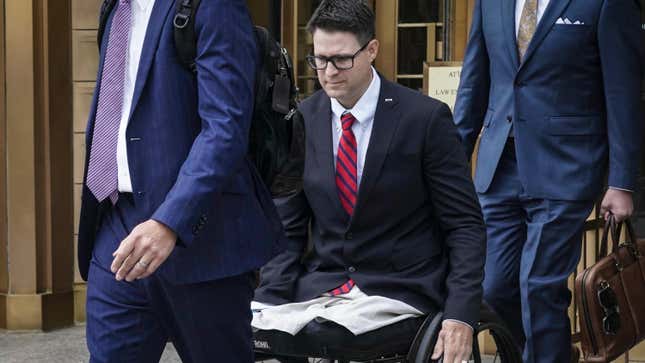 A U.S. Air Force veteran was sentenced to four and a half years in prison on Wednesday for carrying out a fraudulent GoFundMe scheme claiming he was raising money to fund former President Donald Trump's border wall. Brian Kolfage, who previously worked as an associate to Trump's former advisor and White House strategist Steve Bannon, set up a "We The People BUILT the Wall!" GoFundMe page, claiming that all donations would go to funding the wall on the U.S./Mexico border.
Trump Went Through Twitter Withdrawal
Kolfage, who lost both legs and his right hand in a rocket attack in Iraq, set up the alleged fundraising efforts in December 2018 and within one year, had raised more than $25.2 million from 250,300 donors. He said in the introduction that he was working alongside Bannon and Kansas Attorney General Kris Kobach and said Trump approved of their fundraising efforts.
"Doubters have been trying to convince the American people who want a wall and helped us come this far, that they'll never get the protection along the border that we promised," Kolfage wrote on the original GoFundMe page viewed by Gizmodo on Wayback Machine. "However, their efforts have failed once again. While they were trying to prevent our progress, we were several steps ahead of them in our extensive preparations to build the wall."
In a follow-up post 10 months after he started the fundraising campaign, Kolfage said on the site the money received thus far contributed to the completion of the first section of the wall in El Paso, claiming it "immediately altered the entire region's flow of illegal drugs and illegal migrants coming into the United States." He added that the "We Build the Wall" organization would continue to pursue its "mission" of "uniting citizens who share our interest in border security requires reaching to like-minded citizens and educating the public about the need for border barriers."
An investigation into the organization found that Kolfage and Bannon had misappropriated funds, but Bannon received a full pardon from Trump during his final days in office. Kolfage was charged with taking more than $350,000 of donations, revealing he instead spent the money on jewelry, boat payments, and cosmetic surgery. He pleaded guilty to all charges including an additional tax fraud charge.
"I made a promise not to personally benefit, not anyone else, and I broke that promise," Kolfage said in court, according to Reuters. "I have been humiliated by my poor decisions." The outlet is also reporting the judge sentenced Andrew Badolato to three years in prison following his guilty plea in the ordeal as well.
In addition to Kolfage's four-and-a-half-year prison sentence, he was ordered to forfeit $17.9 million and pay $2.9 million in restitution.