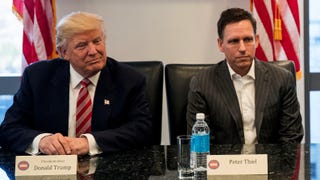 According to a long-in-the-works report from Vanity Fair, Peter Thiel is in discussions to head what one insider described as the "only meaningful executive-branch oversight of the intelligence community." Numerous officials, including Steve Bannon, confirmed this, and one of Thiel's chief concerns is reportedly the…
Using a very fake Steve Bannon email account, an email prankster has apparently tricked the editor of far-right news site Breitbart.com into providing a bizarre peek into his disturbing id.

Steve Bannon, the chief strategist to Donald Trump, former executive of Breitbart, and idolizer of such figures as Darth Vader and Satan, is expected to be removed from his position at the White House, according to the Drudge Report and New York Times.
Have you seen this photo of White House advisor Steve Bannon? It's been doing the rounds on Twitter for a few days now. But it's totally fake. Well, it's kind of fake. It's mostly fake. It's... a bit fake.

Over the past couple of weeks, this photo of Trump advisor Steve Bannon has been popping up on social media. Anthony Bourdain even tweeted that he thought Bannon might have syphilis. And whether Bourdain is joking or not, plenty of people think the photo is real. But it's totally fake.
Steve Bannon, the white nationalist currently helping President Trump dismantle the United States, has produced a number of low budget conservative films. But the movies that Bannon couldn't get made over the years are even more interesting than the ones that were released—like an unmade documentary-style film from…
Donald Trump is about to be president, a white nationalist is whispering in his ear, and Jeff "The Ku Klux Klan Is Alright By Me" Sessions will soon be our attorney general. We are entering a golden age for racists in America. And according to my inbox, these assholes know it.

Since its founding by a former Ku Klux Klan leader in 1996, Stormfront has been the internet's premier watering hole for white nationalists and neo-Nazis everywhere. It is also, apparently, full of soon-to-be White House Chief Strategist Steve Bannon's very biggest fans.